James Mattis Says Russia 'Mucked Around in Our Elections,' Warns U.S. Needs to Deal with Putin
Former Secretary of Defense James Mattis has criticized Russia for interfering in U.S. elections, as he slowly re-enters public life following his resignation from President Donald Trump's administration last year.
Speaking on CNN on Thursday, Mattis said Moscow had "mucked around" in American elections, something that his former boss has refused to admit despite extensive evidence. However, Mattis again refused to openly criticize Trump on his Russia strategy or any other issue.
Mattis appeared with CNN host Jake Tapper to promote his new book: "Call Sign Chaos: Learning to Lead," which was released earlier this week. The book promises insight into Mattis' long career in the military and his reputation as one of the great military strategic thinkers of his generation.
But much of the excitement around the book has been over Mattis' time in the Trump administration, and especially his resignation in December 2018 following disagreements with the president over the U.S. strategy in Syria and Afghanistan.
Tapper asked Mattis about his resignation letter, in which he warned the president that Russia wanted to shape a world based on authoritarian politics to the detriment of the U.S. interests and its allies.
The CNN host then asked whether Mattis agreed with his former boss that Russia should be allowed back into the G7 group of nations, from which it was expelled after annexing the Ukrainian peninsula of Crimea in 2014. The below chart from Statista shows what the G7 would actually look like if it included the seven largest global economies: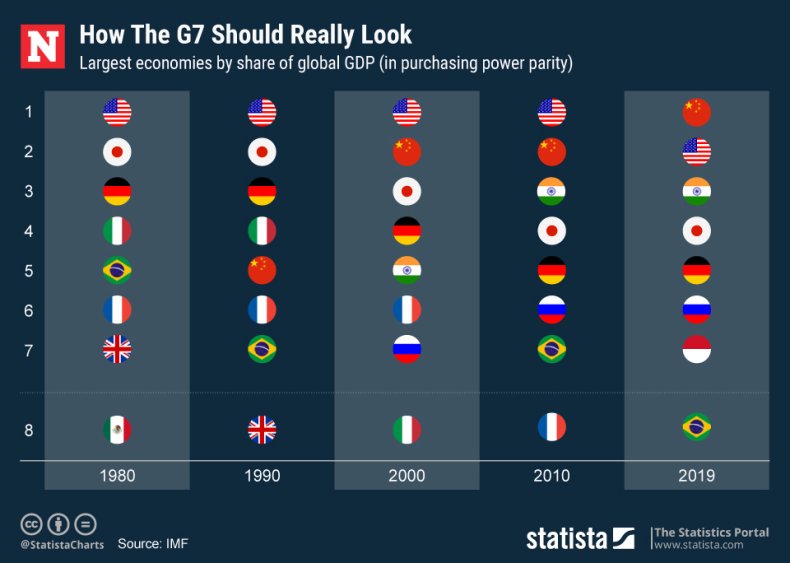 "That's in more the economic vein and I won't comment on that, but we're going to have to deal with the [Russia President Vladimir] Putin that is, not the Putin we wanted," Mattis replied.
"I remember in the 1990s, when Russian marines and U.S. Marines trained together in North Carolina for peacekeeping operations," Mattis added. "Those days are long past now. We're going to have to recognize they've mucked around in our elections, that they've invaded two countries and seized territory. And we're going to have to deal with this. And the only way to deal with it is with allies."
Trump has repeatedly maligned American allies and cozied up to Putin's regime. He even reportedly threatened to withdraw from NATO unless other nations increased their defense spending, claiming that the U.S. was bearing too large a burden for the joint defense of the alliance.
Mattis was among the senior advisers that worked to curb the president's most extreme impulses, and was one of the so-called "adults in the room" along with former Chief of Staff John Kelly, National Security Advisor H.R. McMaster and former Secretary of State Rex Tillerson.
All eventually left the administration, with key foreign policy roles—secretary of state, national security advisor and secretary of defense—all now filled by more hawkish officials.
Special counsel Robert Mueller uncovered what he described as "sweeping and systematic" Russian efforts to interfere in the 2016 presidential election. Among those indicted by Mueller were 25 Russian operatives.
Despite the conclusions of Mueller and his national security apparatus, Trump has repeatedly failed to blame Russia for interfering in the election process. In press conferences with Putin, Trump has even joked about the allegations and defended the strongman president, causing dismay in Washington.