James Mattis Shuts Down Trump's Claim He's a 'Sort of Democrat': Not With 'Any Political Party'
Secretary of Defense James Mattis made it clear on Monday that he has never registered for "any political party." His comments followed President Donald Trump calling him "sort of a Democrat" during an interview with 60 Minutes, fueling speculation Mattis could soon be on his way out of the Pentagon.
Speaking with reporters en route to Vietnam, the former U.S. Marine commander dismissed those concerns, asserting that he is on Trump's "team," according to a transcript provided by the Department of Defense.
"I'm on his team. We have never talked about me leaving, and as you can see right here, we're on our way. We just continue doing our job," he said.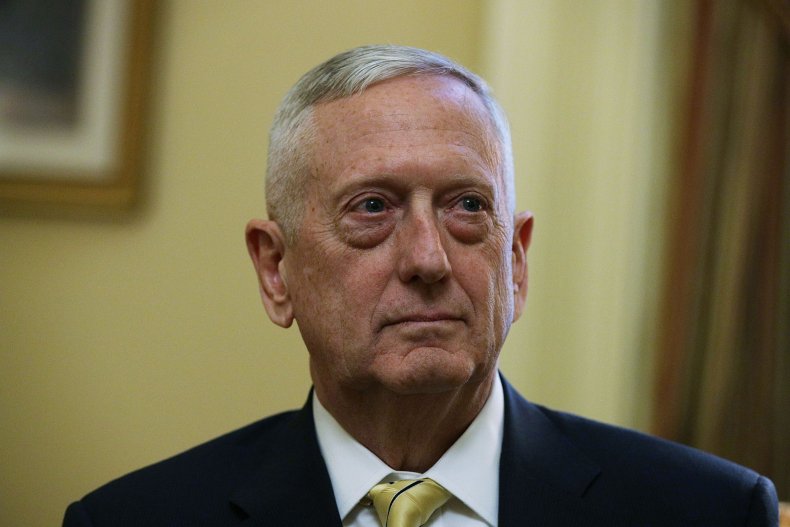 Mattis said he didn't watch Trump's 60 Minutes interview, but he insisted it was "no problem." He also said he has not spoken with the president about his comments.
Asked by a reporter whether he was a Democrat, Mattis asked the reporter to repeat himself, saying, "Pardon?"
"Are you a Democrat?" the reporter repeated.
"You know, we're all built on our formative experiences," the defense secretary responded before entering into something of a monologue, recalling his experience joining the Marine Corps and being "proudly apolitical."
"When I was 18, I joined the Marine Corps, and in the U.S. military we are proudly apolitical," Mattis said.
"By that, I mean that in our duties we were brought up to obey the elected commander in chief, whoever that is. And we've seen, over those—since I was in the military longer than some of you have been alive, I have seen Republicans and Democrats come and go," he continued.
"Where am I today? I'm a member of the president's administration. And you have seen President Trump's military policies, security policies, reaping significant bipartisan support," Mattis said.
Related: Trump describes Defense Secretary James Mattis as 'kind of Democrat,' hints that he might soon be gone
"When you think 83 percent of the U.S. Congress voting the same way on an issue put forward by the Republican president, you can see that my portfolio is bipartisan by its very basis, and that is the protection of the United States," the defense secretary asserted.
"That's what President Trump has told me to do, and I eagerly carry that out, alongside probably the most selfless young men and women—not all young; some old men and women too–civilian and military, Army, Navy, Air Force, Marines working together. So that's where I stand. That defines me," he said.
After identifying himself as "apolitical," the reporter then asked Mattis to clarify on whether that means he has not registered as Republican or Democrat. "Is that what I'm hearing you say?" the reporter asked.
"I've never registered for any political party," Mattis confirmed.
Political affiliation or not, Trump asserted during his 60 Minutes interview that while he believes Mattis is a "good guy," the defense secretary "may leave."
Mattis has reportedly clashed at times with White House national security adviser John Bolton and has also questioned Trump's own understanding of key national security issues, comparing the president's knowledge of tensions between North and South Korea to that of a "fifth- or sixth-grader," according to Bob Woodward's new book, Fear.
While Mattis has denied the claims made in the White House exposé, multiple officials told The New York Times in September that the defense secretary's relationship with Trump had been rocky in recent months, prompting widespread rumors he would soon resign or be fired from his role.