Labeling Trump as 'Unusual,' Former Defense Sec James Mattis Says He 'Will Not Speak Ill of a Sitting President'
James Mattis is continuing to hold his tongue about what he truly thinks of his former boss.
"I will not speak ill of a sitting president. I'm not going to do it," President Donald Trump's former defense secretary told CBS News in an interview set to air Sunday morning.
Resigning over foreign policy differences just one day after Trump said he would withdrawal all American troops from Syria — a decision the president later reversed — the former Marine general who served in the current administration for nearly two years treaded cautiously when describing the nation's commander in chief.
"He's an unusual president, our president is. And I think that especially with, just the rabid nature of politics today, we gotta be careful. We could tear this country apart," Mattis said.
On his resignation, which was centered around the Syrian troop withdrawal, in addition to other high-profile foreign policy matters, he said: "This is how I saw the strength of America, that we keep our alliances together and we keep them tight. And if I wasn't the right person to do this, [then] the President needed someone more aligned with his views."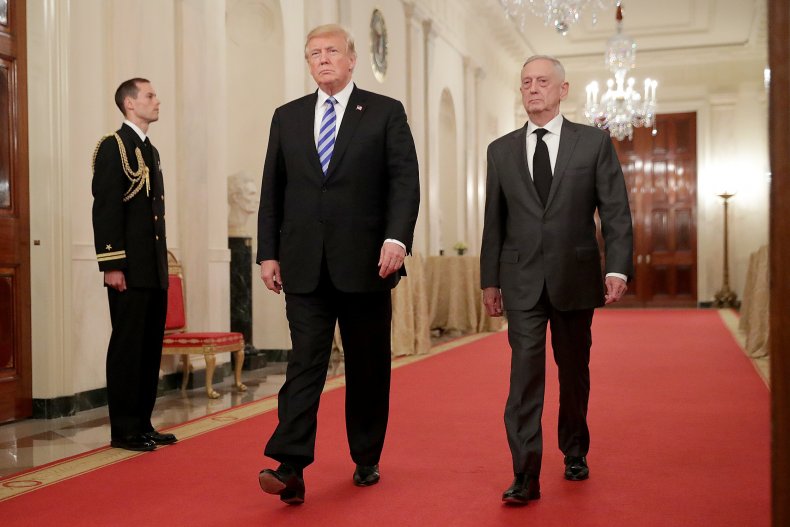 A sudden withdrawal from the country in which the U.S. was battling the Islamic State, Mattis has argued, would have potentially put other American troops in the Middle East in danger, in addition to breaking one's promise to allies who were also battling the terrorist group.
Mattis has written a book, Call Sign Chaos: Learning to Lead, that will be available September 3. The book, which provides an in-depth look into his tenure and why he left was detailed by The Atlantic this week.
He hasn't spoken with Trump since resigning in December 2018, Mattis told CBS in his wide-ranging interview, which the network said will touch on his time in the administration of former President Barack Obama, his new book and the four decades he served in the Marine Corps.
And, of course, what he's learned through the course of it all. "You just have a role to play for a little while, so play it well, but don't let it go to your head," Mattis stated.
In his interview with The Atlantic, however, Mattis suggested that his silence will not be forever. "There is a period in which I owe my silence. It's not eternal. It's not going to be forever," he said.
Mattis explained that when officials, especially those as high-ranking as himself, leave an administration, "you owe some silence." He derived that notion from his belief that those who remain in charge need not to be undermined.
"You don't endanger the country by attacking the elected commander in chief," Mattis elaborated. "I may not like a commander in chief one fricking bit, but our system puts the commander in chief there, and to further weaken him when we're up against real threats — I mean, we could be at war on the Korean peninsula, every time they start launching something."
Labeling Trump as 'Unusual,' Former Defense Sec James Mattis Says He 'Will Not Speak Ill of a Sitting President' | Politics