Trump's Former Secretary of Defense Says 'Our Democracy Can Be Reversed, We're Better Than Our Current Politics'
Former U.S. Secretary of Defense James Mattis penned a reflective condemnation of his old boss, President Donald Trump, and urged Americans to reject the "tribalism" and divisive rhetoric stirred up by the current administration.
Mattis did not criticize the president by name as he took several veiled shots at Trump's "polemicist" leadership style and strategic political divisiveness he says is hurting the country both home and abroad. Mattis, who earned the nickname "Mad Dog" during his more than 40-year U.S. Marine Corps career, stressed the need for maintaining foreign alliances and warned that history shows nations without allies "wither" away. Mattis ultimately called for more unity among Americans: "We all know that we're better than our current politics."
Writing a lengthy essay in The Wall Street Journal Wednesday, Mattis repeatedly cautioned that democracy is fragile and reiterated that he resigned in December 2018 because of the Trump administration's refusal to "treat allies with respect" -- a phrase he used in his resignation letter.
Mattis, who was a member of the U.S. Marine Corps from his enlistment in 1969 until his retirement in 2013, took perhaps his deepest veiled jab at Trump in the essay by describing a European admiral he worked with in 2002. The implied Trump comparison described the unnamed NATO figure as, "Too forceful: He yelled, dressing officers down in front of others, and publicly mocked reports that he considered shallow instead of clarifying what he wanted. He was harsh and inconsiderate, and his subordinates were fearful."
Mattis noted that he "told him to go home" after repeated requests for him to use a more positive, constructive leadership style -- a common criticism of the president. Mattis wrote that he didn't think President-Elect Trump would even consider him for the Secretary of Defense job back in January 2017: "I figured that my strong support of NATO and my dismissal of the use of torture on prisoners would have the president-elect looking for another candidate."
But Mattis saved his most ardent words expressing fear for American democracy without "wise leadership [which] requires collaboration; otherwise, it will lead to failure...the more allies, the better."
"What concerns me most as a military man is not our external adversaries; it is our internal divisiveness," Mattis wrote. "All Americans need to recognize that our democracy is an experiment -- and one that can be reversed. We all know that we're better than our current politics. Tribalism must not be allowed to destroy our experiment."
Trump lashed out at Mattis after his resignation, which was widely seen as a criticism of the Trump administration's worldview as well as of the president's pedantic leadership style. Trump referred to Mattis' resignation as him "essentially" being fired -- making him just one of many former Trump administration employees ridiculed by the president after their departure.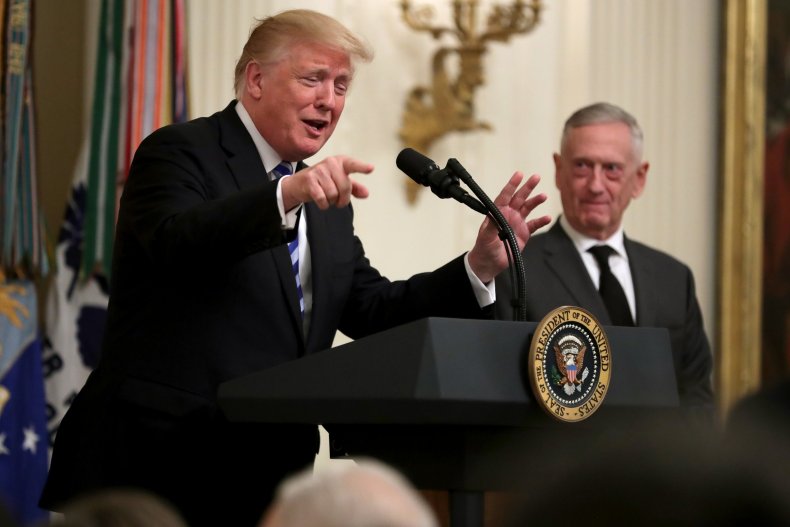 Correction: A reference to Mattis' January 2018 resignation was removed. Mattis resigned in December 2018.