James O'Keefe Says He's Going to Sue CNN Over Calling Project Veritas 'Activist Group'
Project Veritas founder James O'Keefe has vowed to "sue the hell out of" CNN for calling the conservative group "activists."
O'Keefe made the threat during a Friday appearance at the 2021 Conservative Political Action Conference (CPAC). He insisted that Project Veritas was "just reporting public information" by recently sharing a video of a confrontation of a Facebook executive outside their home. O'Keefe said that Twitter accused Project Veritas of "doxxing" the executive, though the video had blurred their house number.
The video resulted in the group's permanent ban from Twitter. CNN anchor Ana Cabrera described the group as an "activist organization" during a report on the ban, prompting O'Keefe to vow legal action during his CPAC speech.
"I have never couched myself as an activist organization," O'Keefe said. "That's psychological projection on behalf of CNN. They're the activist. You know what, usually I demand a retraction... but they lie so much. You know, we already sued The New York Times for defamation and you know what, we're gonna go ahead and sue the hell out of CNN for what they said."
"We're gonna start going on offense," he added. "It's about time we go on offense and sue the shit out of them."
Newsweek reached out to CNN for comment.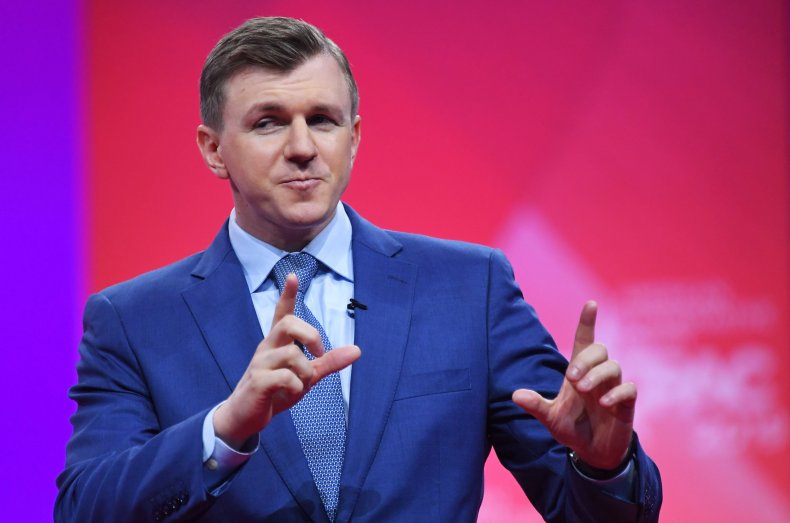 O'Keefe said that a CNN report on the Twitter ban included an unblurred version of the Facebook executive's address, while Project Veritas shared a version that blurred the house number. A New York Post article from February 11, which describes Project Veritas as a "conservative activist group," claims that "the numbers on the exec's home address were visible in the clip" shared by the group, although the name of the street was not.
Although O'Keefe insisted that he is not an activist during Friday's speech, he has spoken at CPAC, one of the nation's premier events for conservative activists, on multiple occasions. Critics of Project Veritas, many of whom contend that the group's videos are deceptively edited, have also noted that targets of the organization's attempted undercover sting operations are largely Democrats and mainstream media outlets with an alleged anti-conservative bias.
Project Veritas sued The New York Times last year for defamation after the paper called videos it had produced "deceptive." The Times has also claimed that a security contractor with ties to the administration of former President Donald Trump recruited former intelligence officers to work for the group, which the paper said uses "soldiers and spies for their operations." Project Veritas calls itself a "nonprofit journalism enterprise."