Who is James Safechuck? Michael Jackson Accuser Says Pop Star Began Sexually Abusing Him After Pepsi Commercial
James Safechuck is one of the two main accusers featured in the new HBO documentary Leaving Neverland, which focus on allegations of sexual abuse against late pop star Michael Jackson. In the film, Safechuck and Wade Robson, another alleged victim, tell remarkably similar stories of Jackson grooming them for years of sexual abuse.
James Safechuck first met Jackson in 1986, when he co-starred in a Pepsi commercial with the pop giant. Safechuck, 10 at the time, wasn't instantly starstruck.
"I don't remember being a huge fan," Safechuck, now 37, says in Leaving Neverland. "At the time, I was probably more into Voltron and Transformers."
Editor's Note: The following story contains graphic details of sexual abuse of a minor.
Who Is James Safechuck? Michael Jackson Sexual Abuse Accuser Speaks in New HBO Documentary Leaving Neverland
After hanging out with Jackson in his trailer, the pop star called "Jimmy" from his Australia tour and they arranged a reunion at Jackson's Hayvenhurst estate in Encino, Los Angeles. There they watched 1987 children's sci-fi movie *Batteries Not Included, before it came out, in Jackson's personal movie theater. Jackson gifted Safechuck the jacket he wore in the "Thriller" music video and, as he was leaving, handed him an envelope full of cash. After that, Jackson started hanging out at Safechuck's family home in Simi, California.
"He loved popcorn. Michael would come to our house a lot. Michael and I would take walks around our neighborhood, just talking and walking. It would be nighttime of course, so he could sort of hide," Safechuck describes in Leaving Neverland. "It's more like hanging out with a friend that's more your age."
The Safechuck family started joining Jackson on trips, including for a Pepsi Convention in Hawaii. On the first trip, Jimmy slept in his mother's room and had his meals with her. His mother, who also appears in the documentary, describes how her rooms were booked further and further away from Jackson and her son on subsequent trips. Later, Safechuck began touring with Jackson over his summer breaks, coming out to dance with Jackson during the song "Bad." Jimmy was 10.
It was when the tour took them to Paris that the alleged sexual abuse began, with Jackson introducing Safechuck to masturbation. "He set it up like, I'm going to show you something everybody does and you'll really enjoy it. It was like he was teaching me something new. And I remember my penis swelling up cuz I did it so much that first time," Safechuck says in Leaving Neverland. "I remember dipping my penis in warm water. Michael filled a cup up with water so I can pee, it was hard to pee. I don't have any unpleasant memories other than not being able to pee. It felt like you were bonding in a way. The tour was a start of this sexual, like, couple relationship."
Jackson allegedly claimed to Safechuck that the ten year-old introduced French kissing to him. Together they established a private signal: scratching each other's palms when holding hands to relay their sexual affection for one another.
"He said I was his first sexual experience," Safechuck says. "He's the biggest entertainer and he's a creative genius and that creative genius thinks you're special. What's not to like, right?"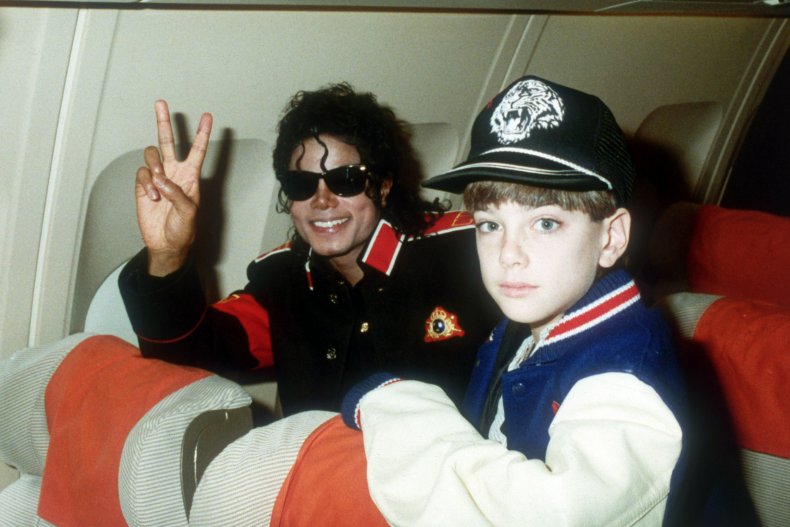 As with another of Jackson's alleged victims, Wade Robson, Safechuck describes Jackson asking him to bend over and spread open his buttocks, then masturbating.
Safechuck also describes the lengths Jackson would go in covering up their alleged sexual activities. "He would run drills with me where you'd be in the hotel room and he would pretend like someone was coming in and you had to like get dressed as fast as possible without making noise," Safechuck says in Leaving Neverland. "He would tell me that if anybody found it, his life would be over and my life would be over. And that's something he tells you over and over again."
At the same time, Jackson allegedly worked to distance Safechuck from his family, describing to the boy how evil women were, including his mother.
"It's constantly reinforced too, by everyone else in the world. It's a really intense feeling, because everybody else is loving him. It's like everybody's on board. So it's very powerful. You start to think your parents are bad and that Michael is good," Safechuck says.
The abuse continued after Jackson purchased Neverland Ranch in 1988. "The routine was every night we would get a blanket and lay it down on the floor inside of the closet next to his main bed so we could close the doors and have several sort of doors people had to get through," Safechuck says. "There was kissing and just sort of rubbing on each other. And then oral sex. And then he would want me to suck on his nipples and he would finish himself."
In Leaving Neverland, Safechuck describes additional sexual encounters around the estate, including in the "Indian fort" tipi, the arcade, the jacuzzi, the third floor attic toy room, a guest house, the movie theater and in small bedrooms at the top of the estate theme park's castle and train station.
"It would happen everyday," Safechuck says. "It sounds sick, but it's kind of like when you're first dating somebody and you do a lot of it."
Lawyers for the Jackson estate say Safechuck's allegations are fabricated and object to the new documentary.
Leaving Neverland premieres on HBO in two parts, beginning March 3.