Jamie Foxx Vs. Donald Glover: Fans Debate Which Actor is Better on Twitter
Actor, comedian, musician, producer—these are just a few titles both Jamie Foxx and Donald Glover have in common. Both men have produced Grammy-winning albums, starred in award-winning shows and performed for sold-out audiences. As black creatives excelling in the entertainment business, Foxx and Glover share quite a few stellar similarities, so it's not all that surprising their fans would debate over which of the men is most talented.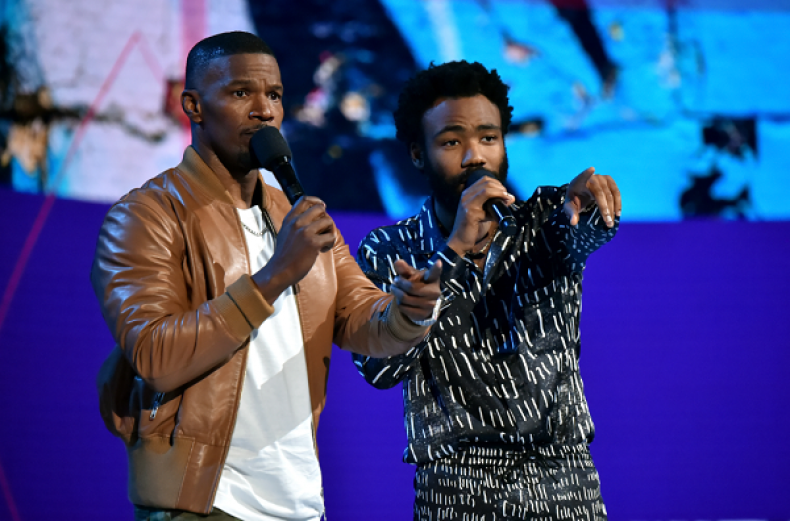 That was the discussion on Twitter when fans faced off over who they thought was better—Foxx or Glover on Wednesday.
The social media sparring session between fans certainly isn't a first. Even Foxx and Glover have engaged in the debate. Glover, 35, edged on the playful rivalry told TMZ cameras "Jamie's got it up on me right now" back in January 2018, noting that 51-year-old Foxx has "time on his side." The longevity of Foxx's career was one of the points many fans used to prove exactly why Foxx was the better star.
Newsweek subscription offers >
With more than 70 acting credits to his name, Texas native Foxx got his start in comedy performing at comedy clubs at open mic nights in 1981 before joining the cast of In Living Color in 1991. During his time on the hit variety show Foxx showcased the range of his talent playing beloved characters like Wanda and delivering side-cracking-funny impersonations, which led the comedian to put on a few headlining comedy specials of his own including Jamie Foxx: Straight from the Foxxhole in 1993, Jamie Foxx: I Might Need Security in 2002, Jamie Foxx Unleashed: Los, Stolen and Leaked! in 2003 and 2005's Laffapalooza featuring comedians Mike Epps, Steve Harvey, Kevin Hart, Sheryl Underwood and more.
Newsweek subscription offers >
Foxx also created and starred in his own sitcom, The Jamie Foxx Show, which aired from 1996 to 2001. His first major film role came when he was cast as football player Willie Beamen in 1999's Any Given Sunday. His role in 2004's Collateral, alongside Tom Cruise, landed Foxx his first Academy Award nomination. The following year, Foxx would claim an Oscar for Best Leading Actor for his role in the Ray Charles biopic, Ray. He additionally won a Golden Globe for his performance in the film.
Then there's the music. While fans of his comedy always knew Foxx could sing just as good as he could make them laugh, mainstream America was introduced to his vocals when he was featured on Twista and Kanye West's chart-topping hit "Slow Jamz" in 2003. In the time since he's released four albums that have ranked high on various Billboard charts. He additionally won a Grammy for his second studio album, 2008's Intuition.
Glover, a New York University grad from California, has had an equally impressive track record with more than 90 acting credits including his latest voice-over as Simba in Disney's live-action The Lion King.
Glover got his start when he landed a position on the writing staff of NBC's 30 Rock in 2006. He wrote and occasionally appeared on the show in cameos for three years before taking his talents to NBC's Community in 2009. He starred on the show as Troy Barnes for four seasons.
Acting took a backseat when Glover started focusing more on his music career under the moniker Childish Gambino. His 2010 mixtapes, I Am Just a Rapper and I Am Just a Rapper 2, received critical acclaim thrusting him into the spotlight as a rapper and singer. His debut album Camp was massively successful, landing him on the No. 11 spot on Billboard's 200 chart within the first week in 2011. His second album, 2013's Because of the Internet, gained even more steam debuting at No. 7 on the same chart. His hit single "Redbone" from his third album, 2016's Awaken, My Love, landed him his first Grammy.
Glover's focus was back on television in 2015 when he and brother Steven Glover's FX series Atlanta premiered. The show, in which Glover writes, directs, produces and stars, gained him massive recognition resulting in a slew of award nominations. He's since won a Golden Globe, Primetime Emmy and several other awards for the show.
See what fans had to say about Foxx and Glover below.
Jamie Foxx Vs. Donald Glover: Fans Debate Which Actor is Better on Twitter | Culture