Jamie Foxx Talks About 'The Bittersweet' Experience of Protesting With His Kids
Actor, singer and comedian Jamie Foxx took to Instagram to share photos of himself and his children protesting for the Black Lives Matter movement. In the caption, Foxx revealed it's "bittersweet" for him to see his kids fighting for equal rights in 2020.
"Passing it along. Having my kids with me at the protest was bitter sweet [sic]. Having them watch the world come together was beautiful..." he began.
But there was a more difficult moment for the Just Mercy actor. "But having to explain to them why we were all there was heartbreaking... let's change the world so they don't have to live in it the way we have been..." he continued.
Foxx also included the hashtag #justiceforgeorgefloyd. The family protested with tens of thousands of others around the country who are demanding justice after the black man was killed by a white police officer. The video of Floyd's death went viral. It showed the police kneeling on his neck for almost nine minutes.
The protests following Floyd's death have continued around the country. Many crowds are asking for cities to "defund police." Cut funding would be applied to low-income communities who don't have access to mental health services, addiction services, domestic violence support and more.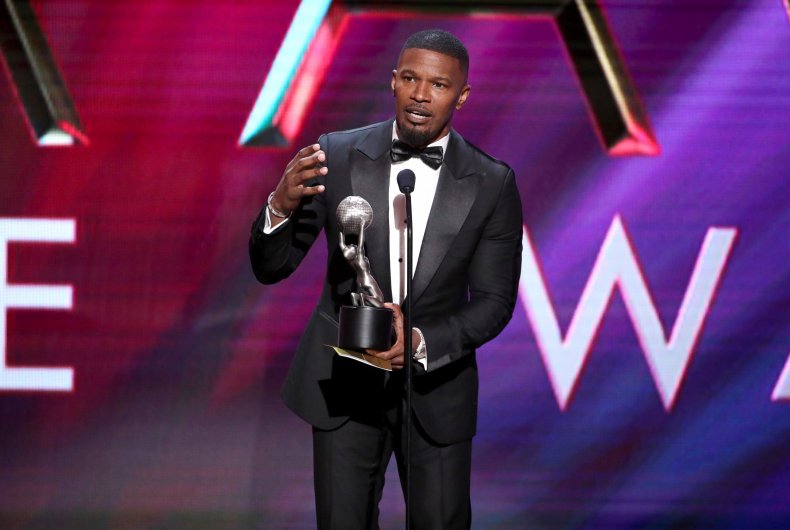 This isn't the first time Foxx has been vocal about racism. His Instagram feed is full of references to Floyd and the Black Lives Matter movement. In January, the actor made a powerful statement about discrimination at the African American Film Critics Association Awards.
"I was doing comedy in Chicago and I had my hoodie on, and I went to this hotel years ago, and the hotel was really nice and white... a lot of white people were at the hotel," he said.
"I get on the elevator and there were some white people on the elevator, and when they saw me, they huddled into the corner. 'Michelle, Michelle, get over here. Stacy, Stacy, get over here.'"
The audience laughed after Foxx gave the final line: "They were scared, but then one of the ladies had the courage to look past my hoodie and saw that it was me. She said, 'It's Jamie Foxx.' Phew!"
Foxx's point, though, was that racism exists everywhere, even if you're famous.
Newsweek has a request for comment out to Foxx about what he hopes to see come from the movement.