Jamie Lee Curtis Talks Social Media, 'Halloween' and Keeping Families Connected
Jamie Lee Curtis knows the summer of 2020 hasn't been anyone's typical summer. With COVID-19 ravaging the world, favorite pastimes like family vacations, blockbuster movies and summer concerts were postponed and the annual tradition of sending children off to summer camp was, for the most part, canceled completely.
"I knew kids weren't going to get the opportunity to go to camp this year," Curtis told Newsweek in an exclusive interview over the phone, "so we decided to bring summer camp to them."
That delivery comes in the form of a serialized Audible Original podcast, Letters from Camp. It's a heartwarming and quick-witted story about Mookie Hooper, a sixth-grader trying to follow in the footsteps of her mother—a world-renowned investigative journalist. "If you really want to be a great journalist like your mom," camp director Sue (Curtis) advises Mookie, "the best thing you can do is participate in the human experience."
For Mookie that experience includes attending the same summer camp her mother attended as a young girl. While there Mookie becomes determined to uncover the truth about the mysterious legend of the Lady of the Lake. "Mookie is Harriet the Spymeets Kayla from Eight Grade,"Curtis said.
Curtis first got the idea to co-create the series when she received a 14-year-old letter in the mail from her goddaughter, Boco Haft (Arrested Development). Haft had written the letter to Curtis while attending summer camp as a young girl and her mother, Lisa Birnbach, recently discovered the still sealed letter addressed to her daughter's godmother while sorting through some old boxes. She thought it would be fun to forward the unopened piece of mail onto its original intended recipient.
"When I received it I saw that it was the plaintive letter of an 11-year-old," Curtis said. "Boco was complaining about getting into trouble at camp and said she wished I was there to help. Right away I thought this is amazing." Curtis explained that the experience of reading that letter was so fun and nostalgic that she asked Boco if she'd help provide the same experience for others during the COVID-19 pandemic. "We wanted to create something delicious for young people during this horrible summer where they were denied many of the opportunities of being young."
Curtis told Newsweek that they "very specifically set the story in 2005 because we wanted the story to predate social media." She said she believes that "being an adolescent is hard enough without adding an even bigger 'less-than' symbol, which is what I think social media does to kids," she said, adding: "It makes them compare their worst to everyone else's best, so we chose to make this show take place during a slightly more innocent time."
"We recorded it, produced it, and released it within two months of Boco completing the screenplay," Curtis explained. "Boco wrote the outline in March but didn't start writing the script until we got the green light at the beginning of May." Curtis and Russell Goldman (Halloween) then produced the series with Audible. "Everybody worked extra hard so we'd be able to release it in time for families to enjoy this summer," Curtis said.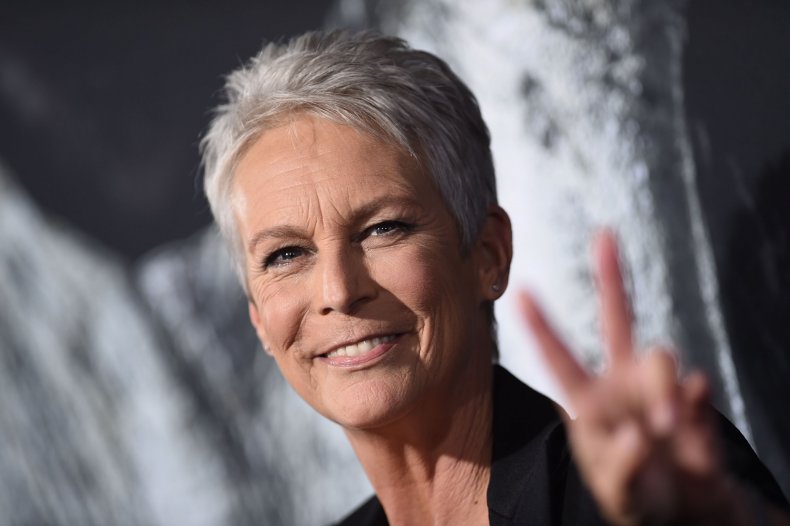 The production boasts a star-studded cast, including Curtis, Sunny Sandler (Grown Ups, Hotel Transylvania—movies she starred in with her father, Adam Sandler,) Jake Gyllenhaal (Nightcrawler, Spider-Man: Far from Home,) Edi Patterson (Knives Out,) Sam Haft (Inside Llewyn Davis,) and Kirby Howell-Baptiste (Barry).
"There wasn't a person I asked to participate who didn't immediately say 'yes' and 'how can I help.'" Curtis said. Boco and Sam Haft and Gyllenhaal are all godchildren of Curtis and she said she loved sharing this experience with them. "They're my godchildren, yes," Curtis said, "but they're also my friends."
Curtis didn't spend the whole summer producing Letters from Camp though, she's also been busy working on a "legacy project" that means a lot to her. The project is a website she named My Hand In Yours. It's a non-profit charitable organization that Curtis describes as "a marketplace where people can go and find something beautiful to bring comfort to a loved one during a time of need." 100 percent of the proceeds of every sale are donated to the Children's Hospital of Los Angeles. "I'm aware of how difficult life is for people—these days especially —and I wanted to create something to help families connect with each other in a meaningful way."
Curtis is a Hollywood rarity in her ability to appeal to multiple generations across multiple genres. While children love her for her children's books (she's authored fourteen New York Times bestsellers,) and for her family-friendly comedies, Curtis' portrayal of Laurie Strode in 1978's Halloween established her position as a bona fide scream queen to teens and adults alike. Curtis has reprised the role in multiple squeals and revisited the character most recently in 2018's movie of the same name.
Halloween made box office history for having the biggest opening ever for a movie with a woman over the age of 55 in the lead role. "The moment I first heard that news I thought wow, wow, wow," Curtis tells Newsweek. "I've been doing this since I was 19-years-old and I know this is the type of movie that doesn't get much legitimate attention, so the fact that I set this record just two weeks before turning 60 was really quite amazing," Curtis said, adding quickly: "it's a lovely record to hold but I hope another beautiful woman breaks it immediately."
In fact Curtis could break her own record as she's already committed to reprise the role for Halloween Kills and Halloween Ends—set to release in 2021 and 2022 respectively. Where Laurie ends up in those movies "is worth a whole other conversation," Curtis teased.
Whether she's entertaining and enlightening by screen, book, website, or podcast, Curtis told Newsweek she just wants to facilitate opportunities for people to connect with one another. "I'll keep delivering material in whatever medium I can."
The first four episodes of Letters from Camp were released on August 4. The remaining four episodes will be released on August 18, available exclusively on Audible.