Why Celebrity Godmother Jamie Lee Curtis Won't Work With Gyllenhaal (Again)
Jamie Lee Curtis takes her role as Jake Gyllenhaal's "celebrity godmother" very seriously.
In fact, actress, author and podcast producer Curtis remains equally as invested in all of her godchildren, regardless of their level of fame.
The third and final season of Curtis' podcast Letters From Camp is now available to listen to on Audible, and once again, the children's audiobook series features a number of surprise celebrity cameos.
Curtis, the creator, producer and voice actor on Letters From Camp, sat down with Newsweek to discuss the last season, why she was hesitant to work with her godson Gyllenhaal on it, and how it felt to reunite with Daniel Radcliffe for the first time since before he was Harry Potter.
Preventing a 'Transactional' Relationship with Godson Gyllenhaal
Other than being credited as producers on the same documentary series, Jamie Lee Curtis and her godson Jake Gyllenhaal have never worked together in the entertainment industry—a deliberate move by Curtis.
"Jake and I have known each other a long time," Curtis told Newsweek. "And when Jake became an actor, I said to him one day, 'I'm your celebrity godmother. I will be here for you in any way I can to help you navigate all of this. Because I don't want anything from you.'
"I have made it very clear that I don't ask anything of my godchildren," Curtis said.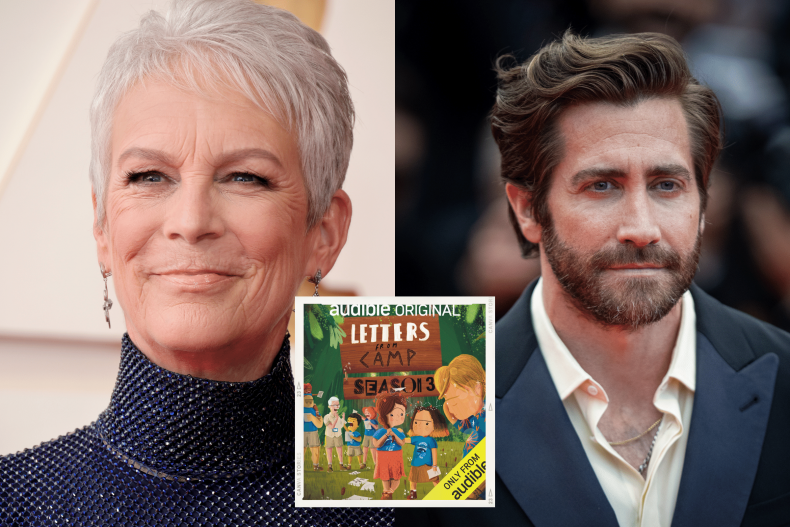 Indeed, there are a few members in the Jamie Lee Curtis godchildren club. As well as Gyllenhaal, there were two other godchildren involved in Letters From Camp, including the co-writer of the series, Boco Haft. The entire series has been based on a real letter she wrote to Curtis when she was 12 years old at summer camp.
Curtis said she's been "graced" with a lot of people asking her to be godmother to their children. Godson Sam Haft also provides the voice of Igor in Letters From Camp, while another of her godchildren is the aforementioned multi-Oscar-nominated actor. Curtis takes her "responsibility very seriously" for each of them.
"I was nervous about asking Jake," Curtis said, of recruiting Gyllenhaal to provide the voice of Trout the water sports director at Camp Cartwright. "Because I don't want [our relationship] to be transactional.
"I don't ask him to come to movie premieres. I don't ask when people do long lead interviews in magazines, and they always say, 'Well, can we call Jake? Can we call Arnold Schwarzenegger to get quotes?' I say 'no, you can't call Jake.'"
As it turned out, Gyllenhaal's living situation led to him appearing in this "coincidental collaboration" on Letters From Camp.
"During COVID, he arrived in Los Angeles and needed a place to stay so he moved in to this house next door I have. He ended up staying there for four or five months," Curtis recalled. "He came over one day, and I had this kind of look on my face.
"And he was like, 'What's going on with you?' I was like, 'Is there any way you would consider voicing this?' Within a second, he was like, 'Yes, of course. Oh, my God. Oh, how fun. Who is he? What do I get to do? What's he do?' And he immediately turned him into a character."
Curtis continued: "Then we recorded him under a desk with a mattress on top of it.
"I try not to press my godchildren into work, but that's just a personal thing. This was the first and only time I have asked him to collaborate with me on an artistic project."
Reuniting With Celebrity Friends
The majority of Letters From Camp has been recorded remotely by the various voice actors.
This includes regulars like Sunny Sandler (Adam Sandler's daughter), Edi Patterson (The Righteous Gemstones) and Kirby Howell-Baptiste (The Good Place). Acknowledging that she ought to organize a wrap party for all of the actors to get together for the first time, Curtis said the best she's done so far is send out Letters From Camp swag, which includes a "Safe Space" towel, a bucket hat and a bandana—"a significant thing for the end of the season."
There have been several celebrity cameos throughout the three seasons, and for the most part it was easy to recruit talent, though there was one actor that got Curtis nervous to ask.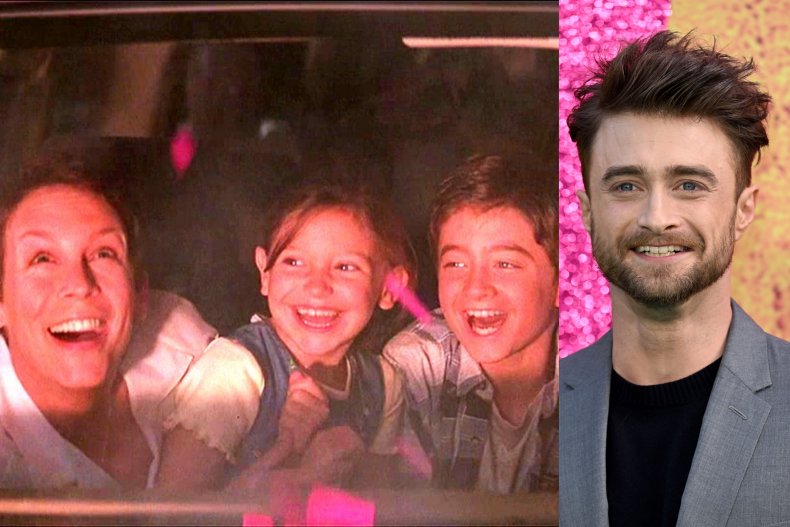 "Every actor we asked to do this did it, there was no second choice.
"When I wrote to Daniel Radcliffe, he had played my son in The Tailor of Panama (2001), and I had not seen him since he became Harry Potter, and then he became the actor that he's become. I knew him when he was 7 or 8 or 9 years old.
"I wrote him, and he wrote back and said that it sounded great, but he needed to read the script first—that was probably the most nervous I was."
Curtis continued: "I remember where I was sitting when the phone rang, and it was Daniel. I looked down at the phone and it said 'Daniel Radcliffe' and I quickly picked up the phone, 'Hello', and he goes [Curtis puts on a British accent] 'Hello. I love it. I can't wait. It's so funny,' [her British accent fades out] 'It's so well written, what a great part. I'd love to do it.'"
As well as Radcliffe, Jacob Tremblay joined the cast—a recommendation which came from Sunny Sandler three years ago.
Weird Al Yankovic was recruited as a friend and Curtis also asked her husband, Christopher Guest to help out too. "I was scared to ask my husband to do a small part in our show because I don't ask him to collaborate with me very often in that stuff," she said. "We do other stuff..."
Why 'Letters From Camp' Won't Go to TV
While promoting the earlier seasons of Letters From Camp, Curtis had discussed how she'd originally conceived the idea as a TV show. With the end on the horizon, Curtis says that's no longer necessary.
"I think it's perfect as a podcast. I think it's perfect.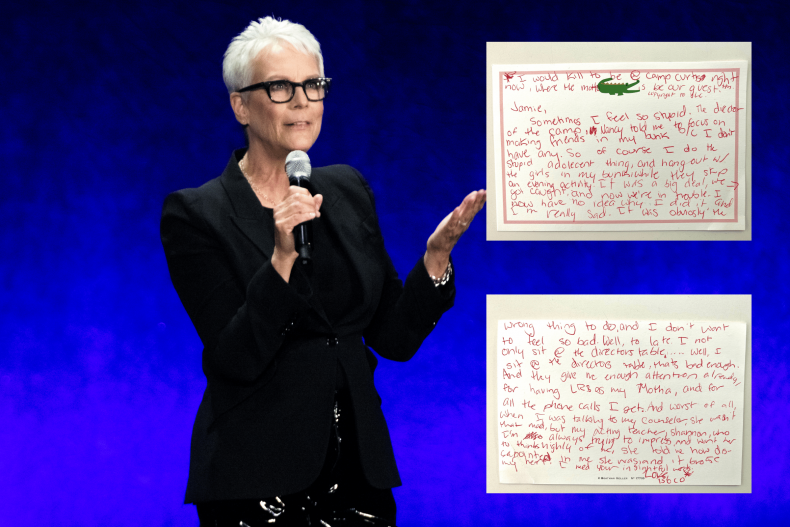 "Sunny Sandler is now 15 years old, and I wouldn't want to do the show without Sunny. I would only want to know Mookie Hooper as Sunny Sandler. And my guess is we couldn't get Kirby Howell-Baptiste, we couldn't get Edi Patterson. My guess is we couldn't get Daniel Radcliffe to play the season of Charlie Cartwright. I'm not sure Jake Gyllenhaal would show up, and he's too old to play Trout in a TV show."
Reaffirming her point that Letters From Camp should remain a one-and-done podcast, Curtis continued: "I think it's perfect. I think it lives in the sounds and the feelings that are communicated through the portal that Audible has created. And I think it's perfect. in its in its entirety, in this moment. And I don't need for it to be anything bigger than this."
Each of Letters From Camp's seasons contains eight episodes, split up into different "Weeks." Weeks 1 through 8, Seasons 1 through 3 are available to listen to on Audible now.
"It's sad, but beautifully emotional," Curtis said, reflecting on her time at Camp Cartwright coming to an end. "It's very satisfying on how the whole thing finished up. I couldn't be more proud of it."