Jamie Oliver Net Worth: TV Chef 'Saddened' as His Restaurant Chain Goes Into Bankruptcy
Jamie Oliver's restaurant group, Jamie's Italian, is facing collapse and is going into bankruptcy administration, it has been revealed today. According to the BBC, Oliver is "saddened" by the the restaurant group going into administration, which is putting 1,300 jobs at risk.
Here, Newsweek takes a look at the celebrity chef's net worth and his rise to fame.
Jamie Oliver has a net worth of £240 million ($304,700,000) as of May 2019, according to Spear's. Born James Trevor Oliver in 1975, the "Naked Chef" lived with his parents who owned a pub in Essex, U.K.
He made his move into cooking through studying home economics at college and moving to work for the famous Italian chef Antonio Carluccio. He then moved to the River Cafe in Fulham as a sous-chef, where he was scouted by the BBC. His show, The Naked Chef, debuted in 1999 as well as his recipe book of the same name.
Oliver has also championed healthier eating, especially in schools, campaigning for freshly prepared meals in place of frozen foods. He also established the Fifteen restaurants which train disadvantaged people to be chefs.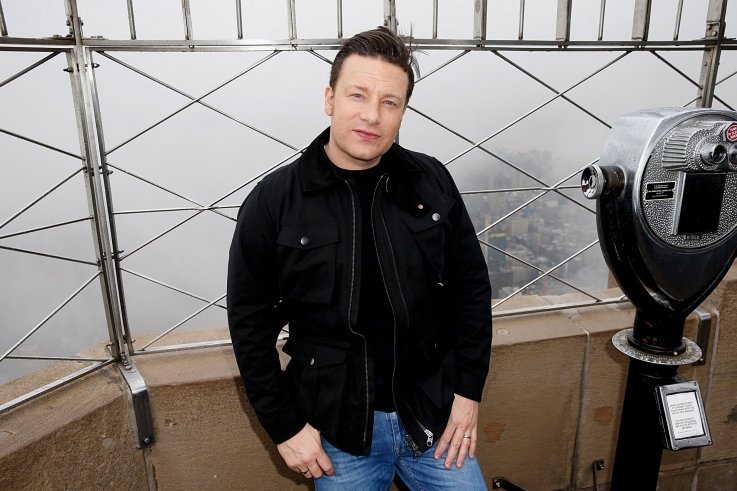 In the U.S, Oliver tried to combat obesity as part of his Food Revolution, traveling from West Virginia to Los Angeles to encourage Americans not to rely on junk food.
He also launched restuarant chain Jamie's Italian, which according to The Richest, would profit £1.66 million ($2.1 million). The Sunday Times Rich List reported his 70 percent stake as worth £50 million ($63.5 million) before it expanded from 17 to 27 sites.
In June 2003, the chef was awarded an MBE for his services to the hospitality industry, and in 2009 received the 2010 TED Prize. Oliver is also dyslexic and didn't read his first novel until the age of 38, according to The Daily Telegraph.
Oliver is known for his "15-minute meals" as a way to encourage busy families to eat better while being pressured by everyday life. As a family man himself, he is married to wife Juliette "Jools" Oliver, and they have five children: Poppy Honey Rosie, Daisy Boo Pamela, Petal Blossom Rainbow, Buddy Bear Maurice, and River Rocket Blue Dallas.
When it comes to other chefs, Oliver has been bold. Speaking to The Daily Telegraph in 2013, he commented on chef Anthony Bourdain: "The one book I nearly finished was Kitchen Confidential by Anthony Bourdain. But then the author came to Britain and didn't stop slagging me off for five years. So on principle, I threw it on the fire. He's since apologized and we've made up." He also likened celebrity chef Marco Pierre White to a "don-mafia type."
Jamie Oliver Net Worth: TV Chef 'Saddened' as His Restaurant Chain Goes Into Bankruptcy | U.S.