Jamie Raskin Predicts Donald Trump's 'Almost Inevitable' Indictment
Democratic Representative Jamie Raskin of Maryland has predicted that former President Donald Trump is facing an "almost inevitable" criminal indictment.
Raskin, who served on the January 6 select committee that disbanded just before Republicans took control of the House, made the remarks during an interview published by MSNBC on Friday. He argued that an indictment was likely because there was "overwhelming evidence" that Trump orchestrated the January 6, 2021, attack on the U.S. Capitol.
"It's almost inevitable that there will be charges, because the evidence is just so overwhelming," Raskin said. "If he were to somehow escape the grasp of the criminal justice system here, this would be a painful thing for the country and for millions and millions of people who have held on to the idea that we have one system of justice."
Raskin said that Trump's culpability for at least one of the criminal charges that he may be facing—interfering with a federal proceeding—was "complete and obvious."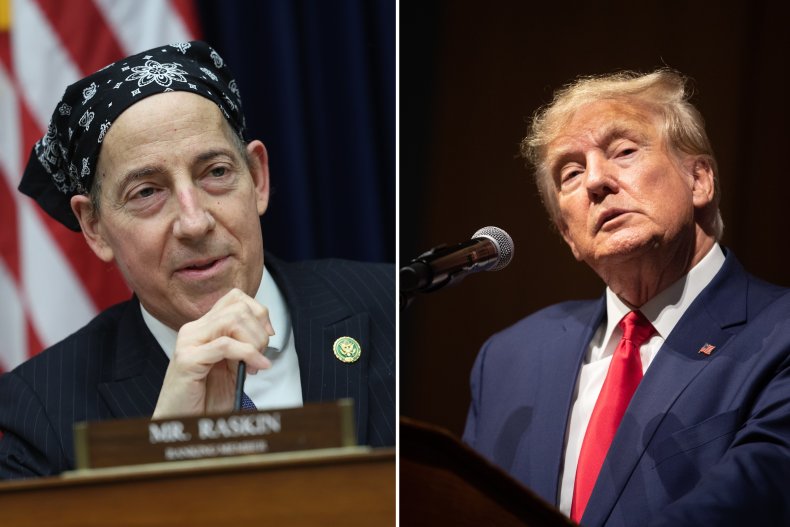 The congressman argued it was "completely straightforward" that the Stop the Steal movement was inspired by the former president's election fraud conspiracy theories and aimed to stop President Joe Biden's 2020 election win from being certified "by any means necessary."
Raskin went on to say that Trump could end up getting his "comeuppance" at the state or local level first. He described the former president as a "one-man crime wave" while noting that he was facing civil and potential criminal charges in multiple jurisdictions across the country.
"He's facing lots of other criminal charges and civil charges around the country," said Raskin. "He's basically a one-man crime wave. And so he might get his comeuppance in some other jurisdictions first—I don't know about that. But ultimately, we have to believe that the justice system is going to work."
When asked about Raskin's remarks, Trump spokesperson Steven Cheung told Newsweek in an email that "Jamie has no idea what he's talking about and should stop his disgusting assault on American Democracy."
The January 6 committee also referred Trump to the Department of Justice (DOJ) for possible charges of conspiracy to defraud the government, making false statements to the government and incitement of an insurrection. Special counsel Jack Smith was assigned the Trump case in November and will decide whether to move forward with a prosecution.
In addition, Smith was tasked with weighing potential charges related to Trump's post-presidency possession of classified documents. However, the DOJ has since investigated classified documents found to be in the possession of Biden and former Vice President Mike Pence, with the president also being assigned a special counsel.
Friday was far from the first time that Raskin has suggested that there will be dire consequences for Trump's alleged criminal activities.
During an appearance on Yahoo! News' Skullduggery podcast in December, the congressman predicted that Trump "could spend the remaining days of his misanthropic life behind bars, presumably with Secret Service agents."