Jamie Vardy In Numbers: Why the Striker Is So Important to Leicester City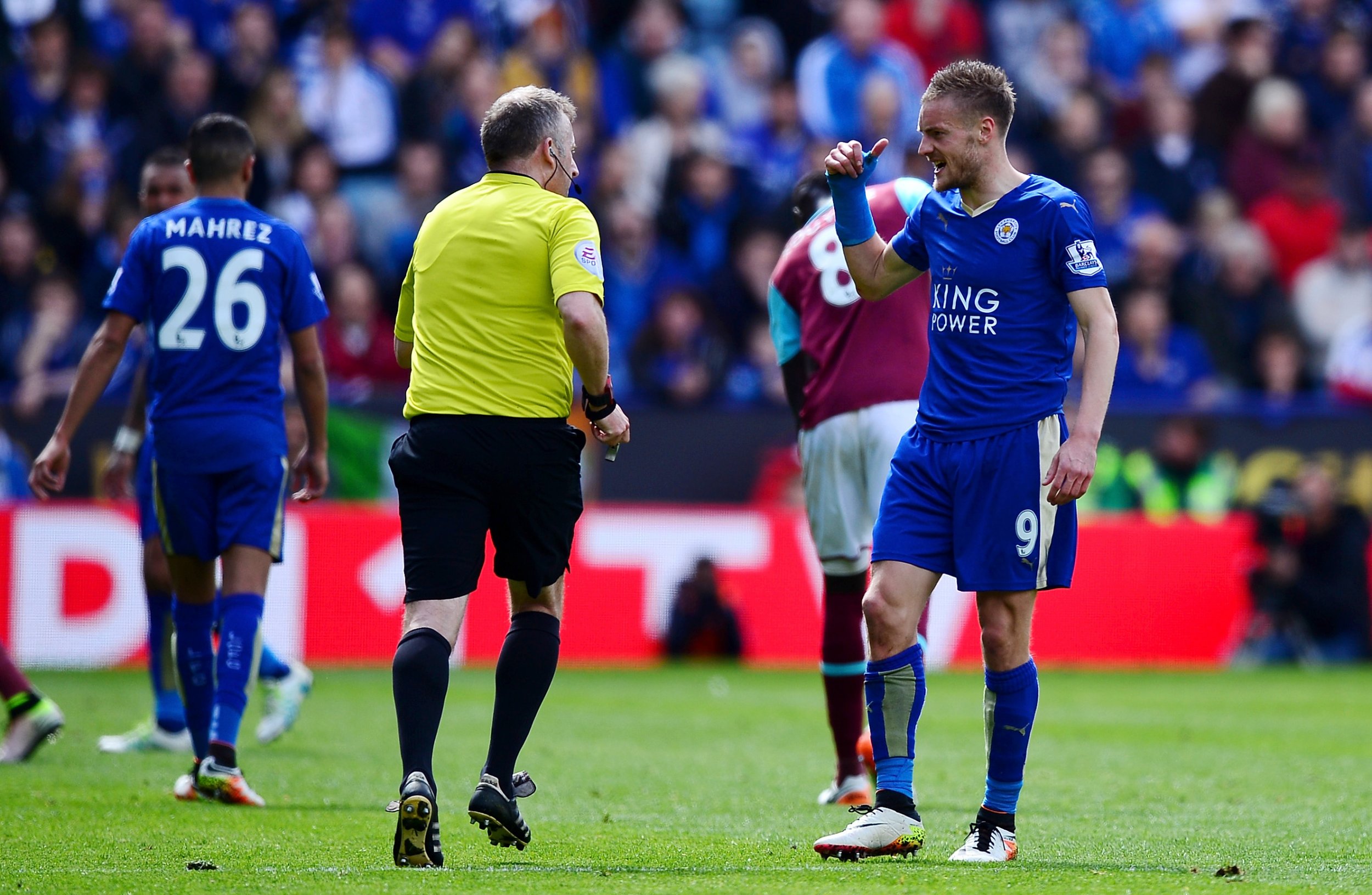 Leicester City will certainly miss its inspirational striker Jamie Vardy for one game, perhaps two, after the FA charged him with misconduct, related to his dismissal in the 2-2 draw with West Ham United on Sunday.
Widely pictured in many British sports sections, Vardy appears to be shouting and swearing in the face of referee Jon Moss, following his dismissal, for two yellow cards. Moss had given Vardy the second card for what he perceived as a dive in the West Ham penalty area.
Leicester is now without its main source of goals for potentially 180 minutes of crucial football in the English Premier League title run-in, if he is found guilty by the FA. But just how important is Vardy to Leicester? Newsweek examines the numbers behind an extraordinary season.
22 goals and six assists Vardy has been responsible, directly or indirectly, for 28 of Leicester's 59 league goals. That's a pretty staggering amount. Of course, his value can be measured in far more than goals and assists—he stretches defences, leaving space for Riyad Mahrez, Leicester's creator-in-chief, to operate and scheme.
34 Premier League games That's right, Vardy hasn't missed a start in any of one of Leicester's 34 league games so far this season. That's significant not just statistically—he's contributed in some form in every one—but it means, it stands to reason even, that this side doesn't know what it's like to not have Vardy in the team. It will have to learn, and fast.
16 points in Leicester's past six games… in which Vardy has contributed two assists and three goals, including two vital strikes against Sunderland. Vardy endured a lean spell after Christmas—more on that to come—but he has hit form again at just the right time. Losing him now, then, is a significant punch to the gut.
One goal… scored by Vardy in Leicester's 1-1 draw with Manchester United at the King Power Stadium in November. That, of course, was the strike that broke the Premier League scoring record for consecutive games. In a twist of fate, Vardy's potential extra punishment would be the return game against United.
16 points in seven games… for Leicester between playing Manchester City on February 6, 2016, and Crystal Palace on March 19, 2016. In that time, Vardy contributed just one goal and three assists. In words, rather than numbers: Leicester proved in that time it could do without Vardy's statistics, if not his overall contribution. Let's see how it fares without both.