Jan. 6 Capitol Riot Timeline: From Trump's First Tweet, Speech to Biden's Certification
Thursday marks the one-year anniversary of the Capitol riot, in which a mob of supporters of Donald Trump stormed the U.S. Capitol building following a rally in which the then-president baselessly alleged fraud in the 2020 election. The attack resulted in five deaths and charges against more than 700 people, and it prompted Trump's historic second impeachment and the largest prosecutorial undertaking in America's history.
A year later, the Capitol attack is being probed by the bipartisan House select committee. Amid the anniversary, some lawmakers continue to push for the passage of voting rights legislation while others argue that the alleged rioters are being unfairly detained as they await their upcoming trials.
The timeline of events on January 6 hasn't been instrumental to many court cases so far. But it's been at the heart of the select committee's investigation as well as prosecutors' attempt to prove the accused rioters conspired to stop the certification of President Joe Biden's election victory.
A Timeline of the Capitol Riot
January 6, 2021
12:53 a.m.: President Donald Trump tweets that Republicans need to "get smart" and "fight" alongside a post suggesting GOP members of Congress should "got to the wall for the president."
1:00 a.m.: Trump suggests Mike Pence has the authority to reject electoral votes in a tweet about the vice president's role presiding over the certification.
8:17 a.m.: Trump tweets that states want to "correct their votes" and calls for Pence to "send them back to the states." He tells Pence it's "time for extreme courage."
10:58 a.m.: Members of the Proud Boys are seen heading toward the Capitol. A member tells the BBC: "We're taking our country back." 1
11:00 p.m.: Trump starts speaking to attendees of the "Save America Rally" at the Ellipse in Washington, D.C. 2
12:17 p.m.: Trump tells his supporters that they're going to "walk down to the Capitol and we're going to cheer on our brave senators, and congressmen and women." 2
12:29 p.m.: About halfway through his speech, Trump says they've "amassed overwhelming evidence about a fake election." 3
12:39 p.m.: Trump claims that states want to "recertify" their votes and urges Pence to "send it back."3
12:49 p.m.: Capitol Police respond to a report of a possible explosive device at the Republican National Committee. A pipe bomb is later found at the Democratic National Committee, as well.4
12:50 p.m.: Trump expresses hope that Pence will "stand up for the good of our Constitution and for the good of our country." If not, the president says he'll be "very disappointed" in his vice president.3
12:53 p.m.: The crowd outside the Capitol grows and confrontations with police begin.1
1:00 p.m.: Congress gathers to certify former Vice President Joe Biden's election win.5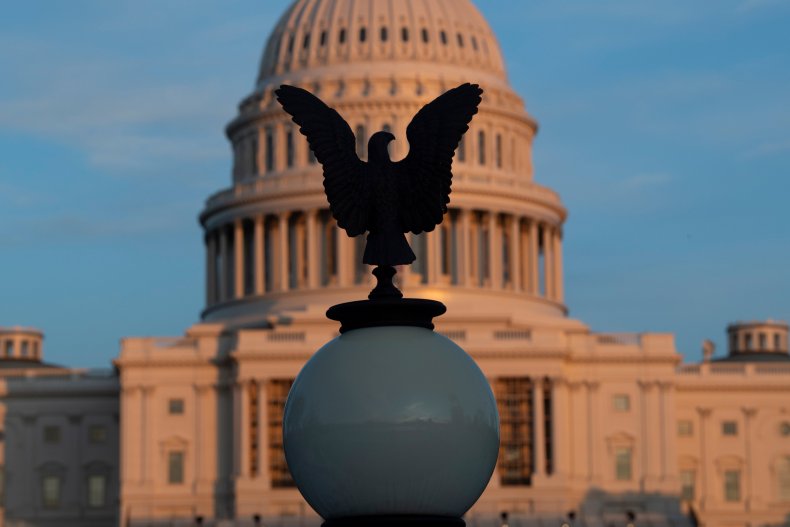 1:11 p.m.: Trump tells supporters to "fight like hell" because if they don't, "you're not going to have a country anymore."3
1:13 p.m.: Trump finishes speaking.3
1:26 p.m.: Capitol Police order the evacuation of the Library of Congress, Madison Building and Cannon House Office Building. 6
1:30 p.m.: The House and Senate adjourn to separate chambers to hear an objection to Arizona's election results.5
1:45 p.m.: Rioters push past police and an officer announces that it is "now effectively a riot," although officers are trying to get compliance.1
1:49 p.m.: Capitol Police Chief Steven Sund calls Major General William Walker, commanding general of the D.C. National Guard, to request assistance.6
2:00 p.m.: Rioters force their way past barricades and advance to the exterior facade of the Capitol, forcing their way into the building.7
2:05 p.m.: Kevin Greeson, reportedly a Trump supporter, is declared dead after suffering a heart attack outside the Capitol.8
2:10 p.m.: Rioters begin to break through the doors and windows of the Senate.9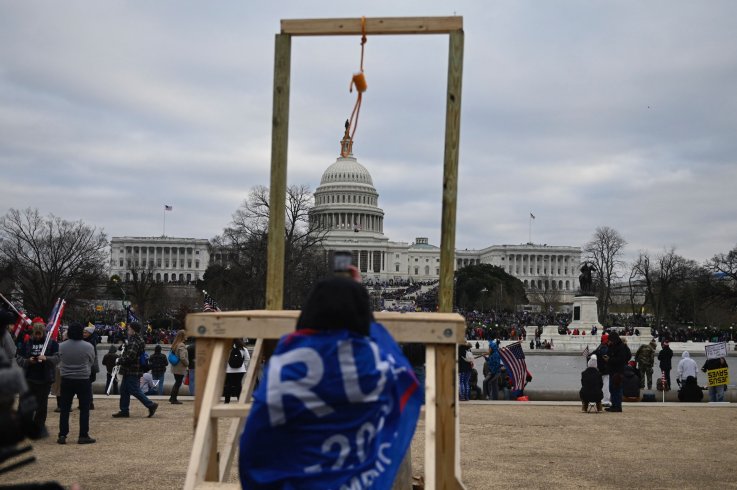 Capitol rioters erected a noose during the January 6, 2021, Capitol riot. Supporters of former President Donald Trump gather across from the Capitol on January 6 in Washington, D.C.
Andrew Caballero-Reynolds/AFP/Getty Images
2:13 p.m.: Secret Service escorts Pence and Speaker of the House Nancy Pelosi from the Senate floor. At the same time, Capitol Police Officer Eugene Goodman encounters a mob and draws them away from the upper chamber.5
2:20 p.m.: Congress members are instructed to evacuate the chambers.5
2:23 p.m.: Julian Khater sprays a chemical substance toward Capitol Police Officer Brian Sicknick, who is pronounced dead the next day.10
2:24 p.m.: Trump tweets that Pence "didn't have the courage to do what should have been done to protect our country and our Constitution."
2:25 p.m.: Army Secretary Ryan McCarthy tells staff to prepare to move the emergency reactionary force to the Capitol.9
2:26 p.m.: Trump intends to call Alabama Republican Senator Tommy Tuberville, but he calls Utah Republican Senator Mike Lee instead. Lee gives the phone to Tuberville, who tells Trump that Pence was evacuated and he cannot talk.7
2:30 p.m.: Rioters try the door to Pelosi's office but find it's locked. Minutes later, a rioter pushes in the door.11
2:38 p.m.: Trump urges people to "support our Capitol police and law enforcement," and tweets that "they are truly on the side of our country. Stay peaceful!"
2:41 p.m.-2:43 p.m.: A group of rioters attempts to get through a locked set of doors outside the House Chamber. Protester Ashli Babbitt is fatally shot while trying to crawl through it.1
2:50 p.m.: Protester Richard Barnett is captured on surveillance video entering Pelosi's conference room. He is photographed sitting in a chair with his feet on a desk belonging to one of Pelosi's staffers.11
3:00 p.m.: Army Secretary Ryan McCarthy approves activating 1,100 National Guard troops to support D.C. police.
3:05 p.m.: House Minority Leader Kevin McCarthy tells WUSA that he called the president to urge him to "calm people down."
3:13 p.m.: Trump posts on Twitter that he's asking people at the Capitol to "remain peaceful" and not engage in violence: "Remember, we are the party of law and order–respect the law and our great men and women in Blue. Thank you!"
3:19 p.m.: Pelosi and Senate Minority Leader Chuck Schumer call the Pentagon for help and are told the National Guard request was approved.9
3:51 p.m.: The District of Columbia National Guard is mobilized to support local law enforcement.6
4:05 p.m.: Biden holds a press conference and calls for Trump to demand the "siege" of the Capitol ends.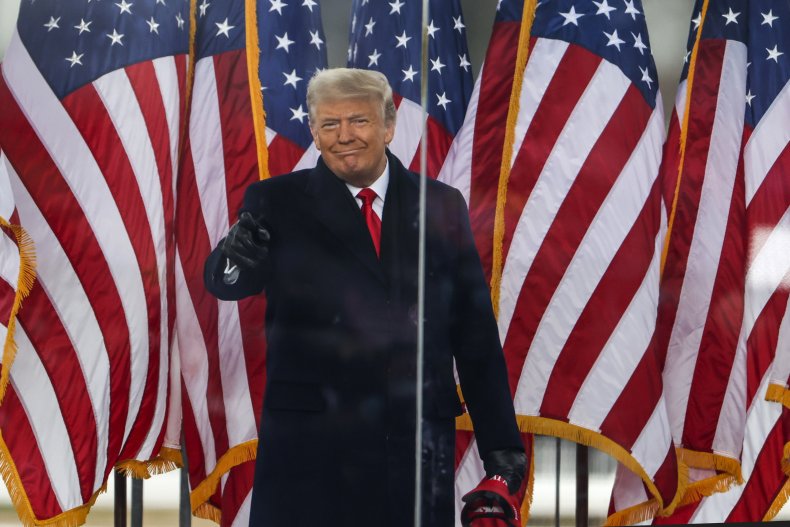 4:08 p.m.: Pence calls acting Defense Secretary Christopher Miller and asks for a deadline for securing the building.5
4:17 p.m.: Trump posts a video on social media telling rioters that he knows their pain and hurt. "We had an election that was stolen from us. It was a landslide election and everyone knows it, especially the other side. But you have to go home now ... We have to have peace. We have to have law and order. ... So go home. We love you, you're very special. ... I know how you feel. But go home and go home in peace," he says.
4:26 p.m.: Protester Rosanne Boyland collapses and is taken to the hospital. She is later pronounced dead of an amphetamine overdose.
5:20 p.m.: National Guard members start arriving at the Capitol.9
6:01 p.m.: Trump tweets a post suggesting that the Capitol riot was the result of a fraudulent election. "These are the things and events that happen when a sacred landslide election victory is so unceremoniously and viciously stripped away from great patriots who have been badly and unfairly treated for so long. Go home with love and in peace. Remember this day forever!" he says before deleting the tweet.
7:00 p.m.: Facebook removes Trump's posts from the social media site.
7:02 p.m.: Twitter removes Trump's tweets and suspends his account for 12 hours.
7:55 p.m.: Stephanie Grisham, first lady Melania Trump's chief of staff, and Sarah Matthews, White House deputy press secretary, resign.
7:59 p.m.: A group of lawmakers pen a letter to Pence asking him to invoke the 25th Amendment and remove Trump from office.
8:00 p.m.: Capitol Police declare the building to be secure.9
8:06 p.m.: The Senate reconvenes to resume the certification of Biden's Electoral College victory.5
8:10 p.m.: Senate Majority Leader Mitch McConnell addresses Congress, putting blame on Trump and asserting that Congress won't be "deterred" from certifying Biden's win.
8:36 p.m.: Facebook suspends Trump's page for 24 hours.
9:00 p.m.: The House reconvenes to continue debate.
10:15 p.m.: Senators reject a challenge from Republican lawmakers objecting to the election results in Arizona.
11:30 p.m.: The House votes to reject objections to Arizona's Electoral College votes.
January 7, 2021
3:40 a.m.: Congress certifies Biden's election victory.
3:49 a.m.: Trump commits to an orderly transition of power, but vows to continue the fight to ensure "only legal votes were counted."
Timeline sources: 1. BBC; 2. The New York Times; 3. Rev; 4. Al.com; 5. The Washington Post; 6. Department of Defense; 7. USA Today; 8. Pro Publica; 9. The Associated Press; 10. The New York Times; 11. Department of Justice