Jan. 6 Rioter Who Assaulted Capitol Police With Pole Gets 4-Plus Years
One of the rioters who participated in the January 6 assault on the U.S. Capitol has been sentenced to more than four years in prison.
In one of the harshest sentences yet for a January 6 rioter, Duke Wilson was sentenced to 51 months in prison on charges of obstruction of an official proceeding and assaulting, resisting or impeding police officers. He had previously pled guilty to the charges in September 2021. In addition to the prison sentence, he will serve 36 months of supervised release and will have to pay $2,000 in restitution.
Wilson stormed the U.S. Capitol on January 6, 2021, as Congress voted to confirm Joe Biden as president. According to the U.S. Department of Justice, Wilson at one point "picked up a several feet long white cylindrical object, believed to be a thin polyvinyl chloride (PVC) pipe, and indiscriminately used it to strike at the officers, hitting one."
Capitol Police Sergeant Aquilino Gonell was the officer Wilson had hit with the pipe. While on the stand, Wilson expressed remorse for his actions, while also apologizing if he had injured Gonell and other nearby officers.
"I made a very bad decision. I deserve punishment," he said. "I didn't a plan to do this at the time.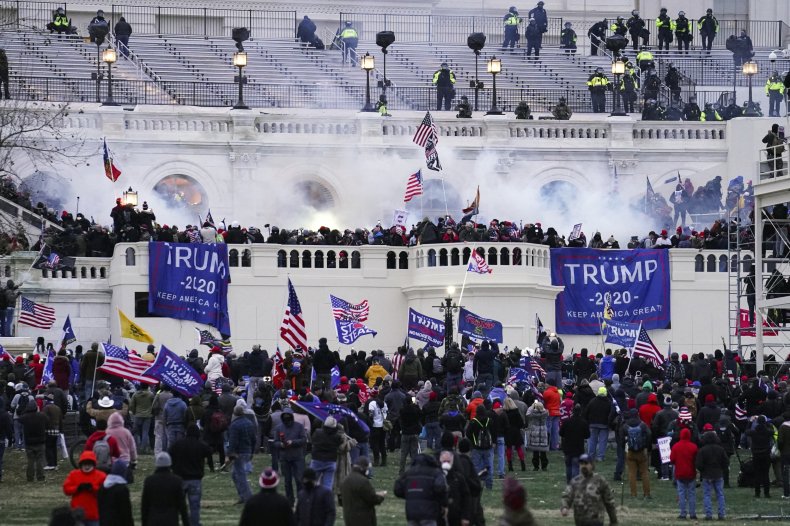 However, Gonell said in his own testimony that he doubted Wilson's sincerity.
"I remember seeing Mr. Wilson pick up flagpoles from the floor and then use them as weapons against me," Gonell said on the stand. "Mr. Wilson did not listen to my lawful commands to discontinue his violent actions. As I speak today, I do not believe his fake sense of remorse."
Wilson's sentence of 51 months in prison is the second-highest sentence given yet to a January 6 rioter. It is 12 years less than the sentence given to Robert Palmer in December 2021. Newsweek previously reported that Palmer was given a sentence of 63 months in prison after assaulting Capitol Police officers with a fire extinguisher and wooden planks.
However, the majority of the 725 people arrested in the January 6 riots have not gone to trial, much less receive a sentence. According to Politico, out of the less than 100 people who have been sentenced, only 53 have been given terms of less than a year, with 19 getting between 30 and 90 days in prison.
Many Americans could find these sentences to be too lenient. A poll from The Washington Post and the University of Maryland claimed that 51 percent of Americans thought that the sentences given to January 6 participants thus far have not been harsh enough given the severity of the event. A 2021 Newsweek analysis yielded a similar result, with only a third of those convicted on misdemeanor charges receiving prison sentences.
Update at 3/4/22, 5:12 p.m. ET: This story has been updated with additional information and quotes from Duke Wilson and Staff Sergeant Aquilino Gonell.