Former GOP Governor Tells Child-aged Toy on Sacha Baron Cohen Show It Can Buy Machine Gun
A former Arizona governor told a toy it could buy a semiautomatic gun during an appearance on comedian Sacha Baron Cohen's television show, Who Is America?
In an interview during one of the segments of Cohen's Showtime program, Cohen, disguised as OMGWhizzBoyOMG, a fake YouTube star who unboxes toys, asked former GOP Arizona Governor Jan Brewer if a child's toy on the show was allowed to buy a semiautomatic gun. The clip of the segment can be viewed here.
"I do not know how to tie my shoelaces, but please can I have a semiautomatic gun?" Cohen had the toy, called Fizzy Fireworks, ask Brewer. "I think I would be very good at shooting people."
In response, the politician tells the child's toy it is allowed to purchase a "certain kind of machine gun."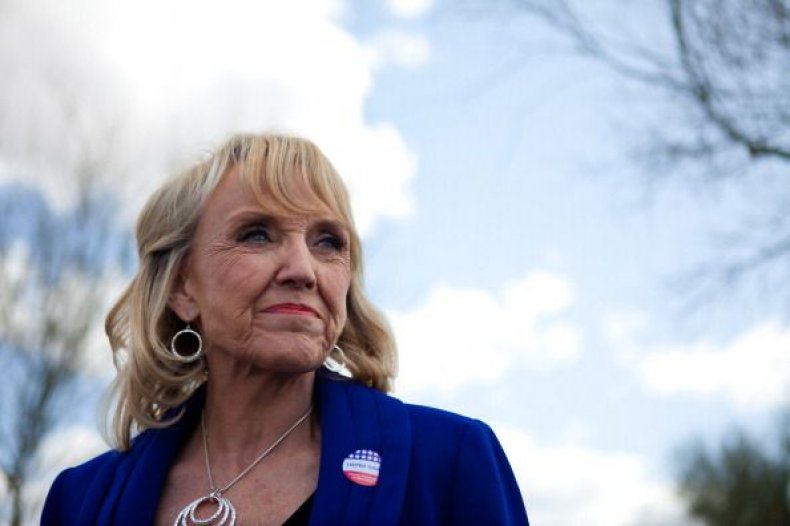 "A certain kind of machine gun, you can," Brewer replies. "Certain kinds of machine guns are off-grounds. They ought not to be, though."
Cohen, the comedian who made the movies Borat and Bruno, explained to Brewer that the toy was 21 years old but had the mental age of a 3-year-old. Brewer then told Cohen and the toy that most people were not mentally ill. "I'm not mentally ill, I just want to ethnically cleanse all of the limited-edition Shopkins," Cohen made Fizzy Fireworks say.
"Well, that's crazy," Brewer replied.
When Cohen makes the toy ask Brewer if it could still buy a gun despite telling her its plans, she says it still can purchase the weapon.
"Oh, but can I still buy machine gun, please?" Cohen makes the toy ask.
"Yes, you can," Brewer says.
Newsweek reached out to Brewer for comment but did not hear back in time for publication.
Brewer is the latest politician to be duped while appearing on Cohen's show, which premiered on Showtime in July. In past episodes, Cohen tricked Roy Moore by scanning a fake pedophile-detecting device over him. The defeated Republican candidate, who was accused of sexual misconduct, was interviewed by Cohen's character, General Erran Morad, an Israeli anti-terror expert, who used fake "Israel technology" to prove that neither he nor Moore were pedophiles. The scanner, which looked like a metal detector, did not beep when waved over Cohen's character, but made a noise when it was used over Moore.
Cohen was also able to trick two GOP congressmen into admitting they supported arming toddlers.