Jan. 6 Defendant Uses Tucker Carlson Footage to Bid for Freedom
The lawyers of a Jan. 6 defendant are reportedly seeking to delay his trial—claiming they need access to footage that they saw aired by Tucker Carlson on TV on Monday night.
Shane Jenkins is currently being held in jail awaiting trial, after being accused of throwing a pole, a desk drawer, a pipe and a flagpole at police during the storming of the Capitol in 2021.
But his legal team are now said to be arguing that the 41,000 hours of newly released video clips include footage they haven't seen before and consequently need to review as it may help their defense.
Part of the request document, shared online by CBS journalist Scott MacFarlane, states: "The government has disclosed approximately 16,000 hours of video footage to Mr. Jenkins, which means that approximately 25,000 hours of video footage have been withheld." The lawyers go on to argue: "Discovery in criminal cases is crucial to a fair and just judicial system."
Newsweek has reached out by email to attorney John Pierce, who is reportedly representing Jenkins and 21 other Jan. 6 defendants.
Fox News host Carlson released the first segments of footage, said to show clips from angles that have never been seen before, on his show on Monday evening. He was controversially given access to the security tapes by Speaker Kevin McCarthy (R-Calif.), sparking outrage from Democrats such as former Speaker Nancy Pelosi (D-Calif.) who said it could threaten security in the building.
Carlson said his producers ran the clips they intended to air past Capitol police to ensure it was safe to do so first. But an unnamed Capitol Hill source told NBC that only one clip had been submitted.
Despite the controversy over airing the footage, Carlson argued the public had a right to see the videos, which he claimed will upend views that the event was a "deadly insurrection" and will instead reveal that it was "mostly peaceful chaos."
Among the footage aired by Carlson was a video of intruders roaming around Capitol hallways, who did not stop to vandalize the area or attack police. Republican Congressman Mike Collins who was watching his TV tweeted: "I've seen enough. Release all J6 political prisoners now."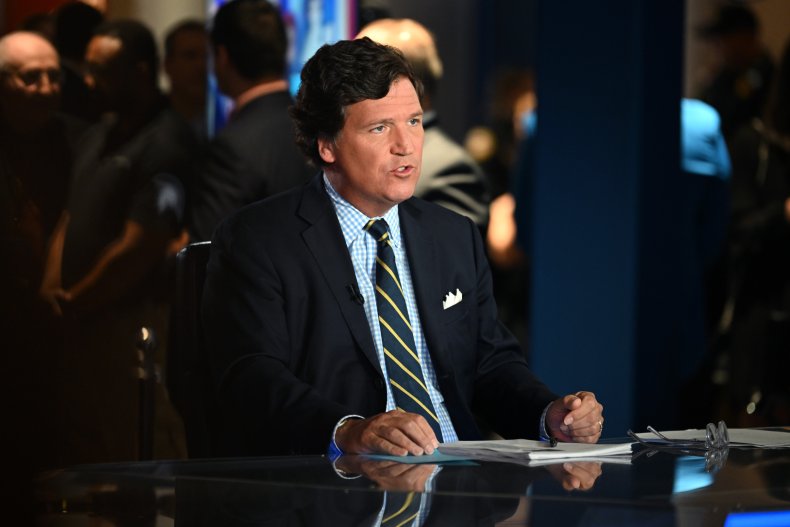 But other commentators have mocked such claims, pointing out that peaceful behavior during some parts of the day don't negate the violence that erupted at other times. Senate Majority Leader Chuck Schumer blasted the show, describing it as "one of the most shameful hours of television" in recent memory. "To say January 6th was not violent is a lie, a lie pure and simple," he added.
The show was also criticized by the family of police officer Brian Sicknick, who believe he died after a stroke as a direct result of him being attacked by Capitol intruders. The Sicknick family released a statement on Monday after Carlson's show aired, and said: "Every time the pain of that day seems to have ebbed a bit, organizations like Fox rip our wounds wide open again, and we are frankly sick of it."
Newsweek has reached out to Fox by email, seeking a comment about the Sicknick family's criticism and the broadcaster's decision to allow Carlson to air the new Jan. 6 footage.
The Jan. 6 violence broke out when Donald Trump lost the presidency to Joe Biden, with angry protesters storming the Capitol in an attack that lasted for hours. Around 1,000 people were charged in connection with the attack, that left around 140 police officers injured. Two pipe bombs were found planted nearby, but they weren't detonated.