Jane Birkin Recalls Her Life as Serge Gainsbourg's Muse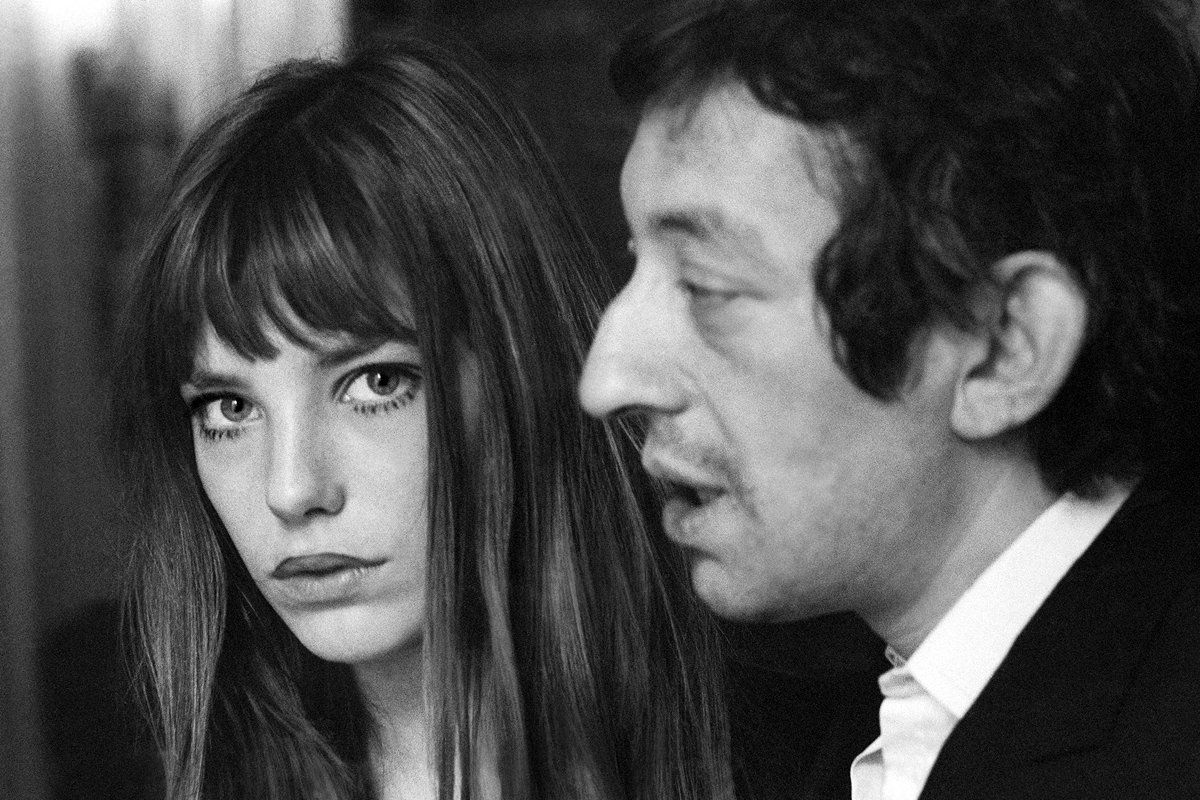 I first met Serge when I went to Paris to audition for Slogan, which he was starring in. I had just separated from the composer John Barry, so I was feeling miserable. I don't think Serge thought that I was particularly attractive or interesting, and he didn't seem to take much notice of me.
Pierre Grimblat, the director, organized a dinner for us. I was left with Serge, whom I expected to be very arrogant. I was so surprised when I pulled him onto the dance floor and he said, "No, I don't know how to dance!" Then he walked on my feet, and I thought it was so charming.
He took me to a Russian nightclub where he got all the musicians to play the violin for me on the sidewalk. We went off to another nightclub, and he played with Big Joe Turner. Later he took me off to the Hilton Hotel, and we went up to the top floor. When I came out of the bathroom he was fast asleep, which gave me enough time to go buy the record that we'd danced to. I pushed it between his toes and crept off back to my hotel. It was the most romantic of evenings.
After that we went off to Venice, and that's where I fell head over heels. He took away all the pain of it having not worked with John Barry, and I think I helped him get over Brigitte Bardot and her leaving him.
His face was so much more interesting than any other face I'd ever seen, with extraordinarily sad eyes and a beautiful mouth. He read me his poetry, and it was always a play on words. That was such an unusual trait—to be that romantic and funny.
Sex was his obsession. With the song "Je T'aime Moi Non Plus," I did it because I didn't want anyone else to do it. It was hot stuff and was banned by the pope and the BBC. That was the greatest PR we could have, as Serge used to say. The Guardian said it was the sexiest song in history. I now know when I die what my signature music will be.
He was an amazing father and was terribly moved when our daughter Charlotte was born. She had to be transferred to another hospital, and I wasn't allowed to go with her because I'd caught some malady. Serge went off in the taxi crying with little Charlotte in the basket—and Yul Brynner was with him because he was her godfather.
I've never gone into why I left him. He was somebody who drank a vast amount. It started out being funny the first 10 years, and then it got monotonous. After I left him, strangely enough, he wrote the most beautiful and best songs he ever wrote for me.
Our friendship went on until his dying day. He rang me in London to say he bought me a big diamond because I had lost one that he'd given me. I said, "Oh, stop drinking, Serge." And a day later, on March 2, 1991, he was dead.
He comes back to me as a ghost in his corduroy coat, and I clasp him around his waist saying, "Stay on for a bit longer." And he says, "No, I've got to go." I miss him. So does all of France. He had been faithful and kind to the end.
As told to Marlow Stern. Gainsbourg: A Heroic Life in in theaters Aug. 30, and Birkin begins a U.S. tour Nov. 29.