Jane Campion's Apology to Venus and Serena Williams Falls Flat
Jane Campion has apologized to Venus and Serena Williams for the "thoughtless" comments she made during her Critics Choice Award speech on Sunday night but the filmmaker's statement of remorse has fallen flat among her critics.
The Oscar-nominated, multi-award-winning director of The Power of the Dog caused uproar when she named the tennis champions in her acceptance speech and said that they "do not play against the guys like I have to."
Campion, 67, has been heavily criticized for her remarks which have been labeled "stupid and insulting" on social media.
The filmmaker issued an apology on Monday and urged that she did not intend to "devalue" the Williams sisters in her speech.
"I made a thoughtless comment equating what I do in the film world with all that Serena Williams and Venus Williams have achieved. I did not intend to devalue these two legendary Black women and world-class athletes," Campion said in a statement, per The Hollywood Reporter.
"The fact is the Williams sisters have, actually, squared off against men on the court (and off), and they have both raised the bar and opened doors for what is possible for women in this world. The last thing I would ever want to do is minimize remarkable women.
"I love Serena and Venus. Their accomplishments are titanic and inspiring. Serena and Venus, I apologize and completely celebrate you."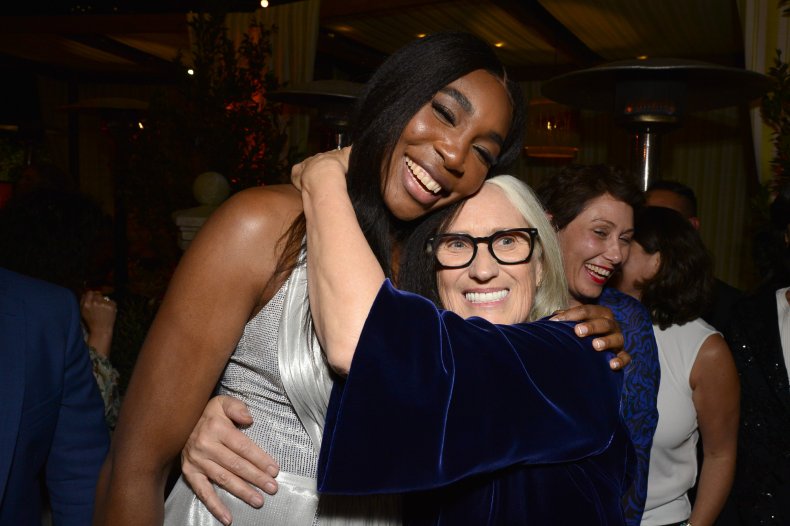 However, her apology has not been widely accepted, with several voices on social media expressing their disdain for Campion and the whole situation.
"Jane Campion is what you get when you live a life of unchecked privilege. Less interested in an apology, and more interested in why her brain thought it was ok to make that comment in the first place," tweeted entrepreneur Isa Watson.
Actress Vivicca A. Whitsett said: "F*** Jane Campion. Apology NOT accepted. You said what you said. SMMFH."
Producer Mynette Louie tweeted: "WHY is it so hard for white women to acknowledge WOC face RACISM + sexism? This acknowledgement is as absent in Campion's apology as it was in her orig dumb comment. Saying Venus & Serena Williams are 'Black' isn't enough. She needed to address the RACISM."
Another person who found an issue with Campion's apology is author A.D. Lowman who tweeted: "'Jane Campion abdicated responsibility for her biased comments by calling them 'thoughtless' and passed that off as an apology. There, fixed it for you."
The Williams sisters were in the audience at the Critics Choice Awards to support the film King Richard, which is about their father and tennis coach Richard Williams.
Will Smith won another Best Actor award for his performance in the movie at the Critics' Choice Awards.