Jane Fonda Arrested Again, This Time With 'Grace and Frankie' Co-Star Sam Waterston
While others treat Fridays as an opportunity to rest after a long workweek, Jane Fonda is turning them into an opportunity to get arrested for a cause she believes in. For the second Friday in a row, Fonda was arrested on the steps of the U.S. Capitol with other climate change activists, this time including her Grace and Frankie co-star Sam Waterston.
Fonda, Waterston and dozens of other protesters were arrested Friday as part of Fire Drill Fridays, whose participants are calling on Congress to take immediate action on the Green New Deal. On her website, Fonda wrote in a blog post that she and other activists will be at the Capitol every Friday "rain or shine, inspired and emboldened by the incredible movement our youth have created. I can no longer stand by and let our elected officials ignore—and even worse—empower—the industries that are destroying our planet for profit. We can not continue to stand for this."
Fonda took time off from Grace and Frankie, her hit Netflix show, and temporarily relocated to Washington, D.C., to devote more time to her activism. Earlier this month, she told the Los Angeles Times she was inspired by 16-year-old climate change activist Greta Thunberg.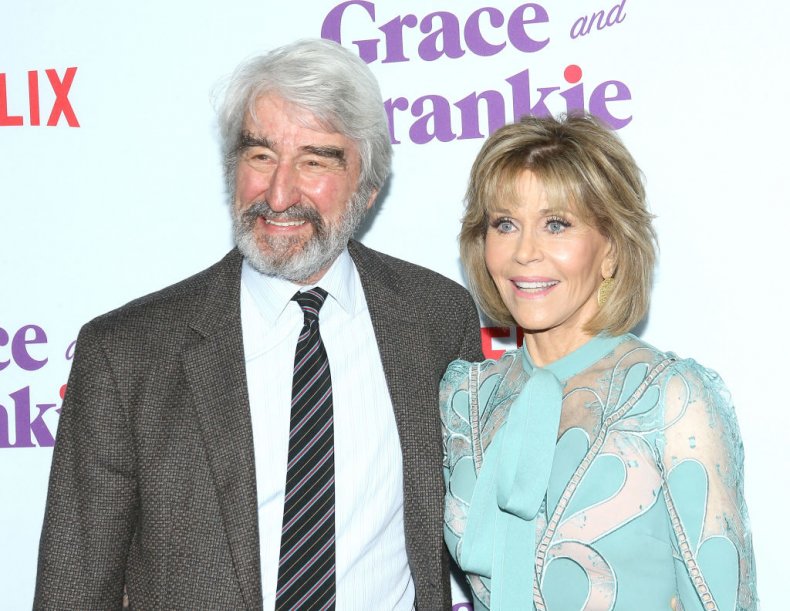 "I realized that here is this young person [who is] not influenced by what other people think," Fonda told the Los Angeles Times. "She read the [Intergovernmental Panel on Climate Change] report, and she realized that the crisis was barreling straight at us, like a train, and looked around and people weren't behaving appropriately. It so traumatized her that she stopped eating. I hadn't realized that she stopped eating and speaking for almost a year. And that really hit me."
But Fonda didn't need to look far for inspiration for her weekly protests. In a recent episode of Grace and Frankie, Waterston, who plays Sol, participates in daily protests. In the episode, Sol's law partner Robert (Martin Sheen) is worried Sol's protests are taking a toll on him. At the end of the episode, he throws out his back after yet another protest and admits to Robert he was able to avoid arrest because the cop felt pity for him. Perhaps Waterston in real life could have avoided Friday's arrest by employing a similar tactic?
If the pattern continues, it's pretty much a safe bet that Fonda will be arrested next Friday as well. But the real question is, Which celebrity will she be arrested with next? Perhaps her Grace and Frankie co-star Lily Tomlin? Or how about her good friend Dolly Parton? This could be the 9 to 5 reunion fans have been waiting for.
Grace and Frankie will conclude with Season 7, Netflix confirmed in September.