Jane Fonda is a living icon. She's won Oscars, hails from Hollywood royalty and has had an impact on nearly every aspect of popular culture for the past 60 years. But unlike many other legends of the silver screen, Fonda is almost as well known for her performances as she is for her activism.
From her controversial involvement with the G.I. movement during the Vietnam War to her longtime activism for women's rights, Fonda has become a symbol for social change. Now she's partnered with Greenpeace to take on climate change.
Late last year, Fonda temporarily relocated to Washington, D.C. to lead Greenpeace's "Fire Drill Fridays," a weekly protest in the nation's capital urging lawmakers to combat climate change and pass the Green New Deal. Those protests reached millions and led to the arrests of Fonda and other celebrities like Joaquin Phoenix, Diane Lane, Lily Tomlin, Ted Danson, Sally Field and Gloria Steinem, among others.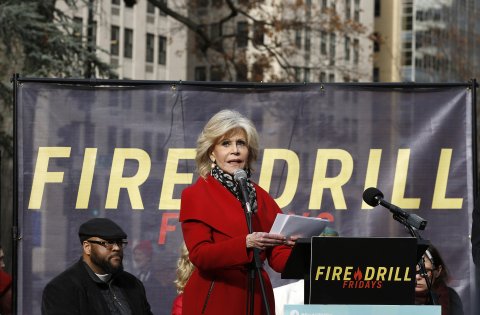 Now she's leading Fire Drill Fridays in California, starting in Los Angeles this Friday, where she'll be joined by Greenpeace USA Executive Director Annie Leonard to launch what will become a series of protests across California.
"The last few months have shown us that people around the world are ready for a reckoning with the fossil fuel industry, and we'll be in Los Angeles on Friday to keep the pressure on," Greenpeace USA Executive Director Annie Leonard said in a statement. "The science is clear—we need to stop burning fossil fuels and invest aggressively in a transition to clean, safe, renewable energy. California has often been the environmental pace-setter for the nation, leading the way for others to follow. It's now time for our leaders to show the way by passing a Green New Deal, halting new fossil fuel permitting, and beginning to transition off oil and gas, starting with those communities most burdened by fossil fuel operations."
Fonda spoke with Newsweek about Fire Drill Fridays, the need for the Green New Deal and how the iconic red coat she wore when she was arrested became a symbol for the movement. Edited excerpts follow:
Newsweek: California is considered a leader on climate change activism. How do you think California is poised to lead the nation on climate change and passage of the Green New Deal?
Jane Fonda: There's a schism between what people think of California environmentally and the reality. We are very progressive in terms of the demand side—alternative energy, electric cars, all of those kinds of things. Very progressive. But we are also one of the biggest oil-producing states and thousands of permits for new well drilling and fracking continue to be issued. That's what has to stop. Because we have a very small carbon budget left. We can't continue to drill and frack, and California continues to do it. That's what has to stop. But there hasn't been very much talk about that supply-side, because it's the hard side.
What role do you think Hollywood, in particular, can or should be playing in climate change activism?
Every single person should be playing a role. And when people are in Hollywood, especially the actors in Hollywood, they have a platform. So that platform can be used, and it's always best that it be used in the context of an organization. I don't act alone. When I decided to go to Washington, I immediately called Greenpeace. I've been working in the embrace of Greenpeace.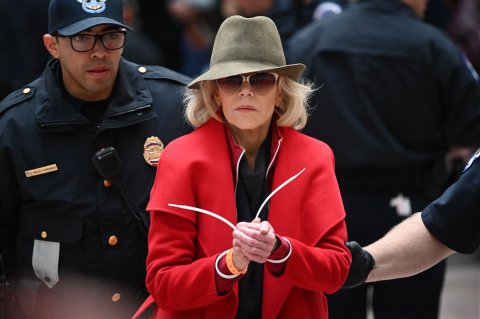 What was your reaction to your time in D.C. and did it give you hope?
Totally. We had no idea in the beginning whether this would work, if there would be any traction. It could have been just an aging movie star comes to Washington and does this thing every Friday and then goes home. But within a couple of weeks, it became clear that we were tapping into something that was needed. The youth have their Fridays for Future, and Greenpeace does these big actions with people hanging off bridges and being very, very brave. Not everyone can do that, but what we discovered Fire Drill Fridays was offering was something very doable on a regular basis. People came from all over the country, and they kept coming. It made me extremely hopeful because they got a lot out of it. It changed them, and also it made them feel part of a community. We're facing a collective crisis that requires a collective response. We need to build community because it's been eroded for the last many decades.
Which of the 2020 candidates do you think is best poised to combat climate change and pass the Green New Deal?
Well, I think the business of passing it in Congress depends on people. Us getting people elected to the Congress and to the Senate that will be brave enough to do this. If we can do that, then it can happen. I think Elizabeth Warren has a very good climate platform. Very brave. Bernie Sanders does, too. Tom Styer, too. You know what I say? It's too late for moderation. The oil companies, the fossil fuel companies knew in the '70s, if not sooner, that what they were doing was wreaking havoc to the climate that could be really disastrous for portions of the earth. And they lied about it, and they hid it the way the tobacco companies did.
In fact, they hired the same companies that the tobacco companies had used. The goal was to create doubt. They said, if we can create doubt, we've won. "While there are two sides to the story, that's what these people say. But then, these [other] people say..."
You know what's important right now is that there are not two sides to the story. The scientists are united in saying that this is a catastrophe. But if we had known what they knew back in the '70s, we could have had a moderate incremental transition out of fossil fuel into a clean, sustainable energy system. But we didn't. We lost all that time, and now we have a decade left, so it's too late for moderation. It's going to take tremendous courage and bold action.
There are some candidates saying it's going to take the 30 years to end U.S. carbon emissions, or rather by 2050. Do you think that's too moderate of an estimate?
Well, what the science says is we have to cut our emissions in half by 2030. We have a decade, and then we have to phase out to net-zero by 2050, by the middle of the century. That's what the science says, so that's what we go with.
You've lived a life of activism, but came to it from an unlikely place. Do you recall a moment or time that sparked that fire in you to help others?
Yeah. You know, for me it's often been books. I was married to a French man, I lived in France, I had just had a young child and there were American soldiers who had fought in Vietnam and left and deserted and were resisters, and they were living in Paris and they would try to find American compatriots that could help them with doctors or dentists or clothes. About eight of them—Dick Perrin being the leader—contacted me to ask me for help. We got to know each other, and they could see that I didn't really know very much about the [Vietnam] war. They gave me a book by Jonathan Schell called The Village of Ben Suc. It was a small book, and I read it in one sitting. It was like, "oh my God." Because I was a believer. I thought if our soldiers are fighting, it's gotta be for the right thing because my dad had been in the Second World War and I thought our country wouldn't send soldiers to someplace where we were doing bad. So when I read this book, I just thought, well, that's it. I mean, I was in a pickle because I was married, and I had a young child. So it's not like it happened overnight, but I knew right then that life would not be the same, and that I would have to leave my husband. He was French, number one, and number two, he was cynical and he was not someone who would join me on this journey. And so a year later I left, and I moved here [to Los Angeles] and became part of the G.I. movement.
The red coat you wore during the Fire Drill Fridays in Washington, D.C. became a symbol for the movement. Why do you think it had the impact it did?
I have no idea. We were meeting the team in D.C.—Greenpeace, the organizers that made it all happen. "Let's see, okay, it's going to be called Fire Drill Fridays, maybe you should wear a fireman's coat? It's too hokey, but wear something red." And so I went to Neiman's, and there was only one red thing and it was this coat that was on sale. So I bought it, and I decided this is going to be the last piece of clothing I buy. So I started wearing it.
Do you plan on auctioning it off?
No, I'm going to wear it next Friday.