Jane Fonda on Her New Book, 'Prime Time'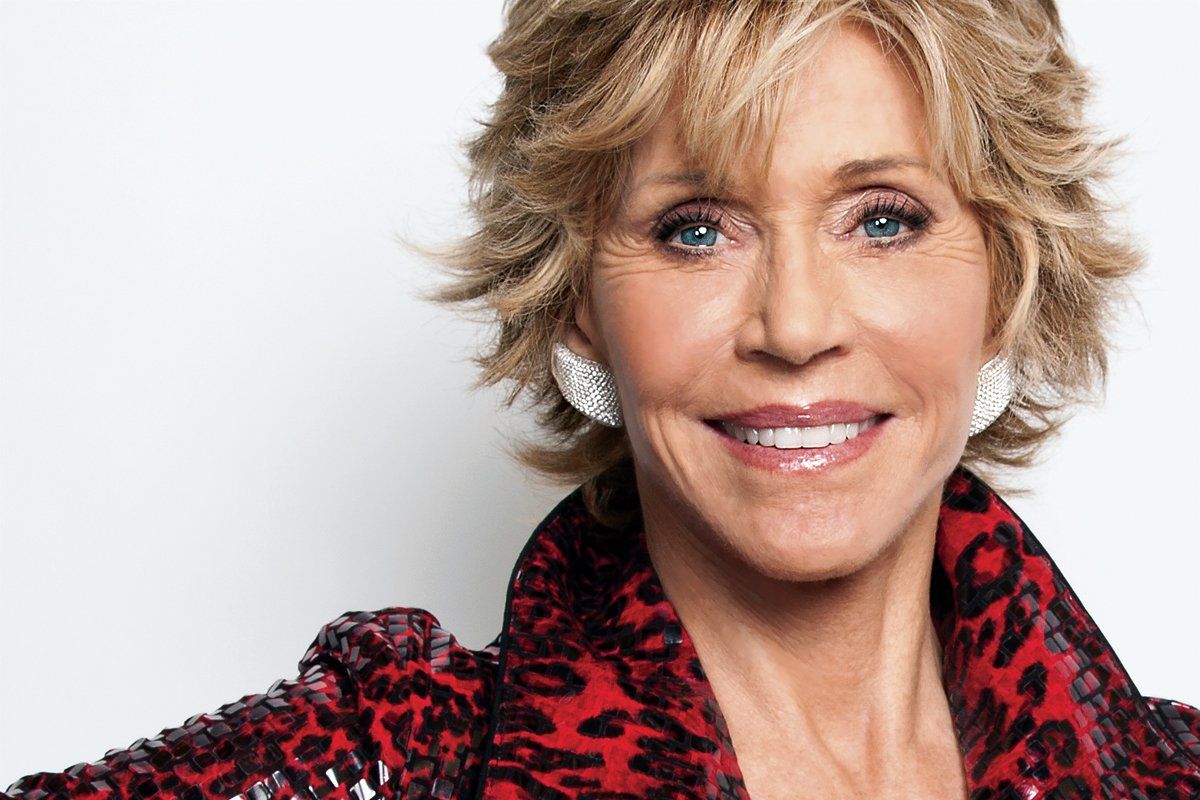 As celebrity social crusaders go, it doesn't get any more vivid than Jane Fonda. She has spent her life raising a glamorous fist: against the Vietnam War and armed conflicts abroad, for women's rights. She even pumped up the plump with her exercise tapes.
Now, at 73, she is on a new tear: campaigning for sex, hormone replacement, seated tricep lifts, Zen—anything that will help those 60 and beyond live the good life.
Her new book, Prime Time, is about what she calls her third—and final—act. Filled with snippets of research gleaned from experts, poignant recollections from her past, and instructions on everything from masturbation to the Monte Carlo financial-modeling system, it is, she says, her gift to the generation that has stuck with her, in all her incarnations, through half a century.
"I feel like I need to be there for them," she says, as we speed through the city in the back seat of a black Escalade headed for Newark Airport after a three-day media tour of New York that included appearances on Charlie Rose and Live With Regis and Kelly. She travels alone without diva trappings; no assistant, no hair and makeup people, no lap dog. Just a couple of carry-ons and a garment bag. "We're the first generation to be in this situation, to be aging but also to be active and really alive. There just aren't any road maps. It's terrifying."
Posture perfect, her manicured hands in a constant state of motion in tandem with her whiskied voice, Fonda doesn't look terrified. In fact, in a form-fitting green pullover (lots of cleavage), tailored khaki carpenter's pants, and loafers, she looks as she always has: ready for anything and about to bubble over with passionate asides and unbridled wonder. In its September issue, Harper's Bazaar features her in profile in a tight black dress with illusion lace down the sides, no undergarments; her head is tossed back mid-laugh, her hand on her hip.
"I think it's important for everyone to know that people in their 70s can be sexually attractive and sexually active," she says. "They don't have to be, of course, and lots of people have opted out of that, but they can be. I can be. I mean, I am." As usual, she isn't much for self-censoring. Such candor, along with her fiery liberal politics, has often gotten her in trouble, from her perceived antipathy for veterans during the Vietnam War to the 2009 contretemps regarding a letter she signed in protest of the Toronto Film Festival premiere of 10 films about Tel Aviv. "I feel like my honesty gives people the freedom to talk about things they wouldn't otherwise."
She is quick to sound off about the current political landscape at home: "I don't know why Obama can't seem to make people understand that the rich, especially the super-rich, have to be taxed more. And I count myself in that. I mean, I'm not super-rich, but I know them, and plenty of them think so, too. You can't have a stable country when there is this much disparity between the rich and poor. He has to be tougher."
As for women's rights, she feels we've come a long way, but not far enough. "Consider that there is only one woman so far on the new 12-person 'supercommittee' to deal with the deficit. They're all white males. What does that say?"
Is there anything Fonda won't talk about? "I try not to talk about my children [her daughter, Vanessa, by French film director Roger Vadim, and her son, Troy, by California politician Tom Hayden], because they don't like it. And I've never talked about my sex life with Ted." That's Ted Turner, the media impresario to whom she was married for most of the 1990s. "I mean, at least I haven't talked about the specifics."
Prime Time took her four years to complete. She started it soon after she published her chart-topping confessional 2005 memoir, My Life So Far. Fonda traveled widely to interview scientists and regular folks about the vagaries of getting older. She did most of the writing on her 2,500-acre ranch on a river near Santa Fe (a "divorce gift" from Turner) and at the home she shares in the Hollywood Hills with Richard Perry, 69, a music producer whom she started dating two years ago. Perry has been in the house since the 1980s; it's hard to imagine other icons of her era (Liza, Liz, Barbra) just picking up and moving their things in with a new boyfriend (she eschews "partner" as too "businessy") as they entered their 70s, but Fonda concedes, with a hint of embarrassment, that she is "very flexible."
"I've been accused of being too flexible, too willing to mold myself to men, and that's something I'm constantly working on," she adds. She and Perry have virtually nothing in common, she confesses—"he doesn't read at all, and he only thinks about music and love"—but for now, things seem to be working. "I'm less needy for outside validation than I once was; I don't need the man I'm with to be a certain way to impress my friends. He's comfortable and safe, a cozy old shoe. And kind." The two try to swing-dance for 20 minutes each night.
Fonda has always spoken openly, regretfully, about her obsession with thinness and her looks, but she says that despite the ravages of time, she has never been happier. She got some new cosmetic surgery a few years ago ("I'm not proud of feeling like I needed it"), but, she says, the real change has been internal. "That transitional stage of the late 40s and early 50s, that was really hard, but now I finally feel like I'm really becoming myself."
The process began in earnest, she says, just before she turned 60, when she made a video about her life for her birthday party. Assembling the footage and examining the past was what led her to dissolve her marriage to Turner. The lure of private jets and the 23 ranches and estates waned over the course of their time together, she says, and catering to the needs of an eccentric, globe-trotting billionaire became enervating. "I realized I wanted to change the terms of my marriage. Ted just wasn't interested in that."
She says she doesn't miss the fast life, though her current existence still seems accelerated by mortal standards. She became a fervent Christian in 2001 (she enrolled in the largest seminary for black clergy while she lived in Atlanta), and recently she's thrown herself into Zen meditation. Forty-three-year-old Vanessa, a documentary maker, has two young children with whom Fonda tries to spend a lot of time; she descends upon them each Easter in a full-dress bunny costume. (Troy, in his late 30s, is married with no kids.) To help with writer's block during those weeks alone on the ranch, she pulls out a chain saw to level brush or builds rock walls. "I find that arduous physical labor can jump-start my thought process," she says. Among the only concessions she's made to age have been to quit hormone-replacement therapy since she had a benign breast tumor and to stop running; she has had hip and knee-replacement surgery. "I don't leap from vehicles anymore."
While she still considers herself primarily an activist, Fonda's third act will be more personal than political, more about home and the heart than about actively opposing wars abroad, she says. Aware that time catches up even with those who have done all they can to cheat it, she plans more explicitly for the future. The next few years include three new books, this time aimed at teenagers and their families as a tie-in to her charitable foundation, the Georgia Campaign for Adolescent Pregnancy Prevention.
And then there is the upcoming television series she won't talk about yet. Getting back into the business she left when she married Turner is a priority, one of the reasons she has come back to L.A. "I really want to work again," she says, recalling rapturously her 2009 stint on Broadway after 46 years away, in Moisés Kaufman's 33 Variations (the critics were not as enthralled).
"It's hard for women at my age in Hollywood, but I'm not discouraged," she says as we reach her departure gate. At the back of the Escalade, she shifts some clothes from one bag to another and hoists the luggage down. Her publicist insists they wait for the VIP escort; Fonda shrugs, ready to roll alone.
"I know what I want from my third act," she says, running a hand through her streaked hair and slipping on sunglasses to protect herself from the glare of the airport lighting and, perhaps, recognition. "I've already done a lot of what I want to do, and finally, after all this time, I know where I'm headed."
And with the sound of wheels on the pavement, she's gone.