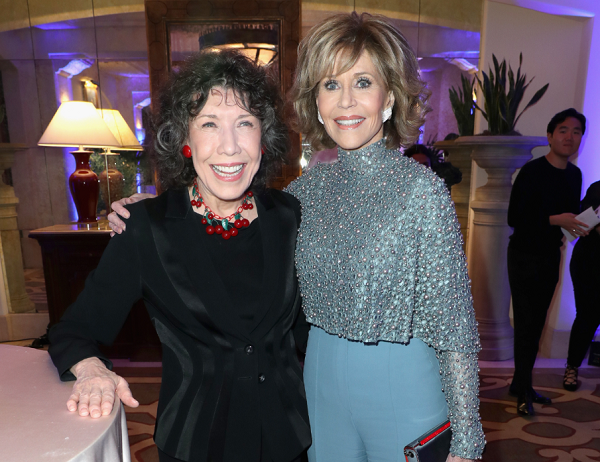 Jane Fonda and Lily Tomlin appeared on the Today show Tuesday to plug the fourth season of their Netflix series Grace and Frankie, which begins on Friday. And during their chat with hosts Hoda Kotb and Savannah Guthrie, the actresses got in a shot at Megyn Kelly Today host Megyn Kelly.
In the interview, Kotb asks how long the stars have been friends. "I think before your first facelift," Tomlin cracked, looking at Fonda. (They've really been pals for more than 50 years.) Following an outburst of laughter from the hosts, Fonda snarkily replied: "Who are you, Megyn Kelly?" Tomlin continued her teasing, "Oh that's right. I forgot she was the one. I thought it had been Hoda or Savannah."
Just a few months before appearing on the Today show with Tomlin, Fonda was interviewed by Kelly while promoting the film Our Souls at Night. And Kelly used the opportunity to ask Fonda about her history with plastic surgery.
"You've been an example to everyone in how to age beautifully and with strength and unapologetically. You admit you've had work done, which I think is to your credit. But you look amazing," Kelly said. "I read that you said you're not proud to admit you've had work done. Why not?"
"We really want to talk about that right now?" Fonda responded, co-star and longtime friend Robert Redford sitting beside her.
Fonda has never denied having work done, but the two-time Academy Award winner hasn't actually opened up on any procedures she may have received over the years. And when the Hollywood beauty was met with Kelly's awkward line of questioning about the subject in September, she maintained her efforts to keep her medical history under wraps.
Kelly continued to press Fonda on her experiences going under the knife. But the outspoken New York City native credited her "good attitude, good posture" and self-care efforts for her youthful, good looks, then turned the conversation back on the actual reason she was visiting Megyn Kelly Today. "But let me tell you why I love this movie that we did, Our Souls at Night, rather than plastic surgery," she said.
Kelly's questions—and Fonda's graceful responses—sparked a wave of chatter on social media, including comments from some who deemed Kelly as being ageist.
Judging by their appearance together on the Today show, Tomlin also got a big kick out of her friend's uncomfortable interview with Kelly.