Jane Fonda Says Trump Is 'Oil President' Paid by Fossil Fuel Industry, Needs to Go to Solve Climate Crisis
Jane Fonda has hit out at President Donald Trump, calling him an "oil president" who needs to be removed from office in order to solve the climate crisis.
Fonda has been arrested four Fridays in a row for unlawful protesting on the steps of the U.S. Capitol in Washington, D.C., where she has been part of highly-publicized weekly demonstrations highlighting the consequences of the climate crisis.
In an interview with CNN's Don Lemon, which will air in full on Wednesday night, Fonda, 81, warned that the climate crisis is a "ticking time bomb looming over everything."
The actress also hit out at Trump and his cabinet, alleging that the Republican administration is embedded with the oil industry.
"We're never going to solve the climate crisis ... he is an oil president, his cabinet is an oil cabinet. He is bought off by fossil fuels, and a lot of people in the Senate, a lot of Republican candidates, are too," said Fonda. "We can't solve the problem when we have elected officials who are paid by the fossil fuel industry."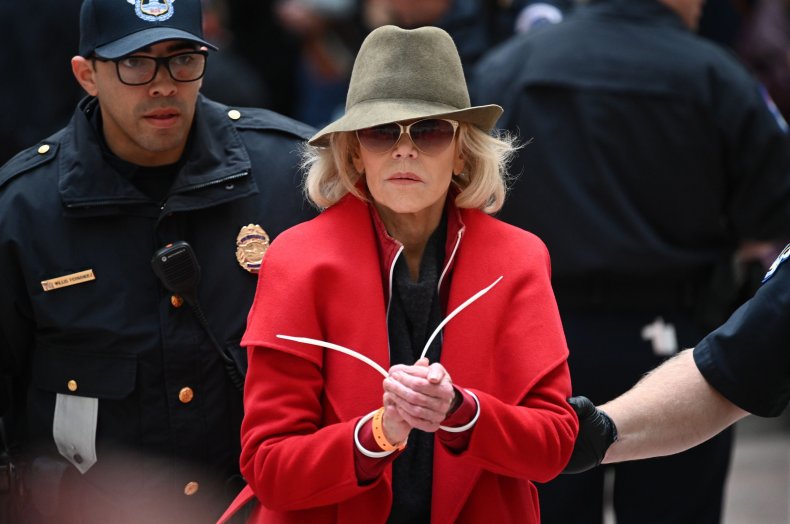 "The sooner we move beyond him the better, whether it's through the elections or through impeachment," Fonda added, referring to the House of Representatives' ongoing inquiry into Trump over whether the president acted unconstitutionally in a phone call with Ukraine in July.
"Humankind has never faced a situation like this," Fonda said elsewhere in the interview with CNN, "where we face the kind of dangers that could kill hundreds of millions of people, that could cause mass migrations, that could create health pandemics."
Fonda plans to protest in Washington every Friday through January, when her Netflix comedy Grace and Frankie resumes production, and said that active protesting must become the "new normal." She said people "have to be out there, have to be risking arrest, we have to be engaging in civil disobedience" to promote changes around the world to combat the climate emergency.
Fonda has called her weekly protests "Fire Drill Fridays" and has also engaged famous friends including Ted Danson, Sam Waterston, Catherine Keener and Rosanna Arquette to take part in the demonstrations.
On Wednesday, over 11,000 scientists warned that dramatic changes are needed on a global scale to combat the climate emergency or risk "untold suffering." Among suggestions put forward by the scientists to combat the climate crisis are eliminating fossil fuels, reductions in food waste and more informed choices about adding to the human population.
The interview with Jane Fonda airs on CNN on Wednesday at 10 p.m.