Jane Goodall Decries Viral Video Showing Chimpanzee Using Instagram, Says it Perpetuates illegal pet trade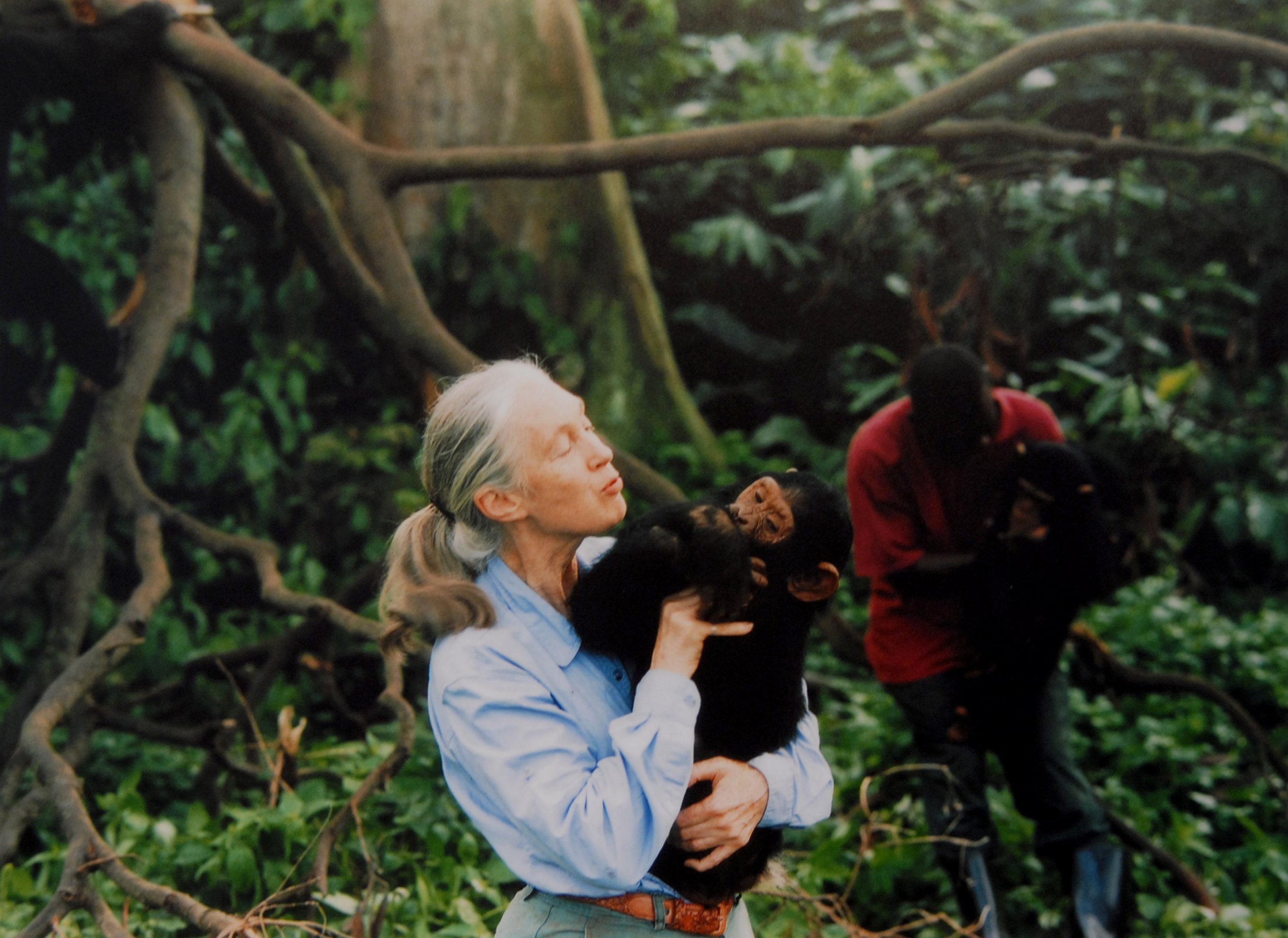 A video of a chimpanzee scrolling through Instagram in a remarkably human-like fashion became an instant hit this week with more than 1 million social media viewers—but don't count Jane Goodall among those online admirers.
The renowned primatologist released a statement through her organization, The Jane Goodall Institute, that decried the video and implored people to abstain from giving it a "like, share or comment."
The video, explained Goodall, could perpetuate illegal animal trading and worsen the conditions for animals in captivity.
"I am very disappointed to see the inappropriate portrayal of a juvenile chimpanzee in this video which is currently circulating on social media," Goodall said in the statement from her organization. "Chimpanzees are highly social animals, very intelligent and have complex emotions like humans – it is imperative that we portray them appropriately and that they receive the best possible care in captive environments."
She continued: "As they cannot be domesticated, interactions with humans as displayed by this video are highly dangerous, as well as harmful to the well-being of the chimpanzee."
The clip in question showed the chimpanzee scrolling through videos of fellow primates on Instagram, toggling dextrously through profiles on the application's user feed. As is the case with many viral videos, it's unclear where the clip originated, as it has been repeatedly posted by multiple accounts without attribution to a definitive source.
Goodall's camp claimed it was likely recorded at the Myrtle Beach Safari in South Carolina and charged the organization with having previously "used" chimps "inappropriately" in the past. The Safari, which boasts that it offers "wild encounter" tours for VIP customers, did not immediately return Newsweek's call for comment.
A number of high-profile Instagram accounts shared the video, including one operated by Mike Holston (@therealtarzann), who describes his verified account as "animal education and conservation"-oriented. The account, which has more than 5 million followers on the Facebook-owned platform, was specifically called out in Goodall's statement for routinely sharing videos of wild and exotic species in seemingly paid-for promotional activities.
Using the animals to boost online influence disregards the animals "great individual suffering" and also incentivizes stealing endangered great apes from the wild, Goodall's camp claimed, pointing to Holston's habit of showing chimps in human-like settings and attire.
Holston did not immediately return Newsweek's request for comment.
"It is unclear why they continue to do this or how it is permitted, but it is certainly harmful to the long term psychological and physical needs of this young chimpanzee," The Goodall Institute claimed.
Numerous studies have shown that chimpanzees in captivity are capable of exhibiting symptoms similar to post-traumatic stress disorder (PTSD). In 2011, a study published by PLOS-1 concluded that such research underscores "the importance of ethical considerations regarding the use of chimpanzees in experimentation and other captive settings."
According to the animal foundation ARCUS, more than 1,700 chimpanzees are held by private and government entities across the United States.