Jane Powell, Golden Age Actress, Mourned on Twitter: 'Charming, Funny and Always Game'
Jane Powell, the famed Golden Age actress, singer and dancer, has died at age 92 and is mourned by her many fans, some of whom shared their tributes to her on Twitter.
Turner Classic Movies host and grandson of legendary Hollywood writer Herman Mankiewicz, Ben Mankiewicz tweeted on Thursday evening: "Jane's raucous enthusiasm is what makes Royal Wedding go. It's a favorite of mine and a wildly underrated MGM musical. And Jane was always so kind to all of us at@TCM. She was charming, funny, and always game."
The Turner Classic Movies account, in turn, wrote: "We are beyond saddened about the passing of our dear friend Jane Powell who joined us many times over the years, including the launch of TCM in 1994."
Powell's friend, Susan Granger, who confirmed the beloved star's death, wrote in an email to Newsweek, "Jane was a lifelong friend—perceptive, candid, loyal and kind. You never asked Jane a question you didn't want a totally honest reply to."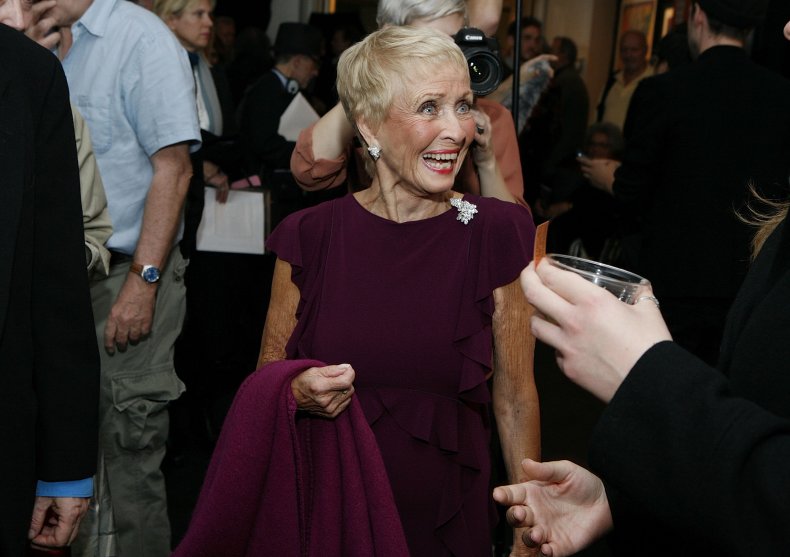 Powell, who passed away of natural causes in her Connecticut home on Thursday, was a Metro-Goldwyn-Mayer-contracted actress who appeared in 21 feature films in her career, from 1944-1999, and graced the stage of 23 major plays and staged musicals from 1951-2004.
Starting with her very first film alongside W.C. Fields in 1944, Song of the Open Road, the young woman born in Portland, Oregon as Suzanne Lorraine Burce took the moniker "Jane Powell" from her character in the movie and made it her permanent stage name.
She went on to star in such silver-screen classics as Royal Wedding, an MGM musical comedy where she danced opposite Fred Astaire, Hit the Deck, where she starred with Debbie Reynolds and Seven Brides for Seven Brothers where she played Milly—a role she later reprised for a stage revival in 1978.
Benjamin Dreyer, a bestselling author, tweeted "Goodbye to Jane Powell, who was the darlingest," along with a collage of vintage film photos showing Powell in action.
Twitter user @classicfilmgeek posted "What a devastating loss. I can't name one Old Hollywood fan who doesn't adore Jane Powell and everything she brought to the silver screen. Musicals won't be the same without her, and neither will any of us who have admired her films and beautiful voice. Broken heart. She's with Dickie now," seemingly referring to Powell's husband, former child actor Dickie Moore, who died in 2015.
Of her nearly lifelong work as an actress, Powell once told the Chicago Tribune: "It was exciting. You got to meet people you'd never otherwise get to meet. But there's something young people miss if they don't have the usual progression from kindergarten to grade school to high school, all of that. There were no sleepovers, no girls' nights. I didn't know anybody. It was a lonely life, really."
Powell is survived by children Geary Anthony Steffen III, Suzanne Steffen, and Lindsay Cavalli and granddaughters Skye Cavalli and Tia Cavalli.