'Sister Wives' Fans Slam TLC for 'Clickbait' As Janelle Reveals Life Change
Sister Wives fans have slammed network TLC for revealing a "dramatic" teaser ahead of Sunday's episode.
The TLC reality series centers around patriarch Kody Brown, 53, and his polygamous marriages to legal wife Robyn Brown, 43, and his two other "spiritual" wives, Meri, 51, and Janelle, 53.
Much of Sister Wives' current season has focused on the split between Kody and former wife, Christine, 50.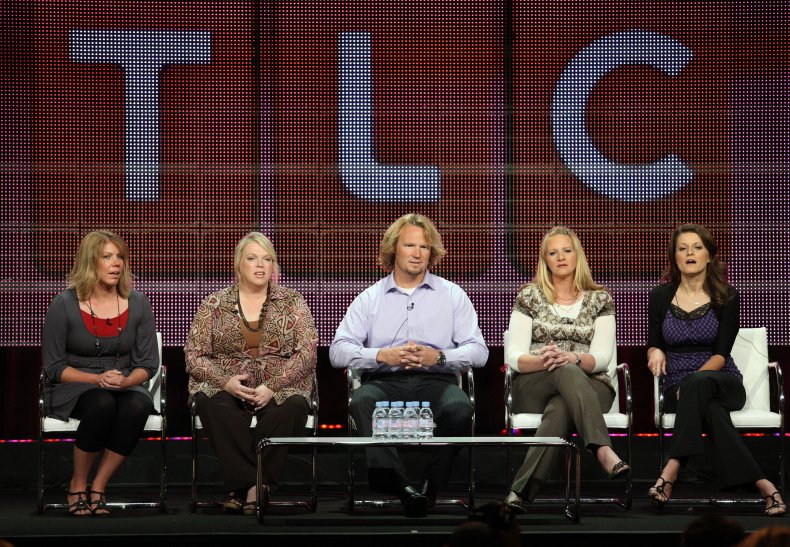 Just before the latest installment dropped, TLC teased a cryptic foreshadowing from Janelle on its Twitter account, which sent fans into a rage.
"It feels like there's storms brewing in the family," the message read over a promotional shot of Janelle as ominous music played in the background.
Before even seeing the episode and the drama to come, fans slammed TLC for the tweet.
"Calm down TLC," replied @jenobergperna to the tweet.
"I know nothing about this show but I do know that this promo is waaay too dramatic. the background is like if someone just found about the saturation slider. the music. the slow mo. janelle's outfit is not fitting the vibe of the insanity you've created behind her. is this camp?" @krystal_lattice added.
And @rruu73 simply wrote: "Click bait."
Once the show had aired @sanity_rules chastised the network writing, "hardly a big announcement. I ❤Janelle but cut the drama, @TLC."
On Sunday's episode, Christine returned to Flagstaff, Arizona, where the family lives after traveling to Utah to support her daughter, Mykelti, as she gave birth to a baby daughter.
She also revealed to the other Sister Wives she was leaving Kody and intended to move to Utah, taking her younger daughter Truely with her.
Kody denied this would happen and told them Truely would split her time between Arizona and Utah.
As for Janelle, viewers watched as she was forced to move out of her rental property when the landlord put it up for sale.
Janelle was reluctant to put in an offer for the property because she felt a mortgage might put too much financial pressure on her and could prevent her from building on the family compound.
So she decided to buy an RV sight unseen despite protests from the other "sister wives."
Her sons planned to move into their own apartment while her daughter Savannah would live with her in the RV on the family property.
Christine then offered Janelle the opportunity to move into her home once she left Flagstaff to move to Utah.
Sister Wives continues Sundays at 10 p.m. ET on TLC.