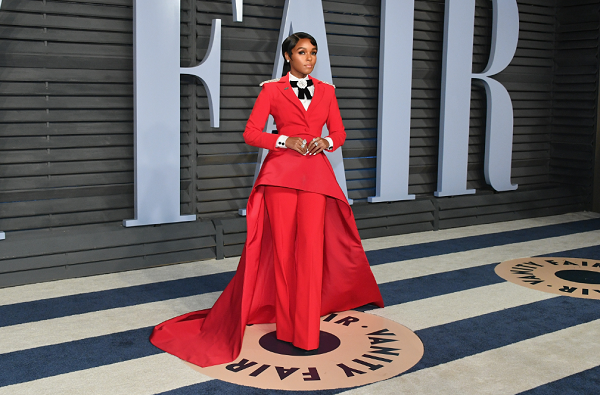 For as long as we've known Janelle Monáe, the androgynous singer always managed to evade questions about her love life, regularly alleging to "only date androids." That changed when Rolling Stone published their cover interview Thursday with Monáe. The musician revealed she's not limited in her sexual choices when it comes to a significant other's biological sex, gender or gender identity.
Simply put, Monáe identifies as pansexual, telling the magazine that she initially thought she was bisexual, "but then later I read about pansexuality and was like, 'Oh, these are things that I identify with too.' I'm open to learning more about who I am."
Her admission is likely not a surprise. Whispers surrounding the well-polished, suit-wearing singer's sexuality have been on the lips of fans since her first single "Tightrope" (featuring Big Boi) debuted in 2010. And then this year, Monáe set the rumor mill ablaze with her "Make Me Feel" video, in which she's fed a lollipop by Westworld actress Tessa Thomspon, who fans suspect she's dating. Just a few days before "Make Me Feel" was released, the duo popped up together at the red carpet premiere of Thompson's movie Annihilation.
But real fans of Monáe knew of her fluid sexuality years before she came out. She sang about it—somewhat—on a deep cut off her debut album The ArchAndroid, also released in 2010. On the track "Mushrooms and Roses," Monáe—under her android moniker Cyndi Mayweather—sings about a budding romance with a "long, grey hair, beautiful smile and rosy cheeks" girl named Blueberry Mary.
"Blueberry Mary, and she's crazy about me (She's so crazy about me)/She's wild man, she's wild! She gives the boys all of her kisses and electricity/(Til I come, til I come in her dreams)," she sings.
Then in her 2013 hit, "Q.E.E.N." (featuring Erykah Badu), she references Mary yet again while the background harmonies can be heard singing the word "Queer," which Monáe told Rolling Stone was the original name of the song. "Hey brother can you save my soul from the devil?/Say is it weird to like the way she wears her tights?/And is it rude to wear my shades?/ Am I a freak because I love watching Mary?" she sings.
According to Monáe, the answers to her sexuality have always been a component of her music. "If you listen to my albums, it's there," she said.