Janet Jackson: In Control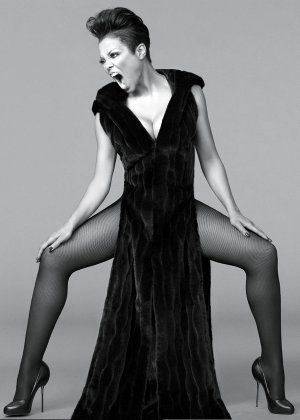 Maybe it's the big brown eyes. Maybe it's the baby-doll voice. Maybe it's her unusual family. Whatever the cause, Janet Jackson has long noticed she has a peculiar effect on men and, frankly, she doesn't get it. "For some reason, men always want to protect me from something," says Jackson, 44, her eyes and that voice as vulnerable as always. "I find it interesting because I consider myself strong and perfectly able to take care of myself. But I've had that reaction all my life from men. It baffles me." In the last few years, the role of Jackson's chief protector has been played by director Tyler Perry. He's been there through breakups and breakdowns, as a friend and, possibly just as important, a source of constant employment. While her music career has cooled, Perry's cast her in his last three movies. In fact, she was in the middle of filming Why Did I Get Married Too with him in Atlanta when her mentor, idol, and older brother Michael died from an alleged drug overdose. Perry promptly hired extra security and prohibited photos of her from being released to the tabloids. He even changed the ending of the film—over her objections—because it featured her in a scene at a funeral. "It was just too eerie," says Perry. "When I think of Janet, I just want to protect her. Not that she needs it—she can handle whatever comes her way, and she has. But when I see what she's been through, it makes me want to intervene in any way I can."
All of which explains how they came to work together on their latest movie, For Colored Girls. The two had just wrapped up Married Too when Perry called to invite Jackson to see an Atlanta production of For Colored Girls Who Have Considered Suicide/When the Rainbow Is Enuf, the landmark 1974 Ntozake Shange play about a circle of African-American women who face so many hardships—rape, infidelity, infertility, the death of children—they could found their own Prozac nation. Typically, Jackson thought the invite was another one of Perry's safety checks. "He worries about me a lot and calls sometimes just to see how I'm doing, so I had no idea he was thinking of making a movie out of the play—or that he'd want me in it, for that matter," she says. Neither of them had ever seen the play. "I remember being about 10 years old and visiting Michael in New York when he was filming The Wiz. It was on Broadway then," she says. "I always remembered it as the play with the really long name." Perry had been hearing for years from women—most recently Whoopi Goldberg—who wanted him to adapt it. "I knew that some women really consider it the black woman's bible," Perrysays. "That was fascinating to me."
Shange's beautiful and haunting play is an especially un-film-friendly work. The original piece was told, in a very '70s way, largely through dance and verse. None of the characters even had names. The women in Perry's version (played by Thandie Newton, Kimberly Elise, Kerry Washington, Loretta Devine, Phylicia Rashad, and Goldberg) do break into soliloquies at unexpected moments, and one of them teaches dance. But Perry has deftly updated their situations to feel more true to 21st-century Harlem, though you still must get past the dated idea that all the women feel consumed and defined by their relationships with men (and that the men, with the exception of one noble policeman, are worthless).
Jackson plays Jo, a high-powered magazine editor from the Devil Wears Prada school. "Tyler named her Carmen, but Carmen doesn't seem cold, heartless, and hard. I thought her name should be Jo, which is a little more cold and masculine. It's also my middle name," she says. It is also the name of her difficult and demanding father, Joe, which Jackson acknowledges only with a wry smile. Whatever her inspiration, Jackson knew she wanted to own Jo in a way she never has before with a character. It was Jackson's idea to cut her hair into an no-nonsense pixie and to wear power red in every scene (including the soles of her Christian Louboutin shoes). "I know I drove Tyler crazy with my endless texts and calls with my ideas on everything. I worried he'd change his number by the time the movie started filming," she says.
It wasn't just about the wardrobe. Jackson understood Jo's devastating secrets (which we are about to reveal, so stop reading if you don't want to know) in a number of personal ways. Jo's husband cheats on her—with men. "I'd been in my own marriage where there was a huge pink elephant in the room and I just ignored it. It wasn't that exact same situation, of course, but there was something wrong that I wouldn't admit to myself and just stayed," she says. By the end of the movie, we discover that Jo's husband has given her AIDS. "I guess my first thought was going back to when Magic Johnson announced he had AIDS. He was such a close family friend, so I still remember that day and that feeling," she says. "And of course I've had so many friends pass away from AIDS who never talked about it until they got sick. So all their names were racing through my mind."
In its way, making the film was harder on Perry. He is probably the most successful African-American director of all time (his films have earned more than $500 million), but he's done mostly broad comedies in which Perry himself acts in drag as the salty battle-ax named Madea. Goldberg may have been confident Perry was right for Colored Girls, but many African-Americans quietly questioned whether he'd have the sensitivity and skill to pull off a drama about multidimensional women. Perry was so conscious of the naysayers, he posted a letter on his Web site to assure viewers that he'd treated the play with respect. "I think some people worried I'd actually put Madea in this film," says Perry, 41. "I wanted my fans and fans of the play to know that I understood the historical importance of this project and treated it that way. I understood their reservations."
For Jackson, at least, the film hit the spot. "As an African-American woman, I know how strong we're supposed to be and how we hold so much in," she says. "But that has to change. I had to change." The proof is written all over her face—she looks thinner and happier than she has in years. Part of that undoubtedly comes from her personal life: she is dating Wissam Al Mana, a reported billionaire and native of Qatar who is nine years her junior. Part of it comes from making peace with her past. She's written a sort of self-help book/memoir, True You, that focuses on her ongoing issues with her weight and her self-esteem. "Our children are struggling with so much today," she says. "I wanted to share something about my own life that might help them with theirs." And part of it just comes from the passage of time and the wisdom that comes from experience. It does get better (to borrow a phrase), but not all at once, and that's OK, too. "When I was filming last year, I had moments when my feelings over Michael's death would burst through and I couldn't stop them," she says, taking a brief pause. "This story took me to a different place so the pain of his death didn't surface as much, but of course it's always there."