Janet Yellen: Congress Has Until Oct. 18 To Raise Debt Ceiling, Avoid First-Ever Default
Treasury Secretary Janet Yellen has given Congress a hard deadline on raising the debt ceiling to avoid default.
In a letter addressed to House Speaker Nancy Pelosi on Tuesday, Yellen warned that the department could only finance the operations of the federal government through mid-October if action isn't taken.
"We now estimate that Treasury is likely to exhaust its extraordinary measures if Congress has not acted to raise or suspend the debt limit by October 18," Yellen wrote. "At that point, we expect Treasury would be left with very limited resources that would be depleted quickly."
"It is uncertain whether we could continue to meet all the nation's commitments after that date," the secretary added.
On Monday, Senate Republicans blocked the Democrats' plan to both suspend the debt ceiling and fund the government. Republican leader Mitch McConnell has repeatedly said that the GOP won't support raising the debt ceiling, stating Democrats can do so on their own to pay for their "reckless plans."
The House-passed legislation would have funded the government into December and suspended the debt ceiling into December 2022.
"The Republican Party has solidified itself as the party of default, and it will be the American people who pay the price," Senate Majority Leader Chuck Schumer said after the vote.
Yellon noted Tuesday that waiting until "the last minute" to adjust the debt ceiling can have serious consequences, including harm to consumer confidence and higher borrowing costs for taxpayers.
"Failure to act promptly could also result in substantial disruptions to financial markets, as heightened uncertainty can exacerbate volatility and erode investor confidence," the secretary wrote to Pelosi.
If Congress doesn't take action before October 18, the U.S. risks defaulting on its debt for the first time.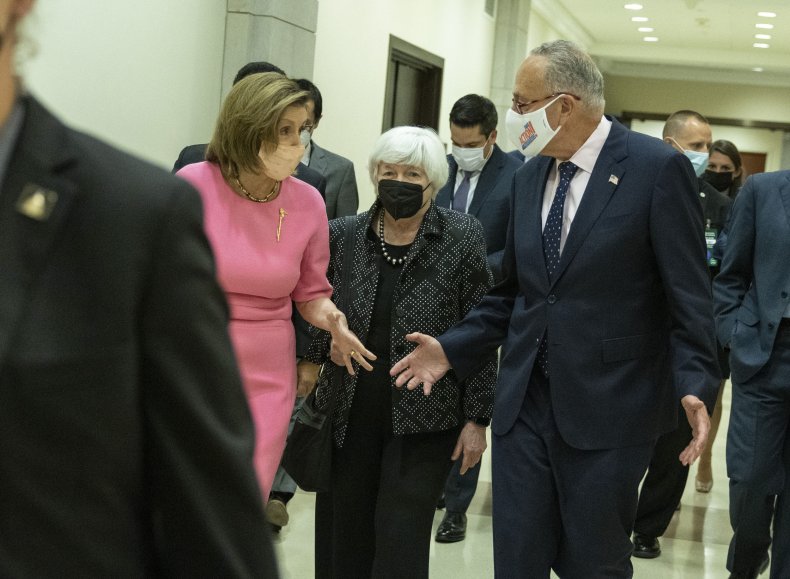 Michael Strain, the director of the right-leaning American Enterprise Institute, warned in a guest essay published in the New York Times that failure to raise the debt ceiling would cause a financial calamity.
"Chaos would reign: plunging stock values, the stirrings of a fresh global financial crisis, an erosion of America's credibility when it comes to honoring its debts," Strain wrote.
Capitol Hill is also facing a possible government shutdown at the end of the month if they fail to approve new funding. If a solution isn't worked out before Thursday at midnight, hundreds of thousands of federal workers could face furloughs as finances for most agencies expire.
Federal agencies started preparing for the looming shutdown last week. Pelosi vowed over the weekend to avoid such a scenario.
"We have to make sure we keep government open," she said, "and we will."