U.S. Treasury Secretary Janet Yellen said Sunday that while inflation is "unacceptably high" she expects the economy will slow in the near future, but doesn't believe that a recession is "inevitable."
Her comments come after inflation hit 8.6 percent in May compared to 12 months prior, which is the largest increase in 40 years. The Wall Street Journal reported Sunday that economists it surveyed believe that the odds of a recession within the next year are 44 percent due to interest-rate increases.
During an interview on ABC's This Week, host George Stephanopoulos asked the secretary about the report.
"The Wall Street Journal reported this morning that 44 percent of economists expect a recession in the next year. Is that what you expect as well?" he asked.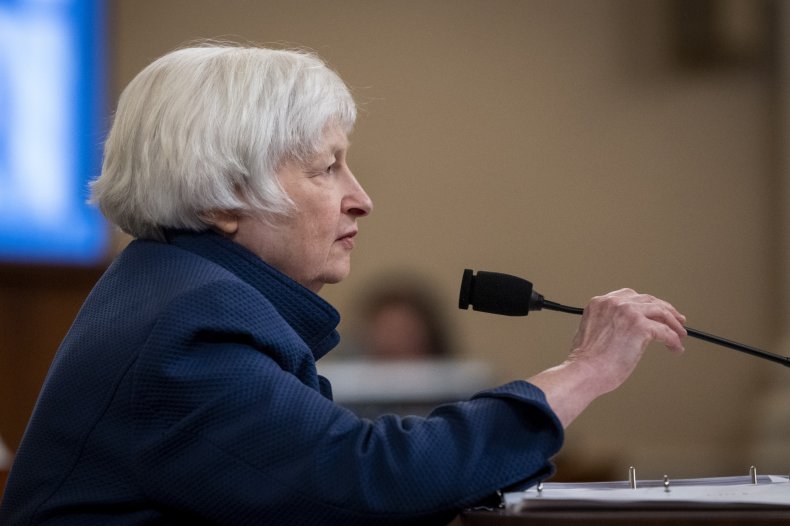 "Well, I expect the economy to slow. It's been growing at a very rapid rate as the labor market has recovered and have reached full employment. It's natural now that we expect a transition to steady and stable growth. But I don't think a recession is at all inevitable," Yellen responded.
She then added: "Clearly inflation is unacceptably high, it's President Biden's top priority to bring it down. And Chair Powell has said that his goal is to bring inflation down while maintaining a strong labor market. That's going to take skill and luck, but I believe it's possible..."
On Wednesday, Jerome Powell, the chairman of the Federal Reserve, announced the central bank's largest interest rate hike in 28 years in an attempt to battle inflation.
During her interview, Yellen was asked if she believed a recession—if not inevitable—was likely. "We're already seeing consumers start to pull back on services, especially some signs that the job market may be slowing as well," Stephanopoulos said.
Yellen responded that consumer spending remains "very strong," adding that "patterns of spending are changing and higher food and energy prices are certainly affecting consumers and making them change their patterns of spending."
However, she said that bank balances are high, and that most consumers—even those with lower incomes—have savings that will "enable them to maintain spending."
"So I don't see a drop off in consumer spending as a likely cause of a recession in the months ahead," Yellen said, adding that the current labor market is "arguably the strongest of the post-war period."