Janice McAfee Shares Last Words With Husband, 'Does Not Accept 'Suicide' Story'
The widow of anti-virus software creator John McAfee is sharing her last words with him prior his death last month.
"I have been trying to find the words to adequately express my thoughts. I am still in shock. In disbelief really," Janice McAfee wrote in a statement posted to Twitter on Tuesday. "John should never have spent a day in prison let alone nearly nine months. I spoke with him twice the morning of the 23rd and in our last conversations we spoke about the court's decision to extradite him to the US."
McAfee was found dead due to suicide by hanging in a Spanish prison cell on June 23, hours after his extradition to the U.S. had been authorized by the Spanish National Court.
He was arrested in Spain last October over U.S. tax evasion charges, with federal prosecutors bringing both criminal and civil charges that alleged he failed to pay income taxes over a four-year period.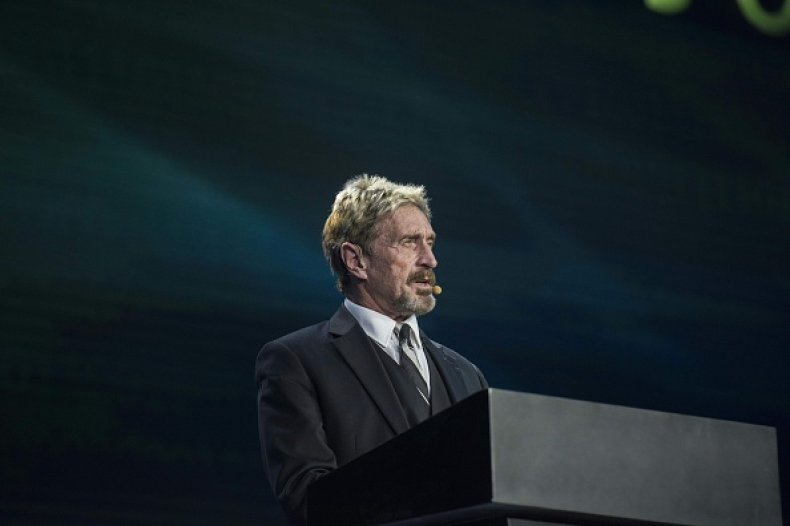 Janice disputed the findings of officials from the Catalan Justice Department who said "everything indicates" McAfee had taken his own life.
"The story of John's 'suicide' was already prepared and presented to the public before I or his attorneys were even notified of his death. Words cannot describe how enraged I am at the fact that I had to hear the news of John's death via a DM on Twitter," Janice's statement read. "And now it's being conveniently reported that there was a 'suicide note' found in his pocket, something that was not mentioned when I collected John's belongings from the prison and another piece of information the media somehow got a hold of before myself and John's attorneys."
"The investigation into John's death is still ongoing but I will share what information I can, when I can," the statement continued. "Until then, I do not accept the 'suicide' story that has been spread by the malignant cancer that is the [mainstream media]. They and their unnamed sources are not to be trusted."
Before his death, McAfee had argued in a hearing that the charges against him were politically motivated and that he would spend the rest of his life in prison if he was returned to the U.S.
The British computer programmer first rose to prominence in the 1980s when he founded his tech company of the same name and released McAfee VirusScan.
He also launched unsuccessful bids for the Libertarian Party's nomination for the president of the U.S. in both 2016 and 2020.
On Tuesday, his widow called him a "fighter," who would have continued in the ongoing legal battle.
"John was a fighter and he had so much more fight left in him. He told me to be strong and not to worry, we would continue to fight all the necessary appeals," she said in the statement. "His last words to me were 'I love you, I will call you in the evening,' but sadly that never happened."
"I appreciate everyone's condolences and the love you have shown for John. Your love and support mean more than you know," she added.
Update 7/06/21 - 3:00 PM -This story has been updated with additional information.
If you have thoughts of suicide, confidential help is available for free at the National Suicide Prevention Lifeline. Call 1-800-273-8255. The line is available 24 hours every day.