Trump-Backed Candidate Who Said Christ Would 'Reign in Idaho' Loses Primary
Janice McGeachin, the Trump-endorsed candidate in Idaho's gubernatorial race, lost Tuesday's Republican primary to incumbent Governor Brad Little.
At the time that the race was called for Little by the Associated Press, McGeachin, who currently serves as the state's lieutenant governor, had only received about 31 percent of the GOP vote.
McGeachin, who was endorsed by former President Donald Trump in November, has been arguably the most extreme candidate that the former president has endorsed in the midterms.
She has ties to the far right, having appeared and defended her participation at a March conference held by white nationalist Nick Fuentes, as well as maintaining connections with anti-government militia the Three Percenters.
She also ran on a campaign promising a total ban on abortion that makes no exceptions for rape, incest or the health of the mother. She has even gone so far as to accuse her opponent—who recently signed a state ban on most abortions after six weeks of pregnancy—of "siding with the radical leftists and satanists" in his pro-life stance.
Just last week, McGeachin said that "God calls us to pick up the sword and fight, and Christ will reign in the state of Idaho."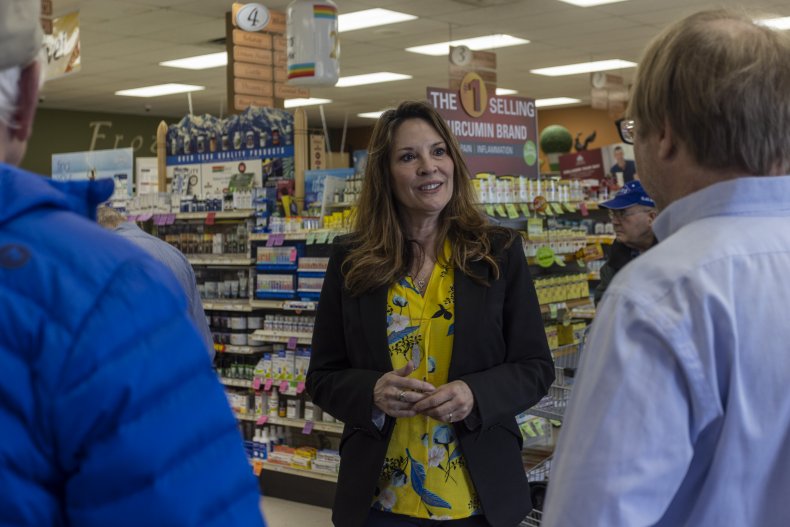 McGeachin has been one of Trump's earliest supporters and has continued to stand by the former president's side, helping him promote false claims that the 2020 presidential election was stolen by voter fraud.
"My campaign has been endorsed by President Trump because I stand for 'America first' policies including individual liberty, election integrity, a strong and secure border, school choice, energy independence, reducing taxes and regulations, and supporting American businesses," she told the Longview News-Journal earlier this month.
"In 2020, we saw election laws changed and broken all over the country, and because of this, we saw a breakdown of election security and an increase in corruption," she was quoted by the Idaho Press. "Even here in Idaho, Mr. Little chose to follow the Democrats' lead by changing the election date and not allowing in-person voting."
Over the last year, McGeachin has spearheaded the right-wing faction of Idaho's Republican Party, publicly feuding with Little over his handling of the pandemic.
Even though Little never issued a statewide mask mandate, McGeachin attempted to issue an executive order banning mask requirements using her power as acting governor when Little was out of state on business.
Last May, she issued an order banning mask mandates despite Little's insistence that those decisions should be left up to local officials. The governor quickly reversed the order and called McGeachin's move an "irresponsible, self-serving political stunt."
A few months later, again with Little out of state, McGeachin issued a different order that sought to add K-12 schools and universities to a ban on vaccine passports that only applied to state government agencies. Little also rescinded the second order made by McGeachin.
Tuesday's face-off between McGeachin and Little was one of the country's most watched primary races and may serve as "a bellwether for the strength of extremist politics in the Pacific Northwest," according to The Seattle Times.