Japan Boosts Surveillance As Advanced Chinese Destroyer Circles Islands
Japanese forces closely monitored a new, advanced Chinese destroyer and its escorts as they carried out an 18-day journey around Japan's main islands that concluded on Wednesday.
The Japanese Joint Staff said that the Chinese vessels were closely watched by Japanese armed forces, which sent frigates and surveillance aircraft to monitor the ships' progress, according to The South China Morning Post.
Leading the Chinese force was the new Type 055 guided-missile destroyer Lhasa. It was escorted by the Type 052D guided-missile destroyer Chengdu and Type 903A supply ship Dongpinghu.
The Lhasa sailed through the Tsushima Strait between Japan and the Korean peninsula beginning on June 12 and traveled through the Sea of Japan, passing through the Soya Strait before heading south into the Pacific and then returning to the East China Sea by June 29.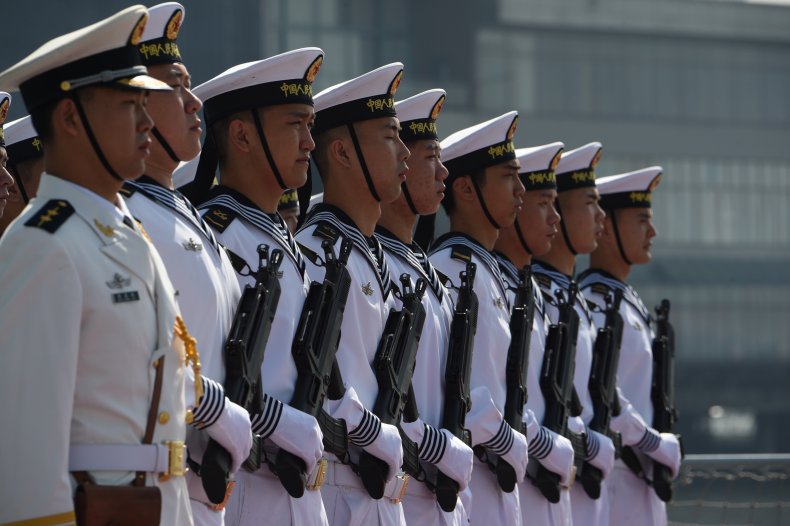 The Dongpinghu did not accompany the other vessels through the Soya Strait but took a shorter route. The journey follows a Russian naval exercise that took a similar route around Japan, also in June.
At a cost of $920 million, the Type 055 destroyer is reputed to be the second-most powerful in the world after the U.S. Navy's Zumwalt-class stealth ships.
China currently has six Type 055s, designed as amphibious assault ships, including the Lhasa and the Nanchang, which was the first of the class to be deployed.
The Chinese military exercise comes as President Joe Biden secured changes to NATO's Strategic Concept to include language that addresses China's "coercive policies."
"This summit was about strengthening our alliance, meeting the challenges of our world as it is today, and the threats we're going to face in the future," Biden said.
In the new Strategic Concept, NATO included as priorities "systemic challenges posed by the People's Republic of China to Euro-Atlantic security" and the "deepening strategic partnership" between China and Russia.
China's mission to the European Union hit out at the additions in a statement on Thursday.
"NATO's so-called Strategic Concept, filled with cold war thinking and ideological bias, is maliciously attacking and smearing China. We firmly oppose it," the statement said.
"When it comes to acts that undermine China's interests, we will make firm and strong responses," the statement added.
Though Japan is not a member of NATO, the country is a key U.S. ally in the Indo-Pacific region and the Biden administration has repeatedly stressed the dangers posed by China.
In June Secretary of Defense Lloyd Austin accused China of a "steady increase in provocative and destabilizing military activity near Taiwan."
"We do not seek confrontation or conflict. And we do not seek a new Cold War, an Asian NATO, or a region split into hostile blocs," Austin said at a conference in Singapore on June 11.