China Sent Nuclear Missile Attack Submarine to Disputed Islands, Japan Says
A foreign submarine spotted cruising through waters around disputed islands in the East China Sea last week was actually a Chinese nuclear missile attack submarine, Japan said on Monday.
Itsunori Onodera, Japan's defense minister, told reporters that the unidentified submarine was "China's Shang-Class nuclear-powered attack submarine," a vessel that is able to carry several long-range cruise missiles and torpedoes.
"Nuclear-powered submarines can also cruise for long hours and it is more difficult to detect them because they dive deep," Onodera said. "We have serious concerns as the submarine's underwater passing through our country's contiguous waters is an act that unilaterally increases tension."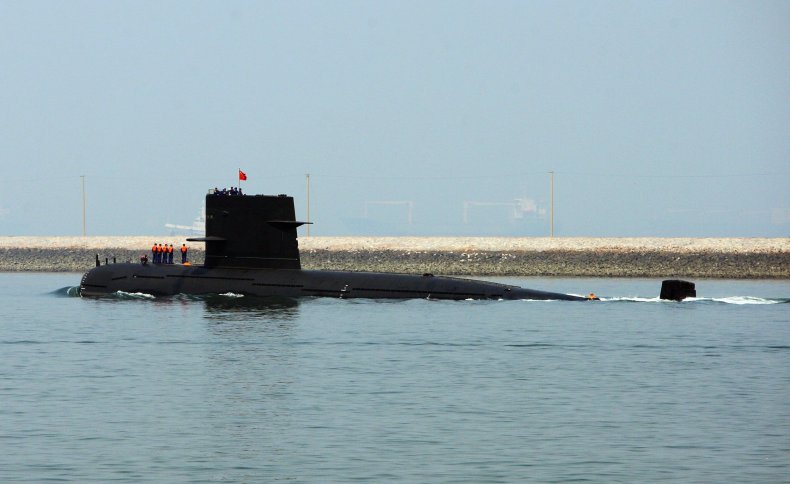 The contiguous zone is a band of water that sits beyond the 12-nautical-mile territorial waters that surround a country. It can extend up to 24 nautical miles from the outer edge of the territorial sea from the baseline.
The 360-foot-long Shang-class submarine can carry torpedoes and ship-to-ship missiles with a maximum firing range of around 25 miles, reported the South China Morning Post.
Onodera's statement came on the same day China announced it had sent three coastguard vessels to conduct patrols around the water around the disputed islands. However, Beijing has not yet confirmed or denied Tokyo's claims that it sent an attack sub.
Last Thursday, Japan warned Beijing against taking any actions that will damage bilateral ties, after a Chinese military warship and a foreign submarine were seen near disputed islands in the East China Sea.
"We want to strongly urge China not to do anything to interfere with improving bilateral ties," Japan's Chief Cabinet Secretary Yoshihide Suga said in a news conference Thursday.
The 4,000-ton Jiangkai-II class frigate was spotted that day at around 11 a.m. sailing near the contested waters, known as the Senkaku in Japan and Diaoyu in China, according to the South China Morning Post. The Chinese ship did not enter Japanese territorial waters.
According to Japan's Defense Ministry, a foreign submarine—which has now been identified as the Shang-class nuclear attack submarine—was also detected in the same area last Wednesday as well as on Thursday. By Thursday afternoon, both vessels had vacated the area and have not been seen since.
In a news conference on Thursday, Lu Kang, China's foreign ministry spokesperson, declared that the islands were a part of Beijing's territory and warned Japan to stop complicating the issue, reported NHK World.