Japan Holds Sumo Tournament After Praying For Success Amid Coronavirus Risk
The July Grand Sumo Tournament kicked off in Japan on Sunday after a ceremony was held to pray for its safety and success amid the coronavirus pandemic.
Japan has been relatively successful in controlling its coronavirus outbreak, despite not implementing lockdowns as severe as those in other countries nor testing at the capacity advised by the World Health Organization (WHO).
There have been fewer than 1,000 deaths in the country due to coronavirus—despite Japan having, per capita, more elderly people than any other country and a population that is densely packed into large cities.
But although alarm has been raised by the rising numbers of infections in the capital recently, the Japan Sumo Association (JSA) pressed ahead with holding the sumo tournament in front of spectators.
Only 2,500 fans will be allowed into Tokto's Ryogoku Kokugikan Hall, an indoor sports arena with a capacity of around 11,000, each day for the duration of the 15-day tournament, Kyodo News reported.
The Japanese government permits up to 5,000 people to gather at events from July 10.
It came after the event to pray for the safety and success of the tournament was held at the area on Saturday,
Only limited numbers of sumo officials were permitted into the Ryogoku Kokugikan Hall for the event, which was closed to the public, according to Japan's national broadcaster NHK. A sumo referee recited prayers and buried offerings, such as rice and salt, at the center of the ring.
The JSA has taken a number of precautions to prevent the spread of coronavirus during the July tournament, including moving it from its planned location in Nagoya to Tokyo in order to limit the risk of spreading coronavirus during travel, Kyodo News reported.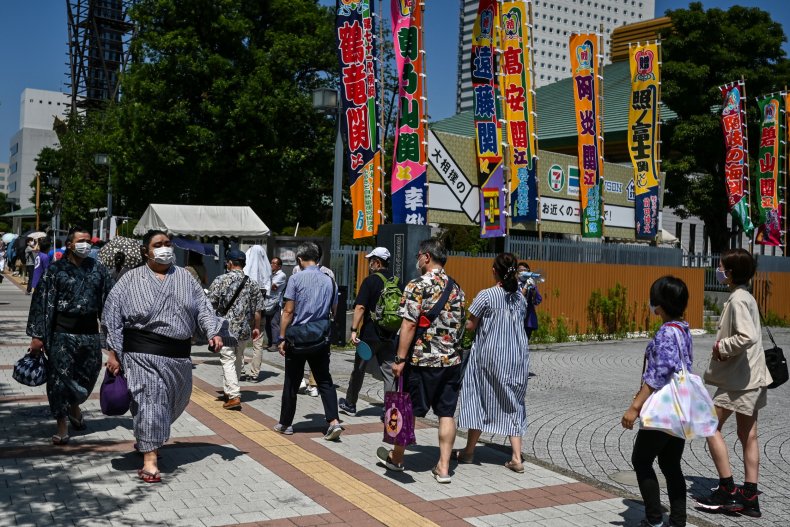 Other measures including temperature checks, prohibiting wrestlers from going outdoors and urging them to not train at different locations.
Spectators are required to wear masks and sit alone in boxed enclosures that usually hold four people. They are also urged to not cheer, but applaud instead.
Meanwhile, Japan's economy minister Yasutoshi Nishimura said Saturday that the country is reconsidering relaxing restrictions, including the number of spectators allowed at sporting events.
Nishimura's comments came after Tokyo reported 188 news coronavirus infections on Sunday after three consecutive days of 200-plus cases, according to The Japan Times. The city reported a single-day record of 224 new infections on Thursday, surpassing the previous record of 204 in April.
Earlier this week, Tokyo's governor raised the city's pandemic alert level to "red"—its highest level—but said the surge in infections is largely due to increased testing.
Japan has 24,996 confirmed cases of COVID-19, the disease caused by the novel coronavirus, according to a tally kept by Johns Hopkins University. There have been 986 deaths in the country, while more than 19,000 people have recovered from the disease.