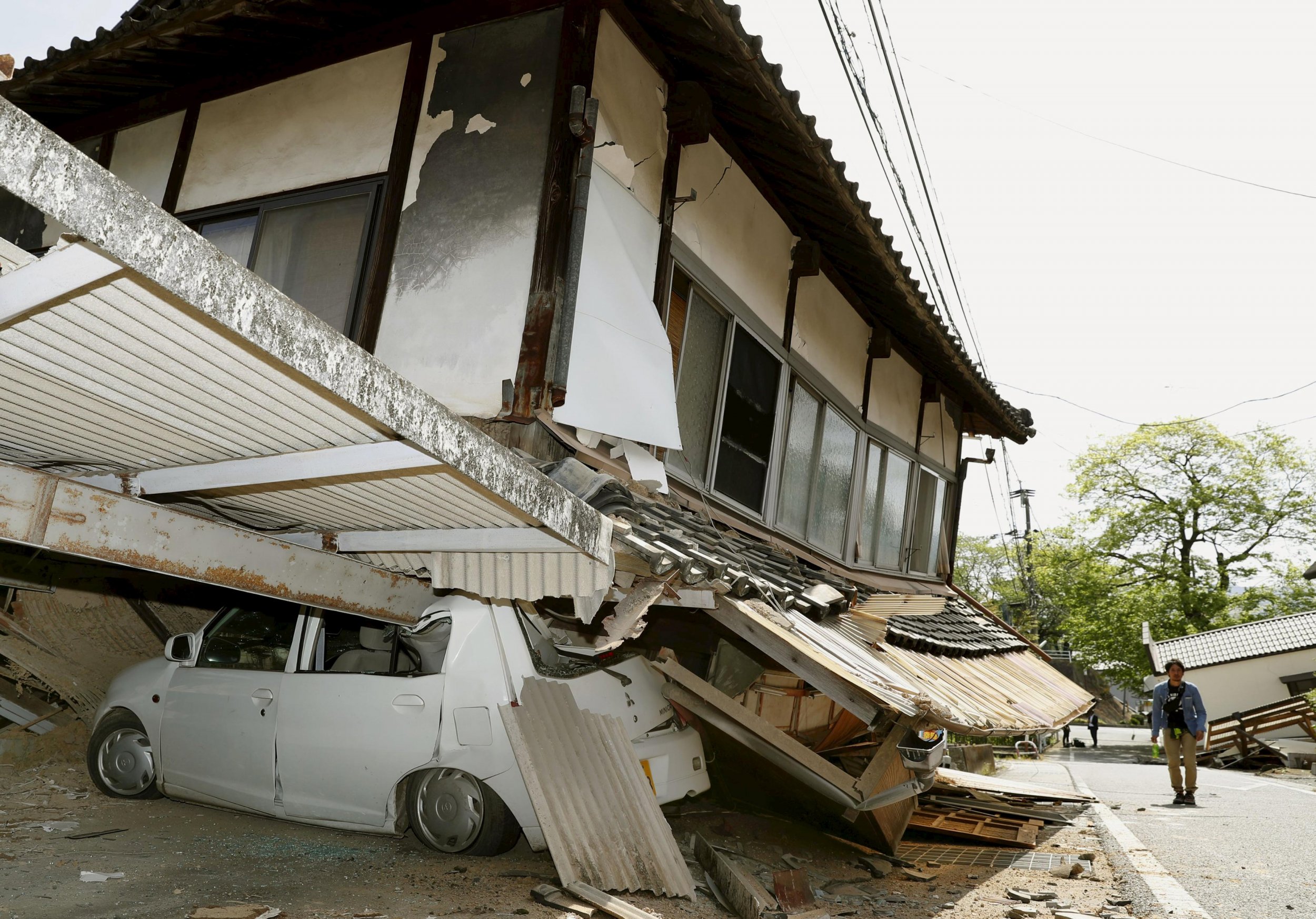 Updated | Japan has been hit by its third and fourth earthquakes in two days, as magnitude-7.0 and magnitude-7.4 quakes rumbled the southern island of Kyushu.
A tsunami advisory was issued by Japan's government for the first earthquake, which struck in the early hours of Saturday morning local time at a depth of roughly four miles. The Japan Meteorological Agency said advisories are issued when a tsunami risks being up to three feet high. The tsunami warning was not extended to the Pacific Coast. The advisory was later lifted.
The United States Geological Survey (USGS) said the first earthquake struck less than a mile outside of the city of Kumamoto. Shortly afterward, a magnitude-7.4 earthquake hit at a depth of 25 miles near the same location. Japanese public broadcaster NHK said there were no irregularities reported at two nuclear plants on the island, Sendai and Genkai.
According to the USGS "Did You Feel It?" map, the public felt severe shaking during Saturday's first quake, which could lead to moderate to heavy damage.
On Thursday night, southern Japan was hit by its first of a series of earthquakes, which measured magnitude-6.0. Several hours later another magnitude-6.2 earthquake struck. The pair of quakes killed nine people and injured more than 800, the Associated Press reports.
Margaret Adams, an American woman who lives in Kumamoto, told Newsweek that the most recent temblors "felt like one long earthquake."
"I was expecting aftershocks, which we had a lot of," Adams said via Twitter. "But this was another quake, as bad as the first one."
Adams, who is currently staying at a friend's home on a mountain in Yatsushiro, in Kumamoto prefecture, said they received a warning that another earthquake measuring magnitude-5 could strike.
This story has been updated to include new information on the tsunami warning and nuclear power plants.