All signs point to a victory for Japan's ruling Liberal Democratic Party (LDP) in Sunday's election, despite lukewarm support for Prime Minister Shinzo Abe who called the election in a calculated gamble to strengthen his position of power.
The prime minister's popularity plummeted to less than 30 percent in July over the summer due to his involvement in two corruption scandals, the worst approval ratings since he was elected five years ago. Almost half of the electorate disapproved of him, polls reported in Reuters showed.
His ratings have since recovered—with a little help from an external foe. Japan faces an increasingly aggressive North Korea, who conducted three missile tests between August and September, sending rockets towards Japan and threatened to "sink" the country.
As Abe's response to North Korea's provocation saw his approval ratings soar, the prime minister called for a snap election and dissolved parliament in September, betting that a divided opposition and an outside threat would grant him an easy victory.
The Japanese electorate has largely supported Abe's hardline response to North Korea, similar to the U.S. response, which is focused on sanctions and increased pressure on the regime rather than dialogue.
"Having a change of government at a time when Pyongyang remains a threat is probably enough to make people feel they want to stay with the government," John Nilsson-Wright, senior fellow for Northeast Asia at Chatham House and senior lecturer in Modern Japanese Studies at the University of Cambridge, told Newsweek.
What do the poll say?
Polling stations will open on Sunday between 7am and 8pm and voters have to fill in two ballots, one for their local constituency and one for a proportional representation bloc. Exit polls will be reported after voting closes, but a result isn't expected before the early hours of Monday. Should everything go according to Abe's plan, his party could form a new coalition with the small, Buddhist-linked Komeito, with whom it currently shares more than two-thirds of the 465 seats in the House of Representatives.
While the LDP is predicted a large majority, Abe's approval ratings continue to disappoint. Support for his government fell to 38 percent, according to a poll published by the Asahi Shimbun newspaper Thursday, down from 40 percent two weeks ago.
"It's not so much that the electorate is resolutely behind Abe, they're just not that comfortable with the opposition parties. Abe calculated the opposition would divide the anti-LDP vote and would therefore win, in a way, by default," Nilsson-Wright said.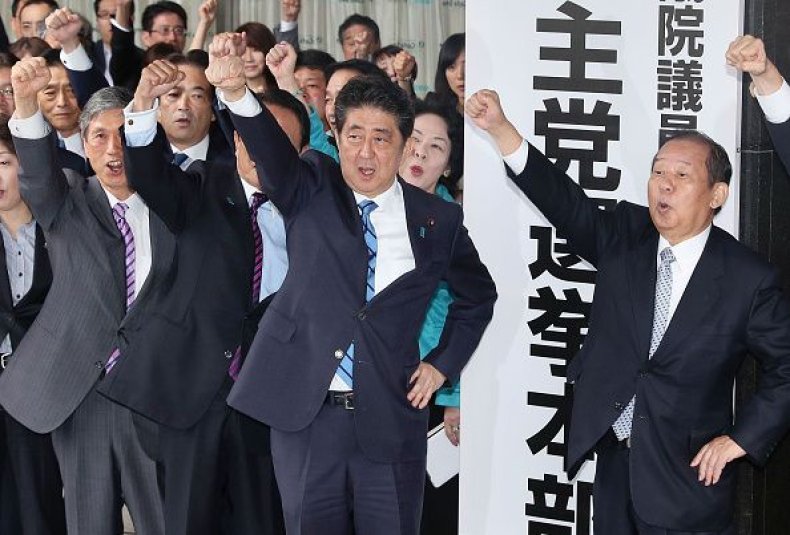 The left-leaning opposition to the conservative LDP has undergone troubled months, but the newly-formed Constitutional Democratic Party of Japan, created on October 2, has managed to garner enough support to poll as the second most-popular party, with 13 percent of the preferences, according to the Asahi survey.
Abe could have found a challenger in a former party and cabinet member, Tokyo governor Yuriko Koike, who launched her right-wing Party of Hope just hours before the snap election was announced. But initial enthusiasm for her initiative waned, with her party polling at around 11 percent.
"The electorate of Japan is risk-adverse, not minded to suddenly hand over national security to an untested opposition party that is only just been formed," said Nilsson-Wright. " [Abe] may not be doing as well as people predict because there is a big chunk of voters that are still undecided, but it is for the LDP to lose this election rather than for the others to win it."
What is at stake
This is a watershed moment that can make or break Abe's legacy. After the vote on Sunday, the only visible obstacle between him and staying in power until 2021 is the reelection as part president next year. This would make him the longest-serving prime minister in post-war Japan.
Abe has long been eyeing changes to the Japanese postwar constitution, such a divisive topic in the country that no amendment to the text has been possible in the past 70 years.
"He seems single-mindedly focused on wanting to achieve this. He wants to be the first postwar prime minister to break the gridlock and make some sort of revision, doesn't have to be a substantive one, it can be symbolic. This is his legacy moment," said Nilsson-Wright.
In May, Abe said he wanted a constitutional reform by 2020, particularly focusing on clarifying the role of the military, the Self-Defence Forces (SDF) as enshrined in the text. The so called "no war" article IX has long been a source of contention in Japanese politics.
The text states: "The Japanese people forever renounce war as a sovereign right of the nation and the threat or use of force as means of settling international disputes. In order to accomplish the aim of the preceding paragraph, land, sea, and air forces, as well as other war potential, will never be maintained."
The article is ambiguous, but some interpret it as only allowing Japan to have a military for purely defensive purposes. According to Abe, the text needs to be clarified as to fully legitimize the existence of the SDF provided it's consistent with article IX.
Abe's amendments may not count for more than a cosmetic change, but one that would be meaningful for his legacy. According to Nilsson-Wright, the prime minister has a strong personal desire to revise a constitution because of the way it was written, that is seen as foreign, and therefore lacking in authenticity and legitimacy.
"The constitutional change would have enormous symbolic significance," said Nilsson-Wright. "It's less about what changes and more about the ability to push change through."