Traditionally pacifist Japan has begun to chart a new, more assertive course on regional security, especially toward China's ambitions in Taiwan, as U.S. President Joe Biden rallies Asian allies amid Russia's ongoing war in Ukraine.
For years, Tokyo has drifted toward a more proactive defense posture. But the shift has taken on new meaning in the wake of Moscow's "special military operation" against neighboring Ukraine, a conflict with international reverberations, including in the Asia-Pacific region. Like Ukraine, Japan borders Russia at a set of disputed islands, but it is the prospect of worsening tensions with an even more influential China, a country with its own regional designs, that has fueled a transformation in Tokyo.
"The situation in Ukraine has kind of affected the psyche of the people in East Asia, including Japan, about the possibility of contingency in this region," a Japanese official told Newsweek. "So clearly, the cross-strait issue is getting more conspicuous in the Japanese people's minds, and that is also reflected in the question of the Japanese media."
International media focused on Biden's remarks at a press conference Monday alongside Japanese Prime Minister Kishida Fumio, which indicated an apparent U.S. commitment to defend Taiwan. The White House quickly walked back those remarks, but the controversy served to overshadow a significant comment by Fumio on the same issue, given in response to an opening question by Japanese outlet TV Asahi.
Asked about his position on Japan's response in the event of a Chinese attack on Taiwan, Kishida said he and Biden "underscored the importance of peace and stability of Taiwan Strait, which is an indispensable element for security and prosperity of international community, and called upon peaceful resolution of Cross-Strait issues."
"In the region, security-related environment is getting severer," he warned. "Unilateral attempts to change the status quo by force, like Russia's aggression against Ukraine this time, should never be tolerated in the Indo-Pacific. Above all, in East Asia, it's indispensable to further strengthen the Japan-U.S. alliance."
As for Japan's priorities, Kishida said the paramount task was to "fundamentally reinforce Japan's defense capability," including through the development of "enemy base strike capability." He affirmed that "all the options will be there," and it was important "not to exclude any one of them" when it comes to Japan's defense.
The term "enemy base strike capability," sometimes referred to simply as "response capability," denotes the deployment of offensive systems long considered off-limits in the once-tight restrictions on Japanese military capabilities that are rooted in a constitution developed under U.S. occupation after World War II.
But in response to growing regional tensions, Japanese lawmakers have reinterpreted the role of the armed forces over the past decade, and as the nation prepares another planned overhaul of its defense doctrine, the Japanese official with whom Newsweek spoke said that this "kind variety of the terminology also shows the kind of evolution of the debate and thinking, and this will certainly deserve and entail very deep discussion within Japan."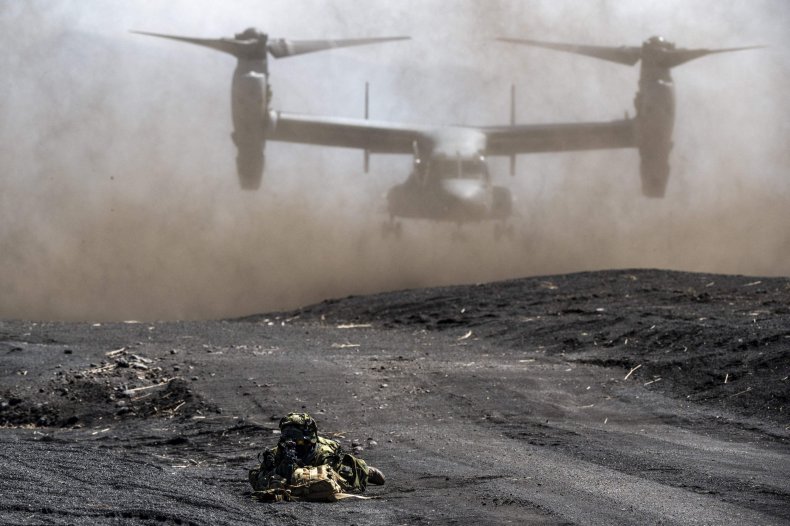 This shift in Japanese thinking has caught the attention of China, especially when the nuclear question is raised. Responding to the U.S.-Japan joint statement in which Biden and Kishida "reiterated the significance of enhancing bilateral discussions on extended deterrence," Chinese Foreign Ministry spokesperson Wang Wenbin warned against any nuclear-sharing agreement between the two allies, an arrangement he argued would violate the Non-Proliferation Treaty (NPT).
"Instead of making deep reflections on its history of aggression, Japan, as a non-nuclear weapon states party to the NPT, has long presented itself as a victim of nuclear weapons, vociferously advocates nuclear disarmament and anti-proliferation," Wang said. "But in practice, it sits comfortably under the U.S.' nuclear umbrella, and opposes and thwarts the U.S.' attempts at giving up its policy of first use of nuclear weapons."
The U.S. is the only country in the world to have used atomic warfare in combat, and Japan is the only country to fall victim to such mass destruction. As such, the prospect of U.S. nuclear weapons on Japanese soil is an especially sensitive one.
Still, the idea has won over a number of supporters, including former Prime Minister Abe Shinzo, who has called for a more proactive Japanese stance on regional issues, and was reported by Taiwanese media to even be planning a visit to the disputed island. Abe has gone so far as to call for a revision of Japan's three principles of of non-possession, non-production and non-introduction of nuclear weapons.
Wang called Japan's nuclear deliberations "hypocritical," and noting the omission of the three non-nuclear principles from Japan's latest report to the NPT review conference, said "such negative moves of Japan warrant high alert from the international community."
China and Japan have their own territorial dispute centered around the Pinnacle Islands, known to Japan as Senkaku Islands and to China as Diaoyu Islands. Taiwan has also laid claim to the islands as part of its broader challenge to the legitimacy of the People's Republic as the representative of China, but most of the standoffs over the uninhabited plot in the East China Sea have been between Chinese ships passing near the islands and Japanese maritime patrols sent to ward them off.
The feud bears some similarity to that of the dispute over the islands to Japan's north, except unlike the Russia-controlled territory, Japan exercises effective dominion over East China Sea islands in spite of Chinese protests. Both spats are the product of World War II-era land grabs, and both sets of land to this day play a role in Pacific maritime theater strategy as part of a "first island chain" that also includes Taiwan.
As Biden and Kishida sought to emphasize their nations' alliance as well as their coordination with Australia and India as part of the Quadrilateral Security Dialogue earlier this week, Beijing and Moscow also made their strategic partnership clear Tuesday in the form of a joint air patrol over the Sea of Japan and East China Sea, prompting Japan to scramble jets in response.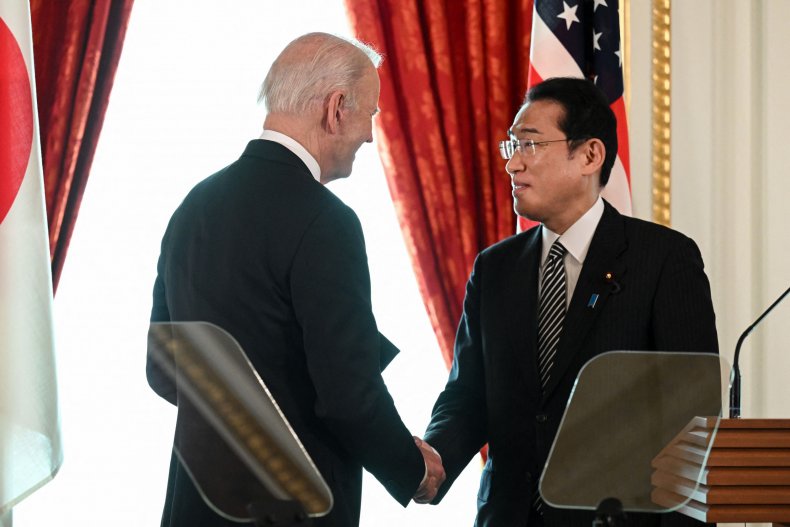 But as the collective efforts of the U.S. and its allies against Russia have been met with challenges, given Europe's dependence on Russian oil, Japan's challenge to China represents a task that could be even more daunting. For one, China remains Japan's number one trading partner, and Beijing's powerful position in the international community makes it nearly impossible to isolate it on a number of issues, even if its approaches are not considered desirable.
"Japan would like to see China behaving as a responsible power, which is commensurate with its power and its status," the Japanese official said. "So in some global issues, like free trade regime or climate change, China can no longer be a free rider, and the international society expects China to contribute to the solution of these global issues as a responsible power."
Despite their tensions, China and Japan generally hold their relationship in high regard, a dynamic seen last week when Chinese Foreign Minister Wang Yi met virtually with his Japanese counterpart Hayashi Yoshimasa to mark the 50th anniversary of normalized ties between their nations. While both men made mention of the difficult trajectory of these relations today, they emphasized a need to bring them back on track.
The Japanese official with whom Newsweek spoke said that "a stable relationship with China is indispensable not only for Japan and China, but also for the international society as a whole."
"So Japan, along with the U.S.," the official added, "really hopes that China will carry out its responsibilities on the basis of the international rules, and respond to the expectations of the world."