Deadly Heat Wave Threatens Japan in Aftermath of Torrential Rains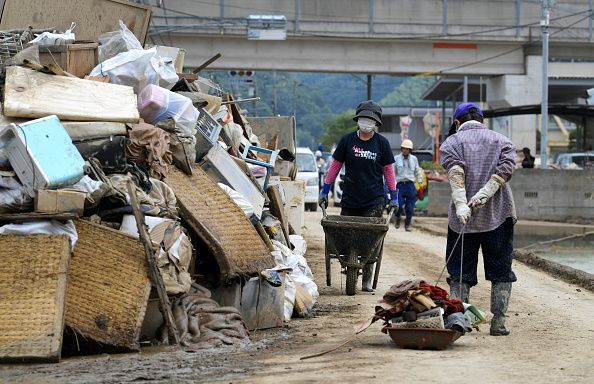 Severe heat poses another health risk for survivors still trapped inside their homes after deadly torrential rains flooded parts of Japan this week.
After one of the worst natural disasters in the nation's recent history, rescue workers on Friday are still trying to locate missing people in parts of western Japan as temperatures soar. At least nine people have already been reported dead during a heat wave with temperatures as high as 106 degrees Fahrenheit, which hit just as authorities began to assess the damage from flooding that poured muddy water into the streets and spurred dangerous mudslides.
"I am worried my children may get heatstroke," Yoko Kitamura, 38, an evacuee, told The Times of Japan.
She escaped the surging waters with her four children and found an emergency shelter in Hiroshima.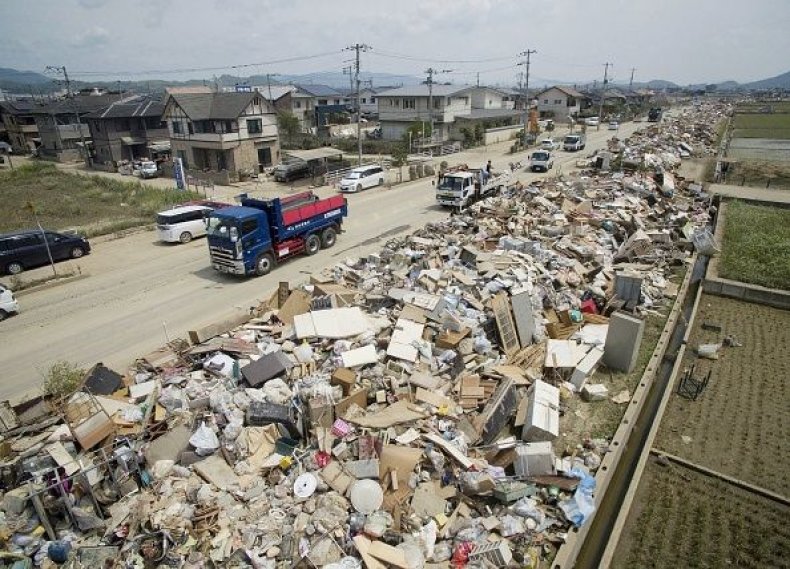 As of Friday, there are still 7,000 people living in shelters, and 250,000 others who are at home without running water, The Guardian reported.
To locate survivors, vehicles navigate the badly damaged roads to deliver clean clothes and other supplies to isolated communities.
Sanitation is increasingly becoming a concern for those residents who are without running water, unable to wash their hands or flush their toilets. Garbage has piled up in the streets, and the Environment Ministry announced that it has started dispatching trucks to collect the some of the wreckage, Japan News reported.
On Friday, Shinzō Abe, the country's prime minister, made a second visit to devastated areas across west and central Japan. He promised that the government will quickly find housing for the displaced and will help to rebuild businesses and homes lost to mudslides and surging waters.
"We'll cut through all the bureaucracy to secure the things people need, to improve life in the evacuation centers, such as air conditioners as the hot days continue, and then secure temporary housing and the other items people need to rebuild their lives," Abe said this week during a visit to a shelter in the town of Kurashiki.
The financial toll of the disaster is still uncertain, but the agriculture ministry said Friday it anticipates the damages will amount to at least $207 million. As the cleanup progresses, the total cost will likely increase.
In the Mabi district of Kurashiki, residents told The Guardian that they were still in a state of disbelief over the destruction that overtook their community. "I saw my house sink underwater and there was nothing I could do. I felt helpless," said Fumiko Inokuchi, who fled a nearby nursing home.
"I got married here, and we built this house two years later," she said. "We raised our three sons here ... there are so many memories."