The new president of Chile received a unique gift while welcoming heads of state and foreign representatives in Santiago on Thursday, ahead of his inauguration on Friday, March 11. Kiyoshi Odawara, the Foreign Affairs Minister of Japan, presented President Gabriel Boric with a stuffed Squirtle Pokemon toy.
Boric posted his unboxing of the toy on Twitter in a video with 870,000 views. He was visibly delighted with the gift, crying out: "Squirtle!" as chuckles broke out behind the camera.
The president also posted the clip on Instagram to the tune of Pokemon's Spanish-language opening theme song, captioning his post with the Spanish lyrics: "I will travel from here to there, searching until the end [...] Thank you Japan for this Squirtle!"
The Japanese heads of government had apparently done a deep dive on Boric's preferred Pokemon species. In September 2021, he was asked on Twitter about his favorite starter Pokemon.
"I would like to know which is your favorite starter. That's what my vote depends on," a constituent wrote.
"Always Squirtle," Boric replied.
Japan's leaders have a history of making an impression with their gifts. In November 2006, then-Prime Minister Shinzo Abe presented then-President George W. Bush with a photograph of the two men's grandfathers playing golf outside Washington, D.C., together with President Dwight D. Eisenhower, NBC News reported.
Russian Olympic figure skater Alina Zagitova, who won gold at the 2018 Pyeongchang Winter Olympics, was given an Akita puppy by a Japanese group preserving the dog breed during a presentation ceremony attended by Abe, The Japan Times reported. The skater had fallen in love with Akita dogs while preparing for the Olympics in Japan, she said.
During a 2019 trip to Tokyo's Cathedral of Holy Mary, Pope Francis received the gift of a pink and blue traditional coat called a "happi," decorated with cherry blossoms and an anime-style print of the pope's own head, Next Shark reported.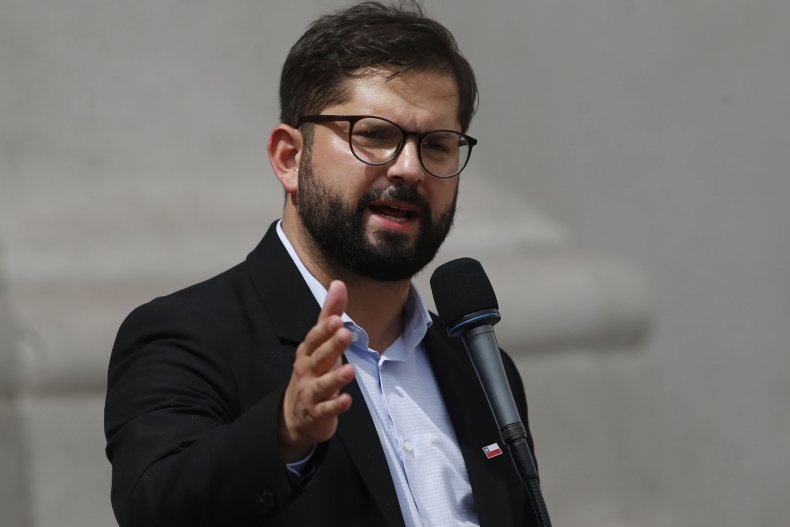 Boric is being sworn in as the new leader of Chile today, becoming the country's youngest president at 36 years old. The left-wing lawmaker and former student protest leader ran on social and economic reforms, following a surge of voter dissatisfaction with the status quo. He won in a landslide against his conservative opponent Jose Antonio Kast.
The new president won 56 percent of the vote in December and his opponent conceded 90 minutes after polls closed, when only half of the ballots were counted, according to the BBC. Boric won more votes than any other presidential candidate in history.