Japan Halts 2.6M Moderna Doses as Officials Say Two Deaths Possibly Linked to Vaccine
Over 2.6 million doses of the Moderna COVID-19 vaccine have been suspended in Japan as of Sunday, following reports that two people died after some vials were found to be contaminated with foreign substances.
The country's health ministry said Sunday that an additional one million doses have been suspended after contaminated vaccine vials were found in both the Gunma prefecture near Tokyo, and the southern prefecture of Okinawa. The latest suspension comes after 1.63 million doses were halted last week over similar concerns.
In Gunma, a tiny black substance was found in a Moderna vaccine vial by a local official, while in Okinawa, black and pink substances were spotted in syringes and vials, Reuters reported.
The health ministry said some of the affected vaccines may have been due to pieces of the vial's rubber stopper breaking off and contaminating the doses. On Monday, the ministry said that the suspension was made out of caution and that no safety issues have yet been reported, according to Reuters.
However, the move comes after the government said Saturday that two people died after receiving Moderna shots that were among the contaminated batches in the first suspended lot. The country moved to suspend those 1.63 million doses after its domestic pharmaceutical distributor reported contamination in some doses.
Those doses were shipped to 863 vaccination centers nationwide, and roughly 500,000 people in the country received a shot from that batch, Reuters reported. The cause of the two deaths is now being investigated, but health experts believe they may not be related to the reported contaminants.
"The risk that the foreign material causes some kind of a disease at the spot where it was injected or that it circulates in the body's blood and causes a disease after an intramuscular injection through a 0.25-millimeter needle would be extremely unlikely," infectious disease expert Dr. Takeshi Terashima told Japan's TBS News.
Takahiro Kinoshita, a physician and vice-chair of Cov-Navi, a vaccine information group, told Reuters that if the deaths were due to the contaminated substances, more people would have likely gotten ill from that batch.
"If the contaminated substances were dangerous enough to cause death for some people, probably many more people would have suffered from some symptoms after the vaccination. However, further investigations are definitely needed to evaluate the harm of the particular doses in question," Kinoshita said.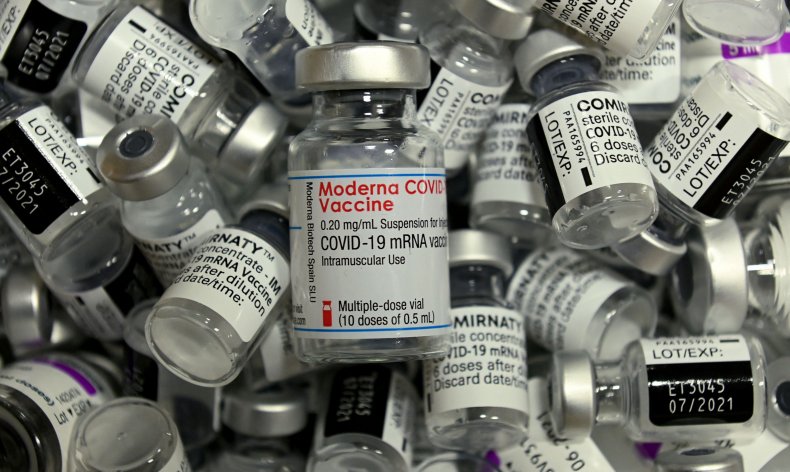 Moderna and the Spanish company Rovi, which bottles Moderna vaccines for Japan, said that the contamination could be a result of manufacturing issues in one of Rovi's production lines. Investigations by Moderna and Japan's health ministry are ongoing.
The vaccine suspensions come as Japan faces its worst wave of COVID-19 yet, with new daily infections exceeding 20,000 for the first time since the pandemic began, according to a New York Times database. As of Monday, only 44 percent of the population is fully vaccinated against the virus, while 55 percent have received at least one dose.
Newsweek contacted Moderna and Japan's health ministry for additional comment, but did not hear back in time for publication.
.