Japan Heat wave Kills 44 in Two Weeks, With No Relief in Sight
Experts have warned that thousands could die in Japan's heat wave, which has hit record temperatures.
The mercury hit 41 degrees Celsius (106 degrees Fahrenheit) on Sunday in Kumagaya, northwest of Tokyo, in what was the highest temperature for the country since records began in 1896, and about 12 degrees higher than what is typical for this time of year.
Koyodo News agency reported that at least 44 people had died since July 9 as the Japanese capital sweltered in blistering 38 C (100 F) heat on Monday, with high temperatures forecast for most of Honshu, Shikoku and Kyushu islands.
Among the dead was a 6-year-old boy, who collapsed after a field trip. Thousands have also been taken to the hospital, Reuters reported, with officials saying there had been more than 3,000 emergency calls in 24 hours, and more than 12,000 people had been hospitalized from heat-related issues so far in July.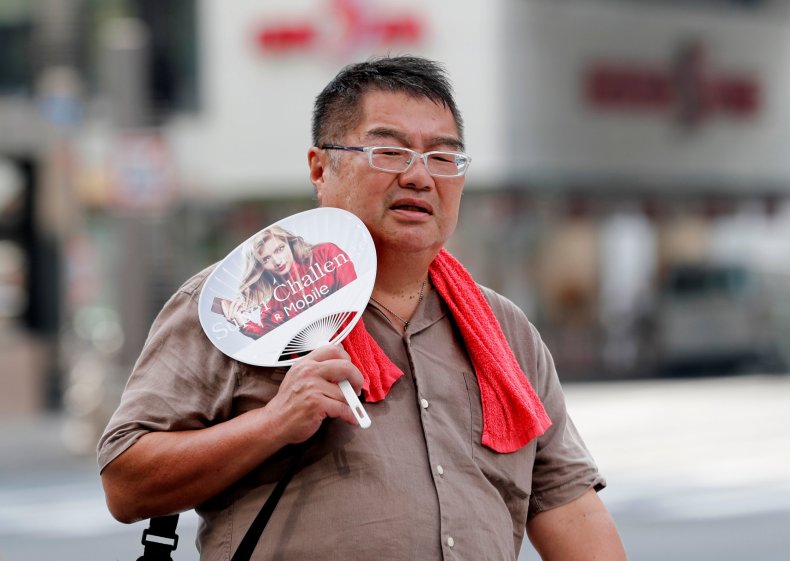 Japan's meteorological agency advised people to drink plenty of water to prevent heat exhaustion.
AccuWeather analyst Joel N. Myers said in a statement he expected many more people to die.
"AccuWeather estimates the death toll from Japan heat wave is likely already in the hundreds despite the official toll of somewhat more than two dozen, and we predict the number will climb into the thousands before the heat wave ends.
"The actual total human toll may not ever be known as heat-related fatality reports are historically underdone since not all deaths are correctly attributed to heat and some result from accelerating serious health issues and the fatalities show up weeks later," he said.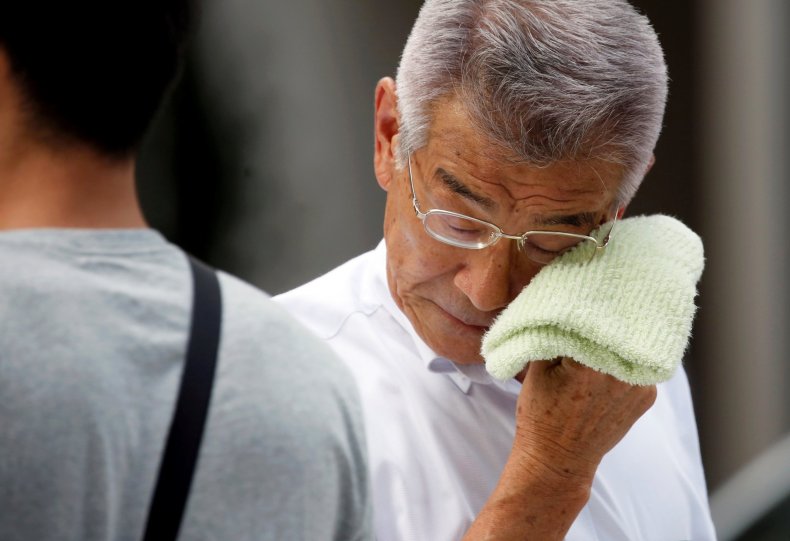 The heat wave is endangering relief workers dealing with the recent flooding in Japan, which killed more than 200 people and left more than 4,500 people living in emergency shelters.
The soaring temperatures have also raised questions as to whether it was a good idea to hold the 2020 Olympics in Tokyo in July and August, with temperatures expected to exceed 35 C (95 F).
John Coates, the head of an International Olympic Committee inspection team, told a news conference: "We are mindful that we do have to prepare for extreme heat. You're not the first country to host the games in extreme heat. It's a natural consequence of being in July and August," The Independent reported.
A Tokyo Summer Olympics spokesman said there would be mist showers installed for athletes, and that the schedules would take into consideration "the need to protect athletes and spectators from heat."
"We will prepare concrete measures after examining the results of test events due to be held in July 2019," a games spokesperson said, according to The Guardian.