Japan Heat Wave Officially Declared a Natural Disaster With 65 Dead and More Than 22,000 Hospitalized
Japan's weather agency has declared a natural disaster as a heat wave continues to roil the country, leaving at least 65 dead in one week and sending more than 22,600 people to the hospital.
Government officials said heatstroke was the leading cause of the 65 deaths that occurred in the week ending Sunday. Since the beginning of the month, 80 people have passed away and more than 35,000 have been admitted to the hospital, The Guardian reported.
"We are observing unprecedented levels of heat in some areas," Motoaki Takekawa, a weather agency spokesman, told the BBC. Takekawa also called the heat wave "a threat to life" and added that "we recognize it as a natural disaster."
On Monday, the central city of Kumagaya recorded a temperature of 106 degrees Fahrenheit, breaking the country's heat record, while Tokyo reached 104 degrees for the first time ever.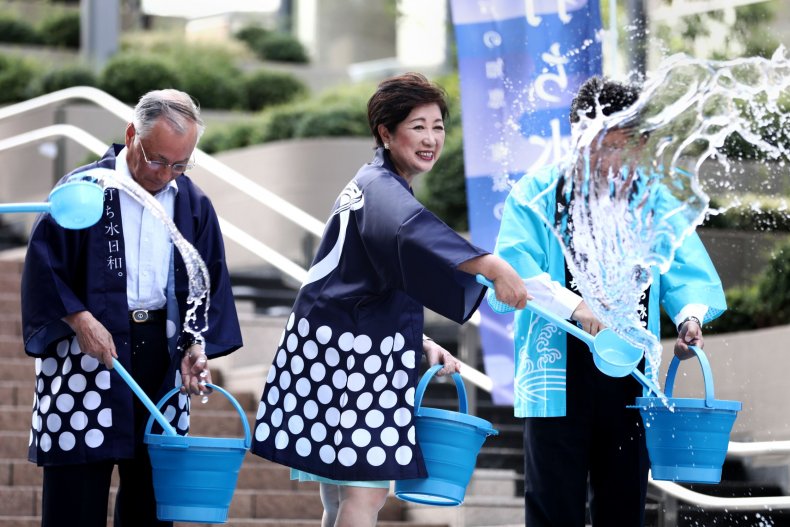 AccuWeather President and Founder Joel N. Myers warned that the death toll "will climb into the thousands before the heat wave ends."
The government has advised people to drink plenty of water, avoid direct sunlight and use air- conditioning. The heat wave could hit the elderly especially hard, as they're less able to adapt to temperature changes and may take medications that inhibit the body's capacity to stay within certain temperature boundaries. Japan has more than 2 million people, about 1.6 percent of the population, age 90 and older.
Authorities are also concerned about the safety of children.
The BBC reported that less than half of Japan's public schools have air-conditioning. With the government cautioning that temperatures of 95 degrees or higher could continue through early August, Japan's Chief Cabinet Secretary Yoshihide Suga said officials were considering extending summer vacation for schools.
"As a record heat wave continues to blanket the country, urgent measures are required to protect the lives of schoolchildren," Suga said.
The crippling heat has hit some of the same areas devastated by floods and landslides, which killed at least 210 people earlier this month.
The current heat wave has sparked questions about the 2020 Tokyo Olympics, which will take place in the hottest months of the summer. Agence France-Presse reported that Japanese officials were treating the heat quite seriously. "I wouldn't call the heat a form of terrorism as such. But it's just as important, because the purpose is also to protect people's lives," Tokyo Governor Yuriko Koike said. She also vowed to pursue "creative efforts to make sure the Games stay cool, while the competition is hot."