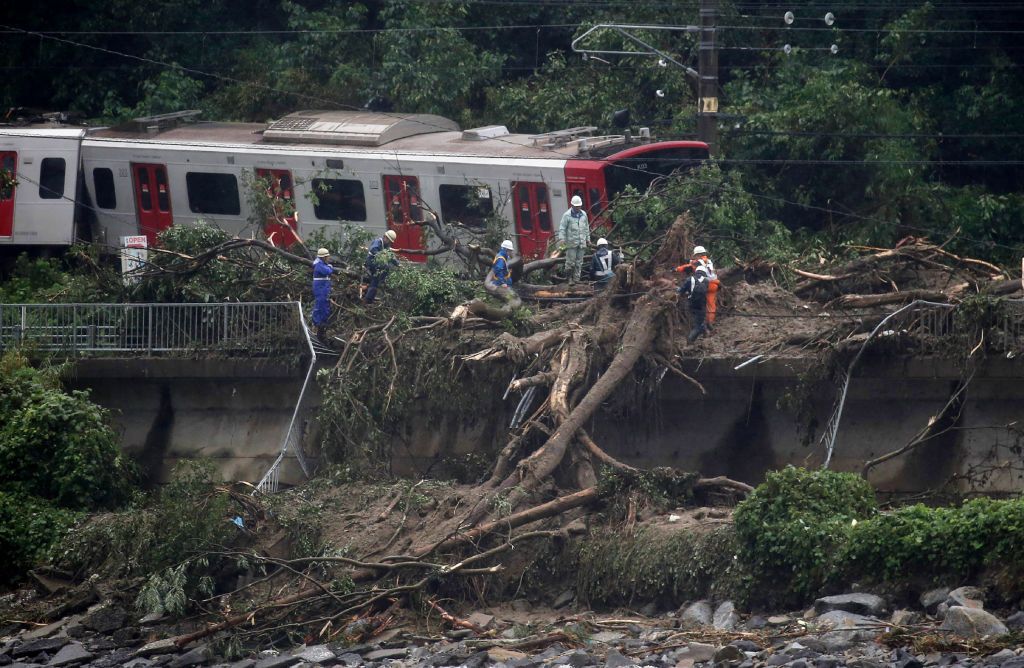 At least 50 people are missing and 15 killed after torrential rains and flooding hit southwestern Japan, reported Japanese media, with more than 1.6 million people evacuated from their homes.
Japan's Meteorological Agency issued special weather warnings across four prefectures in the west of Japan's main island of Honshu, urging vigilance against landslides, rising rivers and strong wind amid what it called "historic" rains.
The agency said that although a weather front had settled between western and eastern Japan, there was a risk that heavy rains would continue as warm air flowed towards the front. Areas already saturated faced more rain on Sunday, it said.
A man in the far western city of Hiroshima died after falling off a bridge into a river, while a 77-year-old man in Takashima city, Shiga prefecture, was killed after being swept into a canal as he worked to remove debris, Japanese news broadcaster NHK said.
Two other people were feared dead after being found in buildings hit by landslides, NHK said. The two were found in a state of "cardiopulmonary" arrest - a term used by Japanese authorities to describe apparently lifeless people before deaths have been confirmed.
One, a 95-year-old woman, was found in her house after part of a nearby mountain collapsed.
The previous death toll had been put at four on Friday.
Chief Cabinet Secretary Yoshihide Suga said around 48,000 police, fire fighters and members of Japan's Self-Defence Forces were responding to more than 100 landslides and other appeals for help.
By Saturday morning, more than 1.6 million people were ordered to evacuate their homes amid fears of flooding and further landslides, with a further 3.1 million advised to leave, the Fire and Disaster Management Agency said.
In Motoyama, a town in Shikoku island, 583 millimeters (23 inches) of rain fell in the 24 hours between Friday and Saturday mornings, the Meteorological Agency said.
Some transport was affected in the southern-most main island of Kyushu. Wide parts of the expressway were covered with soil and landslide debris in the north of the island, the Kyodo news agency reported.
Military water trucks were dispatched to areas where water systems were no longer working, Okayama prefecture said. Nearly 50,000 members of the military, police and firefighting services were taking part in searches for people trapped, wounded or dead as a result of the floods, reported the Japan Times.
Each year, rural areas of Kapan are hit by torrential rains, which cause substantial damage and often result in fatalities.