Japan: Vast Floods Destroy Homes as Over 100 Reported Dead
Over 100 people are reported dead in Japan after record rainfall triggered devastating landslides and floods in the country's western regions.
Rescuers face a difficult task in searching for survivors across the vast area affected in southwestern Japan, as 13 out of Japan's 43 prefectures have declared fatalities, reported The Mainichi.
Record rainfall since Thursday has affected a vast area of the country. Numerous local media reports estimate that over 100 people have died in the devastation. The latest death toll figures are 112, according to Japan's public broadcaster NHK. AT least 60 people are still unaccounted for, according to AP.
There are fears the death toll could rise going into Monday as authorities are still assessing the extent of the damage.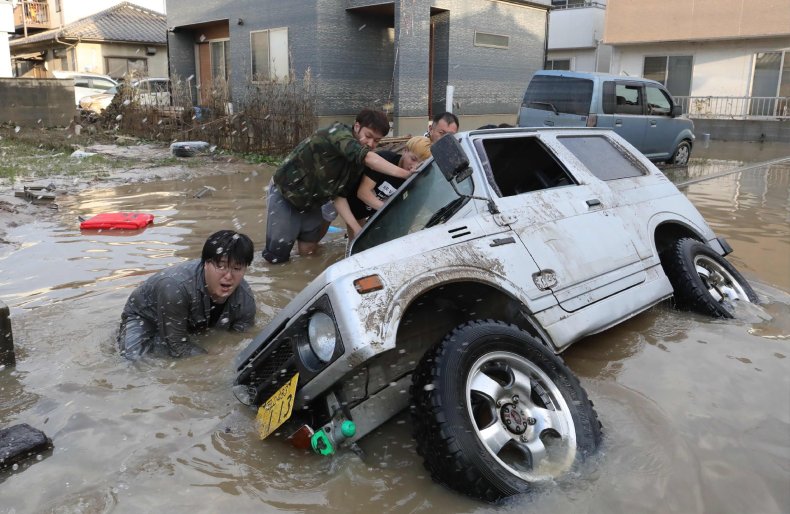 The rescue effort has mobilized about 73,000 personnel and 70 helicopters, as the military and the Coast Guard are also floating dinghies into some parts of the country to assist those still trying to flee, NHK reported.
Chief Cabinet Secretary Yoshihide Suga told the broadcaster that the government is in the process of delivering food to those distressed and resettled into temporary shelter.
The deluge has eclipsed the usual rainfall for the whole of July in a matter of a few days. Three times the usual rainfall for July fell over parts of the country, according to BBC. The rains are threatening the worst series of landslides and floods in decades, as overflowing rivers have contributed to the destruction of hundreds of homes.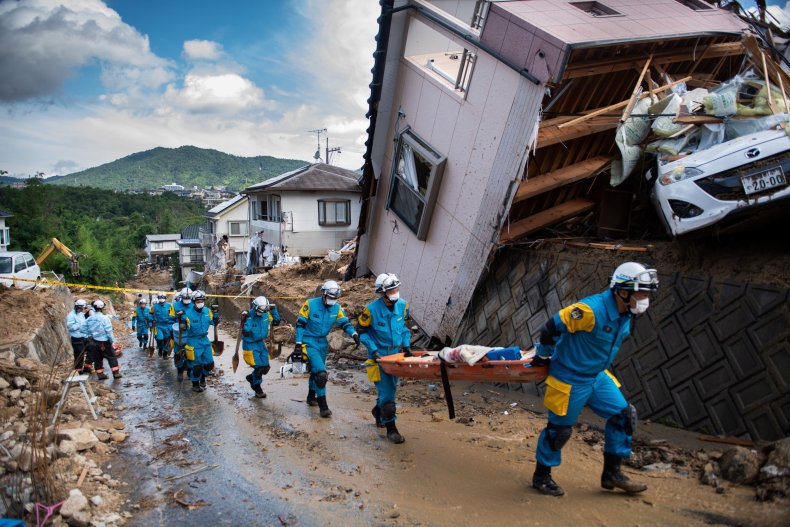 "The record rainfalls in various parts of the country have caused rivers to burst their banks, and triggered large scale floods and landslides in several areas," Suga said on Sunday. Japan Meteorological Agency has warned that flooding and landslides continue to pose a danger.
Some 13,600 households did not have power on Monday morning. The rainfall has also interrupted the water supply to around 267,000 households.
Roads have suffered damage, and West Nippon Expressway Company estimates mudslides have affected 47 points on expressways in 9 prefectures. Six expressway sections are closed as a result of the damage, NHK reported.
Read More: Japan's team has won over social media with a gracious gesture after World Cup heartbreak
Japan's Prime Minister Shinzo Abe will likely cancel planned trips to Europe and the Middle East, according to a senior member of his Liberal Democratic Party, and instead visit the affected areas in Japan.
Toshihiro Nikai, the party's secretary-general, met with the prime minister at his office and told the Kyodo news agency that Abe felt he had "no choice but to cancel" the overseas visits.