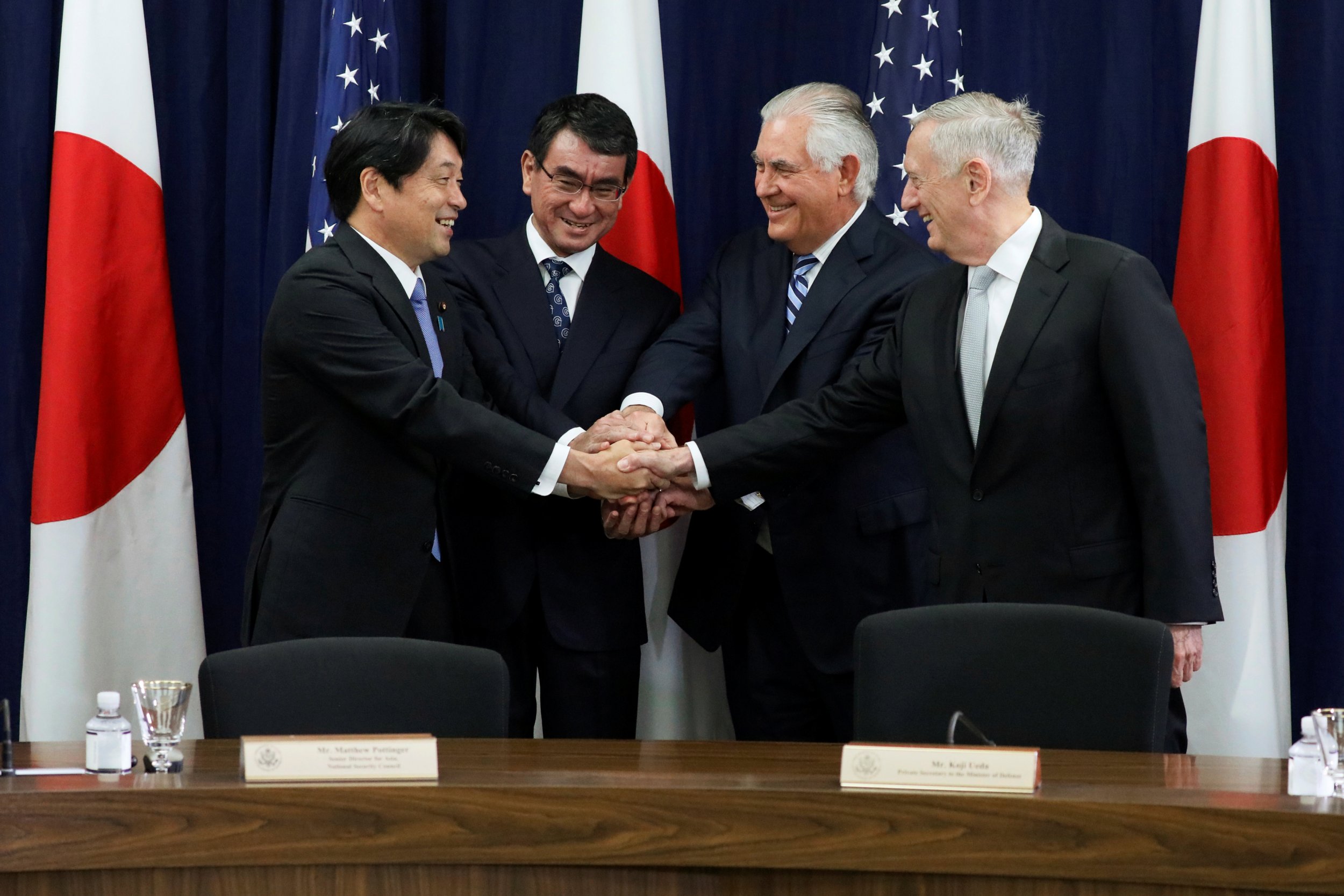 Japan is seeking increased cooperation with the U.S. to increase its defenses against the threat of North Korea's ballistic missiles.
Central to Japan's plan is the deployment of the U.S. Aegis Ashore, a land-base missile defense system designed to intercept missiles on re-entry into the atmosphere.
"We will continue to promote cooperation in ballistic missile defense, including acquisition of new assets," Japan's Defense Minister Itsunori Onodera said at a press conference in Washington, following a so-called 2+2 meeting with Secretary of Defense James Mattis, Secretary of State Rex Tillerson and Japanese Foreign Minister Taro Kono.
The Japanese Ministry of Defense plans to include in its 2018 budget a request for funding to cover the cost of two or three Aegis Ashore batteries, up to $736 million per battery, the Japanese newspaper Mainichi reported. In the press conference, Onodera also committed the country to provide $500 million to strengthen maritime security in East Asia.
Japan already has two layers of ballistic missile defense: the vessel-based Aegis SM-3 anti-missile system on its Maritime Self-Defense Force (MSDF), and the land-based PAC-3 Patriot missiles. According to Onodera, North Korea's advanced development of missile technologies, which threaten both Japan and the United States, requires new equipment.
Following North Korea's well-publicized plans to shoot four rockets over Japanese areas to eventually hit the waters near the U.S. territory of Guam, Japan tested its J-Alert system, which would transmit information to towns and cities along the projected path of a missile.
The drill on Friday involved nine prefectures in the Chugoku and Shikoku regions, and revealed glitches involving loudspeakers and text-message malfunctions, as reported in local media.
In March, Japan held its first-ever civilian missile evacuation drills after North Korea launched four ballistic missiles toward the Sea of Japan.
Following the defeat of the Japanese Empire in World War II, the U.S. imposed a constitution on the country which limited the military to defensive purposes only, as Article 9 rejects the threat or use of force as a means of settling international disputes. Japanese Prime Minister Shinzo Abe is seeking to modify the constitution for the first time since it was adopted in 1947, amending the war-renouncing Article 9 to recognize the Japan Self-Defence Forces as its military.
Abe plans to submit the proposal by the end of the year for the change to be official by 2020, as Reuters reported in June, following a two-thirds majority vote in both houses of parliament and a majority of votes in a referendum.