Tokyo 2020 Coronavirus Update: Japan's Olympic Committee vice-President Tests Positive for COVID-19
Kozo Tashima, the vice president of Japan's Olympic Committee and the president of Japan's soccer federation (JFA) has tested positive for coronavirus.
In a statement published on the JFA's website on Tuesday, Tashima said he had been on a business trip since the end of last month, stopping in Belfast, Northern Ireland, to attend the annual general meeting of the International Football Association Board—the lawmaking body in world soccer—and then moved onto Amsterdam in the Netherlands, to give a presentation on Japan's bid to host the 2023 Women's World Cup.
On March 3, he then attended a meeting with delegates from UEFA—European soccer's governing body—before travelling to the U.S. where he again presented Japan's bid to host the women's World Cup in three years time and watched the Japanese women's team play in the SheBelieves Cup and then returned to Japan on March 8.
"Today, my test result showed positive for the new coronavirus," the statement read.
"In Amsterdam and in Europe in early March, the level of nervousness against the novel coronavirus was not the same as now. 'Everyone was still doing hugs, handshakes and cheek kissing."
"I will concentrate on treatment according to my doctor's instructions," Tashima added, explaining he felt "fine" despite being "a little feverish and having symptoms of pneumonia."
The 2020 Olympic Games are scheduled to be held in Tokyo between July 24 and August 9 but their fate appears increasingly in doubt as the world battles to contain COVID-19.
As of Monday morning, over 800 have been reported in Japan, with 28 deaths and 139 people recovered, according to Johns Hopkins University which has been tracking the outbreak using combined data sources.
As this chart provided by Statista shows, over 7,000 people have died since the outbreak of coronavirus began in Wuhan, a city located in China's central Hubei province, late last year. There are over 183,000 cases globally, with 79,000 recovered.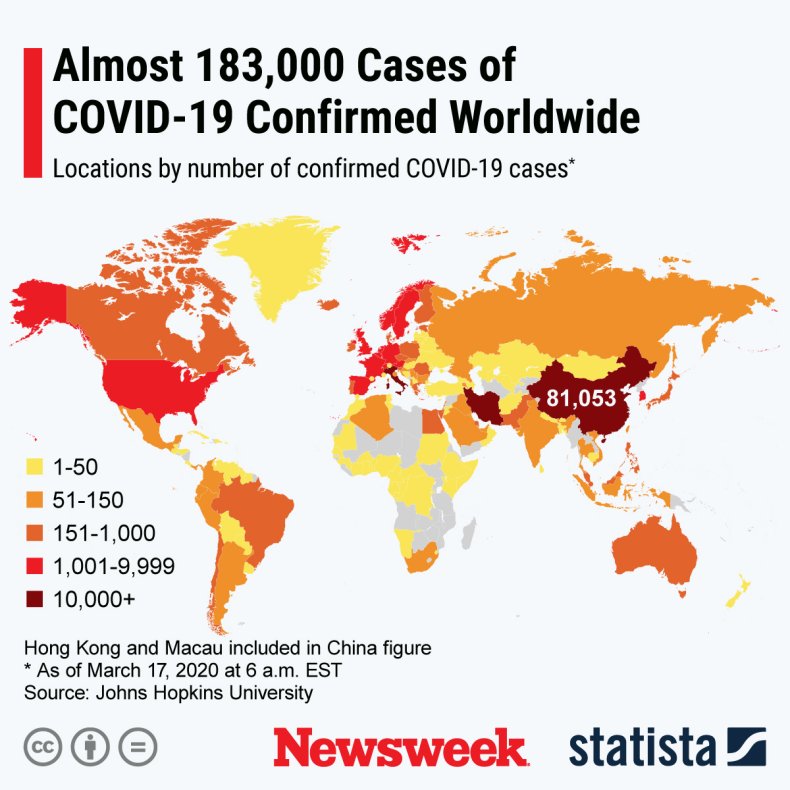 Over the weekend, Japan's Prime Minister Shinzo Abe insisted the Olympics will go ahead as planned, despite the coronavirus outbreak that has ground sporting events to a halt across the world.
That came after U.S. President Donald Trump had suggested the Games could be postponed for a year, at least.
"I just can't see having no people there. In other words, not allowing people," Trump said Thursday at the White House. "Maybe, and this is just my idea, maybe they postpone it for a year."
On Tuesday, the country's Olympic minister, Seiko Hashimoto, echoed Abe's thoughts, indicating Japan was planning to host a "complete" Olympics, which included fans in attendance and events starting as planned.
"A complete Olympics is what we are aiming for," she said at a press conference.
"We will do our utmost to prepare [to hold the Olympics] as scheduled so that the International Olympic Committee will be convinced we are capable of hosting the games."
Earlier this month, International Olympic Committee (IOC) president Thomas Bach indicated the Games would go ahead as planned and urged athletes to prepare as normal.
With the virus spreading rapidly across the world and a host of Olympic qualifying events canceled, however, the fate of the Games has appeared increasingly in jeopardy with conflicting messages coming from organizers.
Last week, a member of the Tokyo 2020 organizing committee's executive board suggested the Games could be postponed.
"I don't think the Games could be canceled. It'd be a delay," Haruyuki Takahashi was quoted as saying by The Wall Street Journal. "The International Olympic Committee would be in trouble if there's a cancellation. American TV rights alone provide them with a huge amount."
A day later, Tokyo 2020 organizing committee told Newsweek it had "sought clarification" with Takahashi and that he had "inadvertently given his personal opinion in response to a hypothetical question."
The organizers doubled down on the IOC's stance, insisting neither canceling the Games nor postponing them was on the cards.
"Mr. Takahashi apologised for the problems these comments caused for the Organizing Committee," the committee added.
"As IOC President Bach stated the other day, neither the IOC nor the Organising Committee are considering postponing or cancelling the Tokyo 2020 Games, and we are proceeding with our preparations for a safe and secure Games opening on 24 July 2020 as planned."
Newsweek has contacted Tokyo 2020 organizing committee for comment.