Japan PM Refuses to Comment on Donald Trump Nobel Peace Prize Nomination: 'I Never Said I Didn't'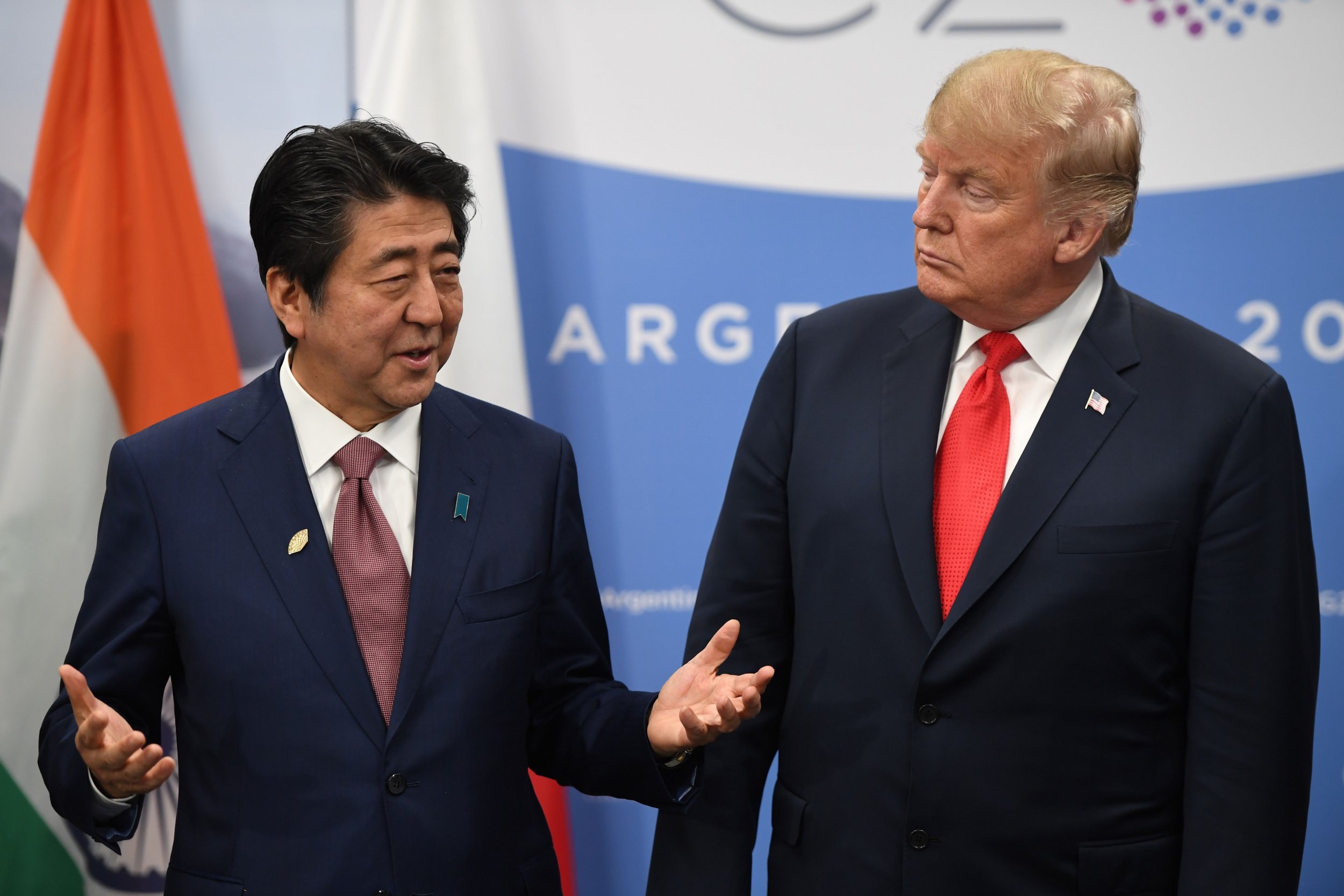 Japanese Prime Minister Shinzo Abe has declined to comment on the claim by President Donald Trump that Abe nominated Trump for the Nobel Peace Prize. The PM also dodged questions on reports in Japanese media claiming the U.S. informally asked Japan to support President Donald Trump's nomination for the Nobel Peace prize.
When asked by lawmakers in parliament about the various claims, Abe responded, "I never said I didn't" nominate him, according to Associated Press in Tokyo.
The Japanese premiere offered his oblique response to questions asked in the nation's lower legislative house, saying he would not comment further, citing a Nobel Prize convention whereby nominations for the awards are sealed for 50 years after they are made.
"I'll continue to [offer] my utmost cooperation to President Trump to solve the North Korean nuclear and missile issues and the abduction issue, which is the most important…for Japan," Abe said, according to CNN.
"With that in mind, as for the Nobel Peace Prize, the Nobel Committee has decided not to disclose nominators and nominees for 50 years. I would like to refrain from commenting on it, based on that fact," the Japanese leader said.
The Japanese Asahi Shimbun national newspaper reported Sunday that the U.S. government had informally asked Abe to support Trump's nomination over his work to broker talks with North Korea.
Citing multiple Japanese government sources, Asahi Shimbun reported that the U.S. had "informally" asked Japan to nominate Trump for the Nobel Peace Prize after he met with the Leader of North Korea in Singapore last year.
Japan, which lies well within the range of the pariah state's ballistic missiles, held a number of air raid drills in preparation for a potential nuclear strike in 2017.
On Friday, Trump bragged about his nomination during a press briefing which was primarily called to declare a national emergency over funding for his long-promised border wall.
"Prime Minister Abe of Japan gave me the most beautiful copy of a letter that he sent to the people who give out a thing called the Nobel Prize. He said, 'I have nominated you…' or 'Respectfully, on behalf of Japan, I am asking them to give you the Nobel Peace Prize,'" Trump said.
"Because he had rocket ships and he had missiles flying over Japan. They had alarms going off. You know that. Now, all of a sudden, they feel good. They feel safe. I did that."
Trump has made frequent comments on the Nobel Peace Prize, specifically in reference to former president Barack Obama who was awarded the prize in 2009.
On Friday he said, "They gave it to Obama. He didn't even know what he got it for. He was there for about 15 seconds and he got the Nobel Prize. He said, 'Oh, what did I get it for?' With me, I probably will never get it," according to a White House transcript of the speech.
Under Trump's guidance, the U.S. has followed a policy of rapprochement with North Korea, resulting in a June 2018 meeting between the president and Kim Jong Un. In his Friday speech Trump pointed to a lack of nuclear tests from North Korea since 2017 as a sign of continued good relations.