Japan Reopens Beaches Near Fukushima Nuclear Disaster Site Hit by Tsunami in 2011
Beaches destroyed by the 2011 earthquake and tsunami in northeastern Japan have reopened for the first time in eight years.
Reconstruction work on the seawalls has been completed on Haragamaobama beach in Soma City, Fukushima prefecture, which was reopened to the public on Saturday, Japanese broadcaster NHK reported.
Before the quake sparked the tsunami in 2011 that swamped the Fukushima nuclear power plant, the beach, 25 miles north of the crippled Daiichi nuclear plant, attracted up to 50,000 visitors every season.
Two other beaches hit by the tsunami in Miyagi prefecture, north of Fukushima, have also reopened.
Authorities found that the radioactive material in the water was at a safe level. The levees have been repaired, and debris has been removed from the disaster site, The Japan Times reported.
Nami Aoki told the paper, "I'm happy to see this beach bustling again. I wanted my daughter to play in the sea where I would swim when I was little."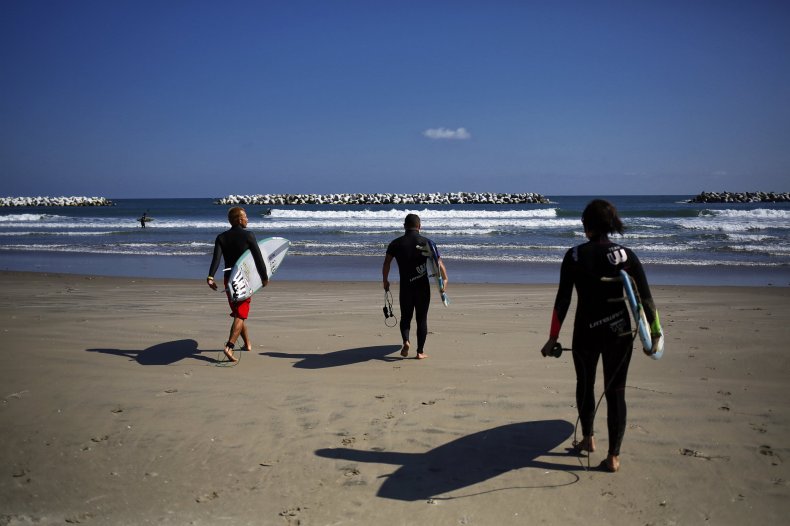 Local authorities hope that the reopening of the beach will bring tourists back.
"I'm delighted, because life in Soma had always been associated with the sea before the disaster," Hiroyuki Ito, secretary-general of the Soma Tourism Association, said.
"Even now, if you Google search images for 'Fukushima,' the top search result shows a lot of photos of the nuclear plant and other negative images…but our everyday lives here are returning back to normal," he said, according to the South China Morning Post.
The destruction along the Tohuku coast, however, can still be seen, and only 24 beaches out of 70 that had been used by the public before the disaster have reopened, Asahi Shimbun reported.
South of the nuclear plant, in Iwaki, authorities decided that Kattsuo beach could no longer be used by the public, as its sandy area had disappeared due to plate movements. Nobiru beach and the surrounding area in Higashi-Matsushima, Miyagi prefecture, will also remain closed, the paper said.